The growth strategy is to increase customer numbers and acquire large-scale customers Is accelerating the expansion of human resources toward realizing this
3. The marketing services business growth strategy
The business model of the marketing services business involves providing customers with consulting and operations management agency services for sales promotion (marketing), for which the Company receives consideration in the form of fees. The actual business straddles two domains, sales support and sales-promotion support.
The Company launched a marketing services business, with the targets for sales initially being its existing Shopserve customers. Subsequently, it also began to work to acquire contracts from new, external customers, and the business expanded.
Looking at the trend in net sales in the marketing services business, we see that they have continuously grown at a high rate each year, and in FY3/18, they increased 43.6% YoY to ¥1,131mn. However, as described in the results trends section, in FY3/19 1Q, the sales-increase rate slowed down to 12.0%.
The reason for this slowdown is that in the previous fiscal year, the Company achieved high growth for large-scale customer contracts, but subsequently it was unable to acquire contracts from these customers. In terms of the outlook for the future and its response to this situation, while it is forecast that the effects in 1Q will remain in part in 2Q, the Company is scheduled to start contracts with other large-scale customers from 2H, and it is strengthening sales toward acquiring customers. Therefore, it is likely to be able to recover the high growth rate in 2H.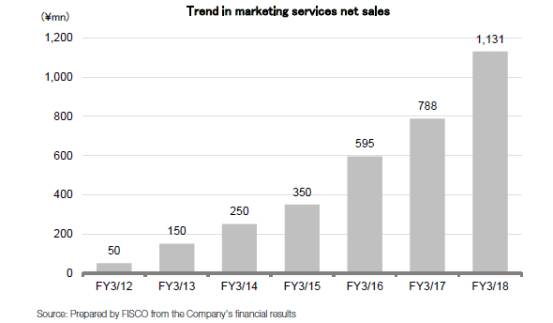 At FISCO, we think the most urgent issue for the Company is securing human resources. For this, the strengthening of human resources is the focal point of the growth investment that it has been focusing on, and it seems that this is also the point that the Company itself is most keenly aware of. But even so, it has been noted that while its strategy of growing business profits through expanding its human-resources capacity is a good one, in terms of the tactics to actually acquire human resources, it is considered that other techniques might be necessary. A situation in which costs are less than forecast and profits are more than forecast (as pointed to by the Company itself) can be evaluated positively in the short term, but it is not preferable not to leave this situation unaddressed from the perspective of the Company's medium- to long-term growth strategy. Therefore, it can be said that expanding its human-resources capacity continues to be its biggest focal point.
Compare is acquiring an excellent track record and reputation Is aiming to leverage this to rapidly increase customer numbers
4. Growth strategy in the marketing systems business
The marketing systems business refers to the development and sales of sales promotion support systems, which is to say software. The objective of the business is to expand customers' sales, which overlaps with that of the marketing business; however, the revenue model is made up of fixed basic monthly fees and a pay-for-use charge according to the number of times the services is used.
By autumn of 2017, the Company launched two marketing automation (MA) tools: Estore Compare ("Compare") and Estore Query ("Query"). Compare is a tool that helps to increase EC website sales by using A/B comparison testing for an EC website to determine in real-time which has the higher conversion ratio (CVR), number of conversions, and life time value (LTV). On the other hand, Query is an email marketing tool for business operators who already have an existing customer base of a certain size. The main feature of the tool is that it can refine customer characteristics and distribute personalized email.
In the breakdown of net sales in the marketing systems business, they are disclosed as sales promotion systems net sales. In FY3/18, net sales were ¥2mn (the four- to five-month portion in 2H). In FY3/19 1Q, net sales were again ¥2mn.
The Company began fully fledged efforts to grow sales of the two marketing systems products from FY3/19. It is thought that the result in 1Q, of sales of ¥2mn, is not necessarily one it was satisfied with. If we calculate from this sales result and the average unit price of ¥40,000 per month, we find that the current number of customers is around 15 companies. Going forward, the Company plans to expand sales by targeting existing Shopserve customers, based on factors such as the results for the early-adopters.
According to the Company, in terms of the results up to the present time, its evaluation is particularly high for Compare, and there are cases in which sales have increased by around three times when comparing before and after its introduction. If such cases were to accumulate, its persuasive power toward its introduction will also rise, which can be expected to lead to an increase in the number of companies contracting to marketing systems. Also, sales to existing Shopserve customers will lead to increases in both marketing systems net sales and flow revenue. So this can be said to be an extremely rational approach, and we shall be paying attention to how it develops going forward.
Acquiring momentum and the ability to act through the selection of young employees Aiming to further improve their actual abilities as they accumulate experience
5. The progress made in the large-scale restructuring
In August 2017, the Company conducted its largest ever restructuring. It was not a restructure in the sense of laying off employees, but rather a literal changing the business structure. The main focus of the initiative was a wide-ranging rejuvenation of the personnel occupying key management positions. In short, employees in their 30s were selected for positions across the Company that had been occupied by employees in their 40s to 50s. (For the details, please refer to the previous report of March 19, 2018.)
At present, about one year after execution, the Company believes desired effects in terms of the efficiency of large-scale restructuring and its progress are clearly appearing in the form of momentum and the ability to act as an organization. On the other hand, it appears the restructuring also revealed the young employees' lack of experience on aspects such as final execution (the ability to make and execute decisions) But even when considering this negative aspect, the Company's own self-evaluation is that the large-scale restructuring has been a success.
At FISCO, we also consider the bold restructuring to be significant. The last few years to the next one or two years is a period of growth investment for the Company. During this period, it is ready to accept a temporary slump in results. When replacing veterans with young employees, we can fully expect that, to a certain extent, there will be an opportunity loss and related issues. We think that a judgment of not postponing a temporary opportunity loss and an increase in costs and to accept these issues, together with conducting growth investment, is essential in order to realize the vertical raising-up of results in terms of the timing of the subsequent harvesting and recovery of sales. On this point, we evaluate that the Company's bold restructuring was the correct judgment in terms of timing.
Acquired an e-certification business in order to minimize the risks that create confusion in the EC market
6. Launched an e-certification business
On August 6, 2018, the Company launched an electronic certification (e-certification) business. It newly established CrossTrust, Inc., and the same subsidiary received the transfer of the business of CrossTrust, which has a track record of e-certification services. Going forward, the Company will conduct an e-certification services business through CrossTrust. Specifically, the content of the e-certification services will be encrypting communications and issuing SSL and TLS server certificates, which certify the existence of a company.
Both SSL (Secure Sockets Layer) and TSL (Transport Layer Security) are technologies that encrypt communications on the Internet and prevent third parties from unauthorized viewing and altering of the contents of communications. SSL and TLS have the same framework, and their relationship is that SSL was repeatedly upgraded and subse­quently it was shifted to TLS.
SSL and TLS server certificates are e-certificates with a function that enables the identity of the company operating the website to be confirmed. It is forecast that in the extremely near future, there will be a major difference between the websites that have introduced (acquired) this certification and those that have not. Specifically, when you are about to browse a website that has not acquired an e-certificate, you will receive a warning from your browser. This could prevent visits to websites and therefore have a major impact on the profits of EC businesses.
As the initial business of the Company and CrossTrust, the plan during the early stage is to issue SSL and TLS server certificates free of charge to the Company's existing customers (Shopserve contracting companies). Although free of charge may sound like a peculiar approach, it is expected to be fully justified from its loss-avoidance effects for flow revenue. (SSL and TLS server certificates are normally paid for, with the industry average fee being ¥30,000 a year).
For its e-certification business, it goes without saying that the Company will also issue SSL and TLS server certif­icates to external, general customers, and it aiming for it to grow as an independent revenue business. Since the model for e-certification services is contracts that are renewed after one year, it is a stock-type revenue model and once it reaches a certain scale, it can be expected to contribute to stable revenue.
◆Outlook
Forecasts are for higher sales but lower profits, as the Company expects to steadily conduct growth investment
• Overview of the FY3/19 forecasts
Estore forecasts for a profit decline on increased sales in FY3/19 with ¥5,540mn in net sales (up 9.8% YoY), ¥531mn in operating profit (down 4.1%), ¥531mn in recurring profit (down 8.7%), and ¥367mn in net profit (down 10.7%). The Company has not changed its forecast from its initial outlook.
The Company manages its budget forecasts on a full fiscal year basis only, and it does not have results forecasts for 1H. As the rates of progress toward the profit forecasts are high, it would seem that we could expect results to exceed the full fiscal year forecasts. But the Company's policy is to actively spend on costs for growth investment, mainly on human resources, so at FISCO we think it is better to avoid excessive expectations that the results will exceed the profit forecasts.
Rather, what we should be focusing on from FY3/19 2Q onwards is the trend in net sales. The initial forecasts for the full fiscal year was for a sale-increase rate of close to double digits. But sales declined slightly in 1Q, so the question will be whether the Company can recover this in 2Q and beyond.
At FISCO, we presume that the "miscalculation" for the FY3/19 1Q results might have been the slowdown of sales in marketing services. On this point, the Company is aiming for a recovery by acquiring new contacts, including from other than existing Shopserve customers, and also by focusing on acquiring large-scale customers. There seems to have been a positive response in terms of it achieving this strategy, including for the acquisition of large-scale customers.
At FISCO, we fully expect flow revenue to recover from 2Q onwards. Although the revenue declined YoY in 1Q, the distribution amount per customer increased 8%. Alongside the re-acceleration of the growth of the marketing services business, flow revenue can be expected to trend upward and recover. In addition, the focus will be on the size of the effects from the expansion of sales of marketing systems. The Compare and Query services are tools for customers' sales expansion, so if progress is made in their adoption by existing customers with Shopserve contracts, it is expected that this will contribute greatly to increasing customers' EC sales and thereby also pushing up the Company's flow revenue.
◆Shareholder returns
In FY3/18, increased the dividend by ¥4 YoY to ¥28
The Company basically returns profits to shareholders through dividends. It pays dividends after taking into account a comprehensive range of factors, including business results, financial position, and the need to retain sufficient internal reserves to invest in growth. While it does not formulate an official dividend payout ratio, the foundation of Estore's thinking on the distribution of profits is its basic philosophy of "dividing profits between three groups; shareholders, customers, and staff." In the past also, it has a track record of determining the dividend based on this basic philosophy.
For FY3/18, the Company increased the dividend by ¥4 YoY to ¥28. It would seem that this reflects the high rates of increase, of around 40%, for each of the profit items from operating profit down. The dividend payout ratio was 35.1%. The Company has not decided on a dividend forecast for FY3/19, which is the same as in the past. In a typical year, it decides and announces its dividend forecast at the stage when the full fiscal year results are basically determined, and it would seem it will do the same in this fiscal year also.
Based on the FY3/19 Company forecasts, the earnings per share (EPS) is provisionally calculated to be ¥71.11. Supposing that the dividend will be ¥28, the same as in the previous fiscal year, the dividend payout ratio will be 39.4%. From its previously described basic philosophy of "dividing profits between three groups," it can be read that an appropriate dividend payout ratio would be from 30% to 35%. But the Company also has a track record of emphasizing stable dividends, so it is difficult to predict.
◆Information security
Steadily accumulating a track record of acquiring external certification in order to secure reliability
Based on its in-house development of various systems for EC support, the Company is constantly aware of constructing systems with high levels of security. Meanwhile, it has in place a system of checks by third parties for the level of security of its in-house systems.
The Company also provides a card payment service within its EC support ASP service. As it functions as a pay­ment-receipt agency for this service, it holds consumers' credit card information. To ensure the security of this information, it has achieved the "PCI DSS" global security standard, which was jointly established by five international credit card companies and is operated and managed by PCI SSC and acquired the certification for it (the Company is a member of the Japan Card Data Security Consortium, which is the group managing PCI DSS in Japan).
報告內容僅供參考,不得作為任何投資引用之唯一依據,且其投資風險及決定應由投資人自行判斷並自負損益。
【免責聲明】 本研究報告專區中的資訊均來自於各金融機構授權刊登或是已公開的資訊,鉅亨網對資訊的準確性、完整性和及時性不作任何保證,也不保證上述資訊報告做出的建議在未來不發生修正。在任何情況下,鉅亨網不對本資訊的使用人基於本資訊報告觀點進行的投資所引致的任何損益承擔任何責任。本網研究報告版權均歸各家提供機構所有,不得任意引用、刊發,且不得對原文進行修改或刪除。以上資訊僅供參考。