◆Results trends
Sales and profits declined in 1H FY3/19. Results were impacted by a weak performance by the OEM business in Europe and North America and a policy to increase prices at subsidiary BENEXY.
1. 1H FY3/19 results
Looking at the consolidated results for 1H FY3/19, the Company reported declines in sales and profits, with net sales of ¥20,842mn, down 4.3% YoY, operating profit of ¥29mn, down 96.2%, ordinary profit of ¥107mn, down 87.4%, and loss attributable to owners of parent of ¥12mn,compared with profit of ¥487mn in 1H FY3/18.
One major reason for the decrease in net sales was a sharp decrease in sales of housewares for Europe and North America in the OEM business, which accounts for about 70% of net sales. A closer look at these sales shows that trading with Europe was impacted by a client company's loss of a tender for a major project for promotion merchandise. In trading with North America, a client volume retailer saw e-commerce enterprises such as Amazon make inroads into its market. In response, the Company had no choice but to curtail sales to this retailer because of diminishing profitability.
The following were the three major reasons for the sharp decline in profits:
(1) Loss of order for trading in Europe in the housewares business (OEM) and deterioration in trading profitability in North America
(2) Lower sales and smaller profit margins at subsidiary BENEXY (main brand is BIRKENSTOCK)
(3) Increased expenses due to the deployment of a new core enterprise system (SAP)
The boom in the main BIRKENSTOCK brand that began in North America a few years ago has subsided, and the brand continues to be impacted. In addition, price increases in the Japanese market that were implemented as part of BIRKENSTOCK's global pricing policy pushed down product sales, and combined with the impacts of higher costs and expenses, led to a decrease in profits.
Highly sound financial position with a 55.5% equity ratio
2. Financial position and management indicators
There was a decrease in assets on the balance sheet. Total assets declined by ¥2,891mn from the end of FY3/18 to ¥22,828mn as of September 30, 2018. Current assets decreased by ¥2,796mn to ¥15,480mn. The main com­ponents were decreases of ¥2,529mn in cash and deposits and ¥832mn in notes and accounts receivable-trade. Fixed assets remained mostly unchanged, edging down by ¥95mn from the end of FY3/18.
Liabilities decreased by ¥2,245mn to ¥10,036mn. Current liabilities decreased by ¥1,304mn. The main components were decreases of ¥1,100mn in short-term debt and ¥386mn in notes and accounts payable-trade. Net assets decreased ¥646mn to ¥12,791mn. Net assets were impacted by decreases in retained earnings and valuation difference on available-for-sale securities, as well as share buybacks.
In terms of management indicators, the current ratio stood at 176.6% (compared with 181.5% at the end of FY3/18) and an equity ratio of 55.5% (compared with 51.8% at the end of FY3/18), indicating a highly sound financial position.
◆Outlook
Forecasts for FY3/19 were reduced to net sales of ¥44.0bn and ordinary profit of ¥0.85bn. Forecasts were impacted by a drop in sales in Europe and North America, and price increases at subsidiary BENEXY. Upfront investments were made in a new plant in Malaysia.
The Company has reduced its forecasts for FY3/19 and now expects to post lower sales and profits for the fiscal year. The Company is forecasting a decrease of 1.6% YoY in net sales to ¥44,000mn, a decrease of 49.5% YoY in operating profit to ¥850mn, a decline of 53.6% YoY in ordinary profit to ¥850mn and a decrease of 52.0% YoY in profit attributable to owners of parent to ¥400mn.
The net sales forecast has been revised down to a level on par with the previous fiscal year. The negative impact of the drop in sales in markets in Europe and North America recorded in 1H FY3/19 is expected to be offset by increases in revenue in the Fashion Accessories Business and Home Appliance Business. In the Fashion Accessories Business, a strong performance is expected in the OEM business for Japanese and foreign customers and in the Kipling business, in which the Company has successfully developed new sales channels. In the Home Appliance Business, the OEM business is expected to drive higher sales.
The Company has sharply reduced its operating profit forecast from the initial forecast. The segment that will likely experience the largest drop in profits from the previous fiscal year is the Furniture and Houseware Business, which is forecast to post a ¥556mn decrease in operating profit. This projected decrease reflects sluggish sales in the European and North American markets, plus upfront investments to establish a furniture plant in Malaysia. Although the decrease in profits in the Fashion Accessories Business is small, this segment is expected to be heavily impacted by a drop in sales and increased costs due to the settling down of the boom in the BIRKENSTOCK footwear and the price increases for BIRKENSTOCK products. Profits are expected to remain mostly unchanged as increased profits in the OEM business in the Home Appliances Business are offset by decreased profits in the brand business. As initially planned, the Company will incur expenses of about ¥100mn in connection with the deployment of a new core enterprise system (SAP), which is being undertaken as an investment in back office operations.
Overall, sales have declined due to deterioration in the external environment in the European and the North American markets. However, with firm trends in market conditions and customers in Japan, the deviation from the revised forecasts is expected to be small.
◆Growth Strategy and Topics
Established a new plant for furniture and interior goods in Malaysia. Strong prospects for products such as the electric toothbrush ION-Sei featuring patented technology and the KERBHOLZ brand of watches.
1. Established a new plant for furniture and interior goods in Malaysia
The Company has established a plant to manufacture furniture and interior goods in Malaysia, in order to enhance the furniture business, one of its core operations. It plans to start operating the plant from the beginning of 2019. The Company has furniture customers in Japan and other parts of the world. To deliver a standard of quality that satisfies the requests of its customers and to meet their deadlines, the Company has accumulated expertise by maintaining an active presence on the manufacturing floor on a daily basis. The Company has decided to begin internally operating its own furniture and interior goods plant in order to enhance its development capabilities and responsiveness to customers. The Company believes that this move will further harness its expertise and propel it onto the next stage of business development. Incidentally, the Company has built up a lot of experience in plant management through the operation of a home appliances plant in Guangdong Province, China over the past 30 years. The Company plans to invest about ¥0.5bn in the new plant in Malaysia and is forecasting sales of around ¥2.0bn in several years.

2. Started sales of electric toothbrush ION-Sei featuring patented technology
The Company has commenced a new business expansion initiative in Europe. It launched the "ION-Sei" brand of home appliances for personal care featuring patented technologies. In August 2018, the Company began sales of the first ION-Sei product–an electric toothbrush—in the Germany and UK markets. In the OEM business, the Company supplies products that are marketed under customers' brands. In this business, the Company had previously manufactured electric toothbrushes for customers at its plant in Guangdong Province, China. The Company is now embarking on a new original design manufacturer (ODM) business, which encompasses a full range of integrated operations from product design and development to manufacturing. The patented technology featured in the new electric toothbrush was jointly developed with SHIKEN CORPORATION. When ultraviolet radiation from an LED light is incident upon a titanium oxide rod built into the electric toothbrush, the rod releases negatively charged electrons. The negatively charged electrons have the effect of removing plaque from teeth. A German designer developed the electric toothbrush's functional and user-friendly product design. The brand name ION-Sei is a combination of the word "ION," which refers to the new product's innovative technology based on ions, and "Sei," a word that has a unique Japanese ring and evokes the concepts of "nature" and "health" through the Japanese kanji characters for "cleanliness" and "life." Going forward, this product offers strong prospects for gaining ground in the European market.
3. Increasing the number of stores carrying the new brand KERBHOLZ
The Company began handling products in Japan from KERBHOLZ, a German brand of watches, in June 2018. KERBHOLZ, which was founded in 2012, sells watches that use wood and other natural materials. Its products are sold at over 350 stores in 10 countries worldwide. The brand stands out for its emphasis on the environment, including the use of carefully selected natural materials and contribution of 10% of profits to resource conservation projects. It also offers simple but fashionable forms and has received the GERMAN DESIGN AWARD, a highly respected award in Germany, for two straight years and numerous other awards. The Company intends to broaden sales channels to watch shops, multi-brand (select) shops, and lifestyle shops and utilize SNS to raise brand recognition in the Japanese market. The Company has been steadily increasing the number of stores carrying the KERBHOLZ brand. Sales began at nine new stores in November 2018.
◆Shareholder return policy
Forecasting an annual dividend of ¥160 per share for FY3/19 as before, raising or sustaining the dividend for 21 consecutive years, making an attractive stable dividend
The Company has adopted a policy that targets a roughly 30% dividend payout ratio, taking into consideration the need to implement stable, continuous dividends along with securing internal reserves to lay a stronger business foundation. The interim dividend for 1H FY3/19 was set at ¥60 per share, the same as in 1H FY3/18, and the year-end dividend is forecast at ¥100 per share (the same as the end of FY3/18). The Company is thus forecasting an annual dividend of ¥160 per share. The dividend payout ratio will be high at 93.8%, because the annual dividend will be maintained at ¥160 per share, unchanged from the previous fiscal year, despite the reduced profit forecast. The Company has raised or sustained the dividend for 21 consecutive years. As a trading company in the whole­saling sector, the Company's operating results can be volatile at times. In this environment, we highly commend management's commitment to maintaining stable shareholder returns even during a downturn in operating results.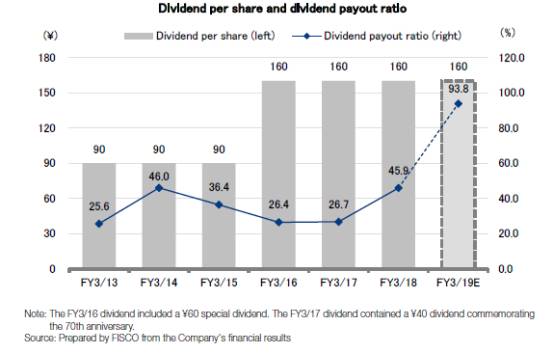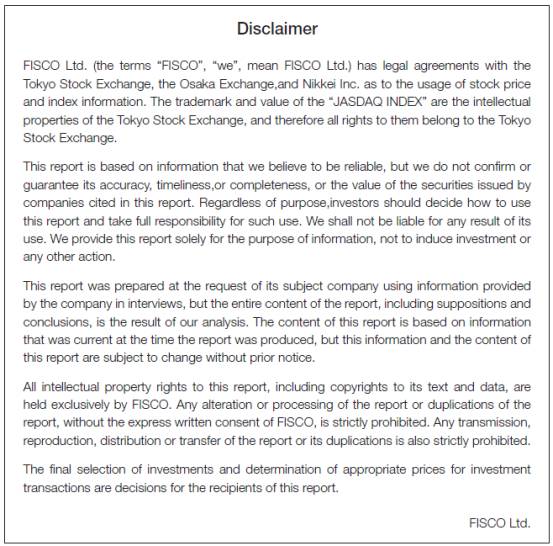 報告內容僅供參考,不得作為任何投資引用之唯一依據,且其投資風險及決定應由投資人自行判斷並自負損益。
【免責聲明】 本研究報告專區中的資訊均來自於各金融機構授權刊登或是已公開的資訊,鉅亨網對資訊的準確性、完整性和及時性不作任何保證,也不保證上述資訊報告做出的建議在未來不發生修正。在任何情況下,鉅亨網不對本資訊的使用人基於本資訊報告觀點進行的投資所引致的任何損益承擔任何責任。本網研究報告版權均歸各家提供機構所有,不得任意引用、刊發,且不得對原文進行修改或刪除。以上資訊僅供參考。