◆Summary
Pursuing reforms in anticipation of changes in the business environment Aims to become a fabless manufacturer
Elematec Corporation <2715> (hereafter, also "the Company") is an electronics trading company that specializes in electronic materials. It was formed through the merger of Takachiho Electric Co., Ltd. and Ohnishi Denki Co., Ltd. in 2009 and entered the Toyota Tsusho Corporation <8015> Group in 2012.
1. Realizing long-term stable growth with numerous business partners and products and excellent adaptability to changes as advantages
The Company has realized stable income growth over the long term by capitalizing on its two main characteristics and strengths of 1) having many business partners (suppliers and customers) and products and 2) possessing excellent adaptability with keen sensitivity to growth markets and products in various times. Even during the Lehman shock, it kept profit decline to just one fiscal year by expanding transactions of products related to smartphones during the rapid expansion phase in this market and has since consistently increased sales and profits while continuously delivering all-time high profits.
2. Aims to become a fabless manufacturer that responds to changes in the business environment
The management, however, is highly concerned about the current situation. With increasingly rapid business environment changes and technology innovation, it worries that past success patterns and company strengths might not work in the future. Its answer to this challenge is moving beyond the trading company model. The Company previously called for "creating and increasing added value," "expansion of modularization transactions," and "strengthening processing service and planning and development functions" as goals. These themes all target the same thing and hold the potential to transform the Company into a fabless manufacturer once realized. We expect the "fabless manufacturer" concept to occupy an important position in the longer-term growth strategy that the Company is likely to be gradually clarifying.
3. Expecting higher sales and profits in FY3/19, likely to leverage strengths to make it through a transition in the growth driver
The Company reported lower sales and profits in 1H FY3/19 on track with the forecast. Smartphone-related product sales fell significantly due to stalled demand for smartphones. However, the Company almost entirely absorbed the profit impact through healthy growth in automotive-related demand and products for general industrial areas that are seen as future growth engines. For FY3/19, the Company maintains the initial outlook and forecasts higher sales and profits based on reaching a bottom in smartphone-related product sales and continued gains in automotive-related products and other areas. It expects automotive-related products to drive overall growth. However, we will also closely monitor how it manages to obtain demand and achieve growth while realizing the role of a fabless manufacturer mentioned above.
◆Company overview
2 companies with specialties in electronic materials merged in 2009 Has 62 sites in Japan and other countries and caters to 3 main markets - Digital Electronics, Automotive, and Broad Market
1. History and business description
(1) History
The Company's predecessors were Takachiho Electric, established in 1947 in Tokyo, and Ohnishi Denki, founded in 1958 in Kyoto. Both companies began by handling insulation materials, subsequently broadened the scope of their product offerings to electronic materials used in electronic products following technology and development trends, and grew into independent technology trading companies.
These companies merged in 2009 (with Takachiho Electric as the surviving entity) and adopted the Elematec name. The Company has steadily grown since the merger, even though both predecessors mainly handled electronic materials, thanks to complementary geographical positions in Tokyo and Kyoto. It became a subsidiary of Toyota Tsusho through a TOB transaction in 2012.
(2) Business description
In light of this history, the Company handles a wide range of electronic materials and parts used in electronic products and machinery parts. It has 1,179 employees and 62 sites in Japan and other countries in consolidated operations as the business foundation (as of the end of September 2018). The business sites include three operations with processing services (one in Japan and two in China).
While the Company has developed business globally, its overseas activities are mainly in China and Asia because this is where Japanese companies largely operate. Sales breakdown by domestic and overseas categories in FY3/18 was 43.8% in Japan and 56.2% in other countries (Japan's ratio is higher from a location standpoint with disparity reflecting exports from Japan to other countries). Overseas sales breakdown consists of China (including Hong Kong) at 26.0%, the rest of Asia at 26.1%, and others (Europe, US, etc.) at 4.0%.
The Company needs to apply grouping for management purposes because of the large number of business partners it has on procurement and sales sides and wide range of products it handles. While it previously defined groups by handled products (procurement partner basis), it adopted a market approach that reflects products manufactured by customer companies (sales partner basis) in FY3/15. As a result, the Company conducts internal management and information disclosure by three groups – Digital Electronics, Automotive, and Broad Market. Sales ratios using 1H FY3/19 results were Digital Electronics at 50.0%, Automotive at 14.9%, and Broad Market at 35.1%.
Strength in having many products, customers and the ability to convert these resources into income through organic linkage as five services and functions
2. Company features and strengths
Customer and product diversity is an important feature of Elematec. It operates 62 sites in Japan and overseas and handles a wide range of primarily electronic materials and components among about 7,300 suppliers (manufacturers) and 6,200 sales destinations (users). Another major characteristic is its flexible response to growth markets. We believe that effective interaction of these two traits supports realization of stable earnings growth potential and robust earnings stability.
The Company goes beyond just the basic services and functions of an electronics trading company of optimal supply of parts and materials, credit provision and financing, and management of delivery timing and inventory. It also supplies processing services, planning and development function, and other more advanced services and functions that generate higher added value. The Company highlights five services and functions, and we think the presence of these functions is precisely why it can develop diverse products into businesses and deliver results.
The Company intends to broaden and strengthen these functions and bolster initiatives to create added value. We will review specific initiatives and direction in the items under the longer-term growth strategy. As a direction, the Company aims to move beyond its trading company image and establish itself as a fabless manufacturer.
Organic collaboration and utilization of three strengths, realizing long-term, stable income growth despite encountering various cycles
3. Long-term results trends
The Company's success in realizing stable growth, despite being in the electronics industry with harsh volatility and encountering economic and products cycles, is even more pronounced in a review of its long-term results trends. In the early 2000s, mobile phone business grew with key products such as printed circuit board (FPC) materials, substrate mounting, and optical films. Around 2010, LCD TV-related products were a major business thanks to the transition to terrestrial digital service and other factors. Smartphones and tablets emerged as fast-growing products from 2010. The Company sold various films, glass products, and other items and achieved a rapid recovery from the Lehman shock and set consecutive all-time high profits. While results have flattened in recent years due to maturation of the smartphone market, the automotive-related business is steadily growing as the next driver. The Company is expanding business for markets that differ from previous areas, such as industrial equipment and medical equipment, as well.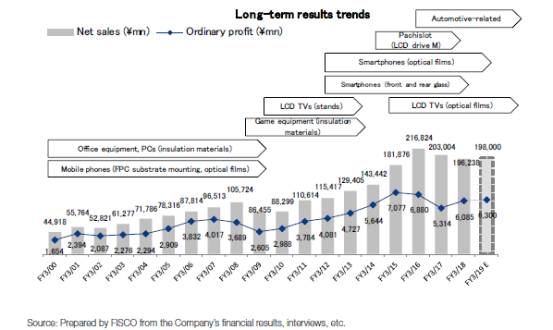 We think the ability to deliver stable growth through these cycles reflects the Company's two main characteristics and strengths explained above of 1) having numerous business partners and extensive range of handled products and 2) flexible and keen adaptability for quickly finding growth markets. While often forgotten, it is important to acknowledge the presence of an organizational structure for organically capitalizing on these characteristics and strengths (this includes corporate culture and executive capabilities). We think this is the third strength and the combination of these three factors is what supports the Company's presence. As discussed below, the Company is trying to break out of the trading-company shell and solidify a unique business model that is close to being a fabless manufacturer as a longer-term strategy. We expect the three characteristics and strengths to play a key role in whether the Company is successful in this challenge.
◆Business performance
Sales and profits fell YoY as expected, though sales in automotive-related business and other areas with strong growth expectations are steadily rising
1. Overview of 1H FY3/19 results
The Company posted lower sales and profits in 1H FY3/19 with net sales at ¥89,619mn (-13.9% YoY), operating income at ¥3,048mn (-8.9%), ordinary profit at ¥2,926mn (-5.7%), and profit attributable to owners of parent at ¥2,125mn (-2.3%).
We cannot compare 1H results with an initial outlook because of the Company's use of the fiscal-year basis to manage its estimates. As explained later, however, we believe sales slightly missed the plan because of a large dip in sales of smartphone-related products in 1H. Profit, meanwhile, was believed to be in line with the plan because increased sales in Automotive and Broad Market segments with higher profit margins than smartphone-related products limited the impact of sales shortfall on profits.

Production of electronic parts and other items was healthy in 1H FY3/19, just as in FY3/18, because of increased IoT-related demand and industrial machinery demand and the rising percentage of electric systems usage in automo­biles. The smartphone market, meanwhile, had a sluggish trend due in part to maturation of the market symbolized by exhaustion of inroads in China, the world's largest market. In this environment, sales trends at the Company, which handles a wide range of products, resembled the overall market. Additionally, there was an impact from delivery of some products that had been scheduled in 1H FY3/19 slipping to 2H. Sales fell 13.9% (¥14,515mn) YoY as a result.
In profits, meanwhile, gross margin improved 0.9ppt from 9.3% a year ago to 10.2% in 1H FY3/19, but gross profit fell 5.7% (¥556mn) YoY due to weaker sales. SG&A expenses declined 4.1% (¥258mn) YoY in 1H on lower shipping fees related to the drop in sales and smaller inclusions to the bad credit allowance. However, this was not enough to offset the setback in gross profit and operating income shrunk 8.9% (¥297mn) YoY.
Gross margin rose mainly because of healthier product mix. Specifically, this happened because the Automotive and Broad Market segments with relatively high profit margins posted higher sales YoY and moved to larger sales ratios while Digital Electronics, which has lower profitability, booked lower sales and weakened to a lower sales ratio.
We think the content of 1H results was positive because double-digit increases in Automotive and Broad Market sales offset a further 30.3% sales decline in the Digital Electronics segment, which had a major sales setback in the previous fiscal year, and thereby kept profits on track with the plan. The 1H outcome extensively leveraged the Company's strength of having numerous business partners and products as it transitions to the next growth market, as was done in past years, from FY3/18 to FY3/19.
Automotive-related demand and increased sales of a wide range of products offset the impact of sales decline in smartphone-related products
2. Trends by market
Digital Electronics sales dropped 30.3% (¥19,520mn) YoY to ¥44,817mn. In the breakdown, sales of products used in LCDs, touch panels, and backlights, which are predominantly shipped for use in smartphones and tablets as final products, were down by ¥19,265mn and covered almost all of the decline in Digital Electronics segment sales. As mentioned earlier, maturation of the smartphone market has created conditions in which sales are heavily affected by whether products of panel manufacturers that receive parts and materials from the Company are adopted in top-selling smartphones or sales trends of smartphones at the Company's customers. This dynamic was very evident in 1H FY3/19 results. Nevertheless, profitability of LCDs, touch panels, and backlights has been slipping over the past few years and we think there was only a minor impact on profits, in contrast to sales.
Automotive sales rose 17.9% (¥2,029mn) YoY to ¥13,359mn. This segment climbed further to 14.9% of overall sales. The Company handles a wide range of products, including headlight parts and materials, interior parts and materials, sensors, motors, and various electronic parts. Heaters, motors, and sensors were leading sources of stronger sales in 1H FY3/19. There are also numerous parts and materials supplied to automotive products besides parts directly used in automobiles. The Automotive business has a general image of high-volume delivery of certain parts to primary parts manufacturers for use in volume-output models. While the Company is pursuing this business, it is currently at a stage of delivering a variety of product types in many directions as explained above. However, we think these efforts might be supporting the relatively high profitability of this business.
Broad Market sales increased 10.5% (¥2,976mn) YoY to 31,442mn. Viewed by category, the aftermarket business increased sales by ¥2,252mn and provided about three-fourths of the gain in segment sales. Aftermarket is not naming based on a business area or industry and has the same meaning as reference to car navigation systems or other items sold later on by automotive parts sellers as "aftermarket products." We think automotive products hold a substantial share of this business (though it is not limited to automotive). Automotive products and related items posted higher sales in the previous fiscal year, and this trend appears to have continued in 1H FY3/19. Sales of products used in medical equipment increased as well.
報告內容僅供參考,不得作為任何投資引用之唯一依據,且其投資風險及決定應由投資人自行判斷並自負損益。
【免責聲明】 本研究報告專區中的資訊均來自於各金融機構授權刊登或是已公開的資訊,鉅亨網對資訊的準確性、完整性和及時性不作任何保證,也不保證上述資訊報告做出的建議在未來不發生修正。在任何情況下,鉅亨網不對本資訊的使用人基於本資訊報告觀點進行的投資所引致的任何損益承擔任何責任。本網研究報告版權均歸各家提供機構所有,不得任意引用、刊發,且不得對原文進行修改或刪除。以上資訊僅供參考。