With debt-free management and an abundance of cash on hand, its financial position is excellent
3. Financial position and management indicators
At the end of FY3/19 1H, total assets were down ¥318mn on the end of the previous fiscal year to ¥12,485mn. Looking at the main change factors, in current assets, cash, deposits and marketable securities decreased ¥579mn due to payment of dividends, while in non-current assets, long-term time deposits and investment securities increased ¥115mn. Long-term and short-term adjusted cash, deposits and marketable securities decreased ¥464mn to ¥8,226mn, which constituted 65.9% of total assets.
Total liabilities were down ¥202mn on the end of the previous fiscal year to ¥2,166mn. This was mainly due to the absence of provision for retirement benefits of ¥217mn that was previously recorded in non-current liabilities. Also, net assets were down ¥115mn on the end of the previous fiscal year to ¥10,318mn. This was because although net profit of ¥320mn was recorded, there were decrease factors, of ¥354mn for dividend payments and ¥97mn to acquire treasury shares.
The equity ratio is 82.6% and it continues to be maintained at above 80%. Moreover, the Company has no inter­est-bearing debt, so it can be judged that is financial condition remains extremely sound. Cash at hand is at a high level, but at the current time it intends to invest funds in human resources and workstyle reform toward growth and in IT for productivity reforms. Also, the Company considers that one strategy option is to utilize its abundant funds for M&A and alliances, and the Company's policy is to proactively investigate proposals if they will contribute to growth.
◆Business outlook
The initial forecasts for the FY3/19 results have been left unchanged, but the results may exceed them with the current steady orders
1. Outlook for FY3/19
The Company has left the initial forecast unchanged for the FY3/19 results with net sales forecast to increase 2.3% YoY to ¥9,000mn, operating profit to rise 3.6% to ¥970mn, ordinary profit to grow 2.6% to ¥990mn, and net profit to increase 0.7% to ¥680mn. In the context of the continued recovery of the Japanese economy in 2H, the Company is aiming for stable growth by progressing its "C&C strategy" (consulting platform strategy), while aiming to meet various consulting needs, from the viewpoint of "domain (business domains and industries) x function (organization and management topics) x region."

The average number of team consulting contracting companies during the period, which is the main KPI, is expected to increase by 44 on the end of the previous fiscal year to 990 companies, and net sales to increase 4.8% to ¥4,000mn. The percentage of total net sales provided by high added-value team consulting is projected to increase, in line with this, the gross profit margin is expected to rise by 1.1 PP on the end of the previous fiscal year to 46.4%. The SG&A expenses ratio is also forecast to rise 0.9 PP, mainly due to the increase in personnel expenses and human resources recruitment and employment expenses. However, the operating profit margin will rise 0.2 PP because of the improvement in the gross profit margin. Due to factors including that the progress made up to Q2 exceeded the forecasts and that orders are trending stably at the current time, at FISCO we think it is highly likely that the full fiscal results will slightly exceed the Company forecasts.
The Company is utilizing its strength, that it can provide a variety of consulting services, and the outlook is for the higher sales and profits to continue in FY3/19 also
2. Outlook by segment
(1) Management consulting business
The forecasts for FY3/19 are for net sales to increase 2.5% YoY to ¥5,150mn and segment profit to rise 1.4% to ¥1,355mn. Higher sales and profits are expected from an increase in the number of contracts for management consulting and human resource development consulting. The main reason for the slight decline in the operating margin is that personnel expenses are expected to rise from the increase in the number of consultants. At the end of FY3/19, the plan is to have increased the number of consultants including management consultants and human resources development consultants by 26 on the end of the previous fiscal year to 186 people (including 16 consultant candidates from recruited new graduates). The business strategies that the Company will work on going forward are as follows.
a) Domain and function consulting strategy
"The strategy domain (by business domain and industry) & function (by organization and management theme) workshops" serve to guide the participating companies toward concluding management consulting contracts. The Company intends at an early stage to increase the number of workshop themes, including on scrap & build, from the current 25 to 35 themes. It plans and develops workshop themes over time to reflect the themes for which needs are high at that particular time. As the new themes for FY3/19, it will launch a total of six workshops; "the apparel business and innovation," "productivity reform," "100-year management," "stimulating promotions," "stage-up," and "foods and product development." In these workshops, in addition to developing strategy leaders, the strategy is to provide high added-value services to customers nationwide by establishing consulting methods and by positioning specialist consulting teams in the Osaka and Tokyo head offices.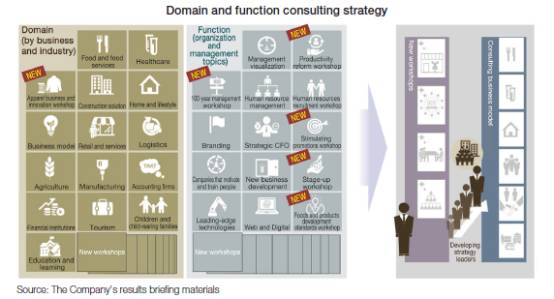 b) Human resources development consulting
In human resources development consulting, the Company is advancing the "FCC academies (corporate uni­versities)" concept as the learning platform for companies that intend to be "first call companies (FCC)." It offers one-stop solutions to meets companies' needs for human resources development through providing three services: "Consulting" to support the establishment of corporate universities, including by building education systems, developing educational content, and producing in-company lecturers; "Cloud" to provide a learning environment using digital devices in which the place and time is not limited; and "Real" that provides seminars and made-to-order training.
In terms of services for human resources development, various other companies provide e-learning and talent management systems, but each are only partial services and the Company's strength is that it is one of the very few companies that can respond to companies' needs for human resources development with total solutions.
The extent of Cloud services contribution to profits is small, as their annual usage fees are set at the low cost of only around a few thousand yen per ID. But if including "Consulting" prior to their introduction and also the "Real" consulting services after their introduction, their sales scale becomes larger, and there are major expectations for their contribution to profits in the future.
At the end of September 2018, the number of companies introducing them had steadily risen to around 60, up from around 50 at the end of the previous fiscal year, and the Company is aiming for 100 companies to have introduced them by2020. Currently, many of the companies introducing them are medium-sized, but the policy going forward is to promote their introduction by major companies also. By industry, they are being introduced by companies in the construction, foods and restaurant, and healthcare-related (such as dispensing pharmacies) industries. The introducing companies, can expect that the establishment of a corporate university will not only strengthen the efficiency of their human resources development capability, but it will also have an appeal effect for the recruitment of human resources. Moreover for the future, the Company is investigating building an open platform by industry that will connect introducing companies within the same industry.
c) Alliance consulting strategy
In alliance consulting, in addition to conventional consulting for financial institutions, through alliances with approx­imately 100 financial institutions, the Company's policy is to newly systemize and focus on a menu for "stage-up consulting," targeting its alliance partners' approximately 7,000 customer companies (mainly SMEs), and also "M&A consulting" in collaboration with its alliance partners. By providing these services, it is aiming to contribute to the development of regional companies and to support the activation of regional economies.
In "stage-up consulting," the Company provides consulting necessary for companies to get beyond the barrier of each stage of sales of ¥100mn, ¥300mn, ¥500mn, and ¥1bn. The Company has also launched a "stage-up workshop," and it intends to acquire customers through this workshop. Up to the present time, it has provided consulting services mainly for medium-sized companies, but its strategy is to widen its targeted domains to consulting for start-up companies as well, which will lead to the further expansion of the customer base.
On the other hand, in "M&A consulting," while coordinating with its alliance partners, the Company introduces candidates for an acquisition to companies (the buyer side) that intend to conduct an M&A for growth. Previously also, it provided such a service on an individual basis, but the needs for M&A consulting are strong, so it has organized an "M&A alliance" and has clarified and is providing a menu of services for it. Its alliance partners are not only regional financial institutions, as recently it has also progressed alliances with mega banks, and the number of completed contracts is expected to increase. However, M&A consulting is positioned as just one item on the management consulting menu to realize growth within the Company's customer companies, thus it will not be developed in a way that is similar to the consulting companies specializing in M&A that are conducting active matching business.
(2) SP consulting business
The outlook for FY3/19 is for net sales to increase 2.0% YoY to ¥3,850mn and segment profit to rise 3.6% to ¥210mn. In SP consulting also, from the viewpoints of domain (industry) and function (promotions themes), its strategy is to expand the business by reviewing business processes, forming consulting teams in which the members are fully familiar in each domain and function, and providing consulting services with higher levels of specialism than ever before.
Also, to support the planning, implementation, and advancement of promotions and branding strategies, the Company is progressing measures to even further enhance customer value through combining them with Web promotions. It expects to expand the operating areas as well, from the previous four main bases (the Osaka and Tokyo head offices, and the Chubu and Kyushu headquarters) to branches throughout the country. Diary net sales are forecast to be basically unchanged YoY.
Intends to advance the consulting platform strategy to a nationwide scale, toward realizing sustainable growth from 2020 onwards
3. Medium-term business plan
In May 2018, the Company announced Tanabe Vision 2020 (2018 to 2020) as its medium-term business plan, with the slogan of "from change to growth" in order to realize sustainable growth from 2020 onwards. It intends to advance the "creation of a consulting platform" on a nationwide scale and expand the customer base while collaborating with alliance partners, and aim for growth in sales centered on team consulting.
The results targets for FY3/21, which is the final fiscal year of the medium-term business plan, are net sales of ¥9,600mn and ordinary profit of ¥1,060mn. For the average annual growth rates, the policy is to achieve steady growth of 3.0% for net sales and 3.6% for ordinary profit. Also, for the average annual growth rates by business segment, for the management consulting business, the Company is targeting growth rates of 3.1% for net sales and 2.1% for operating profit, and for the SP consulting business, 2.8% for net sales and 4.4% for operating profit.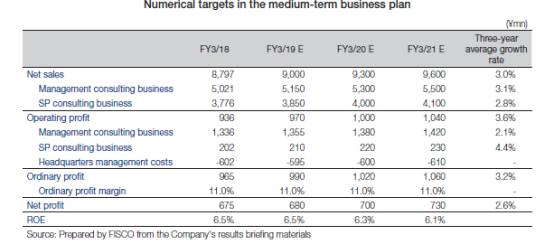 The outlook for team consulting net sales, which is a main KPI, is that they will increase from ¥3,816mn in FY3/18 to ¥4,350mn in FY3/21 for an average annual growth rate of 4.5%, which is slightly above the all-company average. Their percentage of total net sales will also rise, from 43.4% in FY3/18 to 45.3%. In addition, the number of consul­tants, who will be the driving force behind growth, is forecast to increase from 218 at the end of FY3/18 to 291 at the end of FY3/21. The Company is strengthening the development of new graduates and the recruitment of mid-career, professional human resources who are fully familiar with the various industries, as well as actively recruiting human resources looking to make an I-turn or a U-turn in their careers. It will utilize its strength of developing its business in 10 major cities nationwide, including at its regional bases.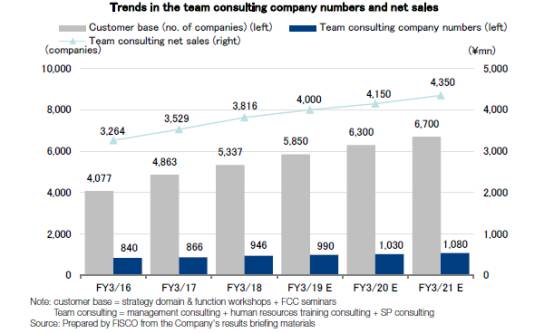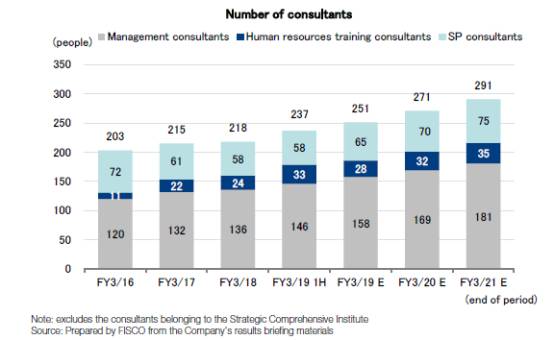 As its corporate strategy, the Company plans to implement investment relating to workstyle reform and productivity reform. It has already completed some investment projects, including to renew the video conferencing system and to provide all employees with iPhones, while the projects currently being implemented include to introduce a new ERP package and to renew the offices, including the head offices. In the future, it also plans to introduce a flex-time system and teleworking, AI research (surveys, partner-company selection, and test introductions), and business automation systems (chatbots and RPA). From FY3/19, it has also newly introduced a personnel system and a wage system that are intended to improve employee motivation, and the implementation of these investment projects is expected to improve productivity.
◆Shareholder return policy
Policy is to continuously increase the dividend, with a dividend payout ratio of 60% as the standard
Shareholder returns include dividends and shareholder gifts. Tanabe decides the dividend while taking into account earnings and other factors (excluding extraordinary items) with a goal of a 60% of dividend payout ratio. It plans to raise the dividend by ¥1.0 to ¥42.0 (53.3% payout ratio) in FY3/19, for a seventh straight fiscal year, and to continue lifting sales, profits and the dividend.
It also provides a gift to shareholders on record as of end-September of its original Blue Diary scheduler (worth about ¥3,000). Dividend yield worked out to about 3.4% and investment return comes to roughly 5.7% including the shareholder gift, based on the share price on February 1, 2019 (¥1,253).
◆Information security policy
Tanabe uses the Internet to convey various services to members and send all kinds of management data to the financial institutions and other companies that are its alliance partners. The information security measures the Company has put in place to prevent system failure and quickly restore the system in case of a failure include firewalls and other measures to strictly control and monitor outside access, enhanced authentication measures, antivirus software, data backup systems, and server mirroring. To protect the client data on its system from unauthorized access and leaks, Tanabe has a strict data management system using both hardware and software, and constantly reminds employees about the importance of protecting client data.
報告內容僅供參考,不得作為任何投資引用之唯一依據,且其投資風險及決定應由投資人自行判斷並自負損益。
【免責聲明】 本研究報告專區中的資訊均來自於各金融機構授權刊登或是已公開的資訊,鉅亨網對資訊的準確性、完整性和及時性不作任何保證,也不保證上述資訊報告做出的建議在未來不發生修正。在任何情況下,鉅亨網不對本資訊的使用人基於本資訊報告觀點進行的投資所引致的任何損益承擔任何責任。本網研究報告版權均歸各家提供機構所有,不得任意引用、刊發,且不得對原文進行修改或刪除。以上資訊僅供參考。