◆Summary
Sustaining healthy growth in Japan and overseas on success with "region x field" growth strategy, new mid-term plan targets prompt attainment of ¥10bn in operating income
Trust Tech Inc. <2154> (hereafter, also "the Company") is a staffing company that mainly dispatches engineers and manufacturing staff and handles subcontracting for development, design, and production. Its core strength is dispatching/subcontracting engineers, and Trust Tech stands out among listed companies in the technology staffing industry with its aggressive pursuit of overseas opportunities.
1. Steep sales and profit gains in FY6/18, continues healthy broadening in domestic and overseas businesses
The Company posted steep sales and profit gains in FY6/18 with net sales at ¥65,363mn (+51.9% YoY), operat­ing income at ¥4,297mn (+33.4%), and EBITDA at ¥5,332mn (+33.0%). While contribution from UK-based GAP Personnel Holdings Limited, which was acquired as a subsidiary in December 2017, for nine months provided a large boost to sales, the domestic engineering field, a core business, sustained strong growth with a 27.5% YoY increase. Profitability improved in engineering and manufacturing fields due to higher dispatching prices and additional employees, and EBITDA sharply increased. The overseas field booked a YoY gain in EBITDA, despite decline in EBITDA margin versus the previous year because of one-time costs at MTrec and weaker mix from the acquisition of GAP as a subsidiary.
2. New mid-term plan targets ¥10bn in operating income through faster personnel additions and "Region x Field" strategy
The newly announced three-year mid-term business plan covering FY6/19-21 calls for ¥10bn in operating income as a medium-term goal. While the plan does not specify attainment timing, we think the Company hopes to reach the goal promptly in FY6/21. Policies for realizing the goal continue along the existing paths of "region" and "field" growth. In region strategy, the focus is the next acquisition after the purchases of three UK companies. The start of profit contributions from Asian companies also deserves attention. In field strategy, a key initiative is broadening IT and software areas in the domestic engineering field. The Company targets ¥10bn in FY6/19 and is aiming for further expansion. It intends to accelerate personnel additions in order to realize mid-term plan goals. Specifically, it already ramped up mid-career hires and is preparing to hire 900 new university graduates in April 2019.
3. Targeting steep sales and profit gains in FY6/19 too with additions to domestic personnel, higher pricing, and overseas M&A as drivers
The Company expects continuation of steep sales and profit gains in FY6/19 at ¥82,000mn in net sales (+25.5% YoY), ¥6,000mn in operating income (+39.6%), and ¥7,048mn in EBITDA (+32.2%). In Japan, it plans to increase sales in the engineering field by just over 20% and the manufacturing field by just over 10% on additional personnel and higher prices. In the overseas field, it targets sales growth of just over 30% with a full-year contribution from GAP and new income from Quattro Group Holdings Limited (nine-months' worth) acquired as a subsidiary in August 2018. The Company aims for earnings growth of just over 30% YoY with improved profitability from increased volume and higher pricing in the mainstay engineering field. Furthermore, it expects profit growth of over 50% YoY in the overseas field on stronger profitability from removal of one-time costs and more favorable business mix. We see upside room in overseas field sales.
◆Company profile
Currently sustaining robust growth with multiple acquisitions in Japan and abroad
1. History
Sanei Shoji Inc. and others established Kyousei Sangyou Inc. (Trust Tech's predecessor) in 1997 as a special subsidiary based on the Act on Employment Promotion etc. of Persons with Disabilities. Amuse Capital acquired all of the company's shares and changed its name to Trust Works Sanei Inc. in 2004 and also expanded business scope to dispatching services (specified worker dispatching business) and other areas. Trust Works Sanei acquired all shares in former Trust Tech Inc., which was a company under Amuse Capital, in 2005 and entered the engineer dispatching business. It merged with former Trust Tech in 2008 and changed its name to Trust Tech Inc., completing the foundation of current operations.
Trust Tech subsequently pursued M&A deals to broaden its business scope, including rapid acquisitions as subsid­iaries of PLM (now, consolidated subsidiary TTM Inc.) in 2009, International Dispatching Human Resources Limited (now, consolidated subsidiary HKTT Limited) in 2010, and Freedom Co., Ltd. (now, TRUST NEXT SOLUTIONS Inc.) and Kanamoto Engineering (changed its name to Trial but was absorbed into Trust Tech in October 2016) in 2015. It acquired UK-based dispatching firm MTrec as a subsidiary in August 2016, giving it a foothold to promote full-fledged overseas initiatives, and then purchased UK-based GAP as a subsidiary in December 2017 (this deal involved direct acquisition of holding-company 1998 Holdings Limited). It also acquired FUSIONi Co., Ltd. as a subsidiary in March 2017 (renamed as Trust iPowers Inc. in January 2018) as part of broadening business scope to IT and software. The Company announced the acquisition of UK-based Quattro Group as the third entity in this country in August 2018.
Pursuing three main fields - engineer dispatching, manufacturing staff dispatching, and overseas business
2. Business overview
Trust Tech has had two main business domains – the engineering field, which covers engineer dispatches and the development and design subcontracting, and manufacturing field, which handles manufacturing subcontracting and dispatching of manufacturing workers to production lines. It switched to three business segments from FY6/17 with the addition of an overseas field to cover overseas business. Trust Tech's overall income consists of these three reporting segments plus other income from special subsidiary Trust Tech With Inc. (renamed from Kyousei Sangyou Inc. in March 2017) that handles employment for disabled persons and from real estate leasing business.
The corporate group consists for Trust Tech and consolidated subsidiaries TTM Inc., TRUST NEXT SOLUTIONS and Trust iPowers in Japan. As business fields, Trust Tech, TRUST NEXT SOLUTIONS and Trust iPowers handle engineering while TTM runs the manufacturing.
Overseas initiatives started with the acquisition of a Hong Kong-based company, which provides engineering recruitment and other services, in June 2016. Since then, the Company has rapidly expanded business scope by setting up sites in Asia, with emphasis on China, and simultaneously making acquisitions in the UK. Overseas field sales have quickly risen to the ¥30bn range due to major acquisitions in the UK of MTrec in August 2016, GAP in December 2017, and Quattro Group in August 2018.
Recruiting engineers is vital to growth in the engineering field. Responding with mid-career hires and new university graduates
3. Income structure of the engineering field segment
In the engineering field segment, Trust Tech handles the dispatch, subcontracting, and outsourcing of its engineers for R&D, design, production technology, and other technology areas at customer companies. Actual business content can be largely divided into dispatching engineers and development, design, and other subcontracting, with about 75% dispatch of engineers and 25% is subcontracting. The outsourcing business mainly involves work conducted by the Company's engineers at customer facilities, and outsourcing development at its own facilities is rare.
Average prices are higher in the engineering field compared with those in the manufacturing field because of the added value of "engineers." Price difference results in the profitability gap between the two segments. While it might appear that subcontracting should be more profitable than dispatching service, dispatching delivers almost the same profitability in many cases because process step estimates, deadlines, and other aspects of subcontracting business often differ from the initial budget in actual implementation.
Growth in this field depends on the Company's ability to secure a large number of talented engineers. It is more important to find engineers than destinations in the current tight labor environment. Trust Tech had focused on acquiring human resources by hiring people with an existing career who can be immediately used on projects, and plans to ramp up mid-career recruitment for the year ending March 31, 2019. It has also been hiring new graduates more aggressively in the past few years; in addition to hiring around 500 graduates in April 2018, the Company plans to hire around 700 new graduates in April 2019 (hiring totals include the Company's technology field and two subsidiaries).
An important point along with hiring is boosting the engineer retention rate. Trust Tech is putting efforts into increasing the average dispatching price and improving compensation for engineers. Increase in the average price is often achieved through assignments to customers paying higher prices. Key points in accomplishing this are more precise understanding of individual engineer skills and market value and matching these features with suitable assignments. Trust Tech intends to place even stronger emphasis on talent management.
Profitability from efficient matching of personnel and dispatching sites is vital in manufacturing field; utilizing a local-supply model
4. Income structure of the manufacturing field segment
The manufacturing field segment operates services that supply personnel for production lines at customer companies using its production line staff. It uses operation subcontracting (on-site subcontracting) and manufacturing staff dispatches as the two services formats. While sales ratios of subcontracting and dispatching fluctuate, the split appears to be roughly equal. In a comparison of subcontracting and staff dispatches for manufacturing, profitability should be higher for subcontracting because of leeway to raise margin by enhancing productivity with autonomous efforts. The reality, however, is profitability does not differ much because of stringent terms from the customer side.
Manufacturing services have a lower average fee than engineering, and fees vary more due to impact of changes in demand for manufactured products. Contract periods tend to be shorter as well. These attributes contribute to lower profitability in manufacturing services versus engineering.
Trust Tech is focusing on regional hiring and sales activities in order to enhance profitability in the manufacturing field. Dispatches of manufacturing personnel to remote locations involve moving and transfer expenses. This approach aims to curtail and reduce such costs. Japan has many corporate communities in automotive, electric equipment, and other fields in its regional cities. Effective matching via recruitment of workers and subcontracting and dispatching customers in such regional cities enhances the cost reduction efficiency. Trust Tech has been improving its profitability in the manufacturing segment due to success in steadfast efforts with this type of regional focus; EBITDA margin reached 5.4% in June 2018, arriving at a top position in the industry.
Employee numbers in the manufacturing field segment has been in a range of 2,000 to 2,500 people up to now due to responses to changes in subcontracting and dispatching demand. Furthermore, manufacturing subcontracting and dispatching demand is rooted in efforts to lower labor costs at customer firms. Considering this background, Trust Tech enlists a mix of indefinite-term employees and limited-term employees in the manufacturing field to flexibly meet demand. Trust Tech sees shortages in manufacturing personnel in Japan as a structural issue and expects continued rise in demand in the medium to long term for manufacturing staff. It thus plans to boost manufacturing employee numbers from a range of 2,000 to 2,500 people to a range of 2,500 to 3,000 people.
Conducts manufacturing staff dispatches at three UK-based subsidiaries, offers Japan-style manufacturing staff dispatches through the Chinese joint venture in Asia
5. Overseas field details and income structure
The "overseas field" is a categorization based on the geographical aspect of the business, rather than a distinction related to the nature of business in Japan. In the overseas field, the Company adjusts its market engagement and growth strategy by mature markets (mainly developed countries) and immature markets in Asia and other areas because extent of development in human resource service business differs depending on the level of social maturity.
In mature markets, the Company follows a basic policy of entering through acquisition of local companies due to the large number of existing human resource companies. It has acquired three subsidiaries in the UK (MTrec, GAP, and Quattro Group) with business content that corresponds to the manufacturing field in Japan. Income structure hence is nearly the same as its domestic manufacturing field.
In Asia, meanwhile, the Company is positioning itself gradually based on market advancement levels because these are immature markets. It limits local subsidiaries to personnel recruitment business. These sites mainly handle market surveys and information gathering at this point due to lack of dispatching markets. From an earnings perspective, the subsidiaries appear to be profitable because of their low-cost structures. Joint-venture companies in China, however, engage in Japan-style dispatching business, partly made possible because of the ability to alleviate business risk with the presence of a joint-venture partner. The initial joint venture in Shandong is already profitable, and the one in Guangzhou is proceeding along the same path and has moved within range of achieving profitability in the near future.
◆Business performance
Steep sales increase from adding UK-based GAP as a subsidiary, profit rose just over 30% YoY on improved margins in domestic engineering and manufacturing fields
• Overview of FY6/18 results
The Company posted steep sales and profit gains in FY6/18 with net sales at ¥65,363mn (+51.9% YoY), operating income at ¥4,297mn (+33.4%), ordinary income at ¥4,228mn (+32.7%), and net income attributable to parent shareholders at ¥2,569mn (+33.5%). Net sales and operating income reached all-time highs. EBITDA (operating income + goodwill write-off costs + depreciation costs + acquisition one-time costs), which the Company monitors as a key performance indicator (KPI), climbed ¥1,321mn (33.0%) to ¥5,332mn.
The Company announced the acquisition of UK-based dispatching firm GAP in November 2017 and raised its outlook for the addition. Final results were roughly on track with revised guidance at +1.3% in net sales and -1.2% in operating income.
Net sales on a companywide basis increased ¥22,328mn YoY, with segment breakdown of ¥14,574mn in the overseas field, ¥6,856mn in the engineering field, and ¥945mn in the manufacturing field.
Acquisition of GAP as a subsidiary was a major source of the steep rise in overseas field sales. GAP reported about GBP133mn (roughly ¥18.6bn using a ¥140/GBP rate) in sales in FY3/17, the period before the acquisition, and incorporated nine months of income from GAP covering 2-4Q (July 2017 to March 2018) in FY6/18 results.
Engineering field sales grew at a healthy pace of 25.7% YoY. Organic growth provided the entire gain in FY6/18 because this segment did not have any acquisition impacts. We think the breakdown by factors was about 5% from higher engineer dispatch pricing and roughly 21% from a rise in the number of dispatched people.
Manufacturing field sales were up 10.6% YoY, reaching the Company's goal of a 10% increase. This segment also realized the gain through organic growth. Estimated breakdown was about 8% from a rise in the number of dispatched people and roughly 2% from higher dispatch pricing.
EBITDA expanded ¥1,321mn YoY as mentioned earlier. While profit rose YoY in all segments, improved profitability (EBITDA margin) in engineering and manufacturing fields contributed substantially to higher EBITDA. EBITDA margin rose from 12.4% to 13.1% in the engineering field and from 4.8% to 5.4% in the manufacturing field. Higher sales were the main driver of margin advances in both areas.
Overseas field EBITDA expanded 56.6% YoY to ¥476mn thanks to the acquisition of GAP as a subsidiary. However, EBITDA margin dropped from 4.1% to 2.2% because of one-time costs at MTrec and the addition of GAP, which has relatively low margin, as a subsidiary.
◆Medium- to long-term growth strategy
Announced a new mid-term business plan, aiming for prompt attainment of ¥10bn in operating income
1. Overview of new mid-term business plan
The Company presented a new three-year mid-term business plan (rolling mid-term plan) that covers FY6/19-21 at the disclosure of FY6/18 results.
A key difference in this mid-term business plan is inclusion of a specific goal of ¥10bn in operating income. Previous plans restricted sales and operating income goals to growth speed (sales and profit growth rates).
Growth strategy is essentially the same as in the previous plan. Namely, the Company aims to continue strong growth by expanding regionally and in business fields and establishing unique positions. While the new mid-term business plan does not appear to offer much that is new at first glance, we think it has evolved from the previous plan because the Company offers more specific and detailed goals and fleshed out initiatives to achieve the goals and is taking concrete steps in various areas.
We review details in the business segment explanations. In Japan, a major effort is expansion of business fields for engineer dispatching, particularly broader activities in IT and software areas. In mature overseas markets, the main focus is the "next" move following establishment of a manufacturing staff dispatching foundation in the UK. However, it is difficult to make specific predictions because of likely utilization of M&A. In Asia, which has immature markets, the Company restricts its local subsidiaries to recruitment business. By entering the dispatching business through joint ventures in China, it "laid seeds" while curtailing risk. The Company is ready now to proceed to the stage of recouping benefits from these efforts.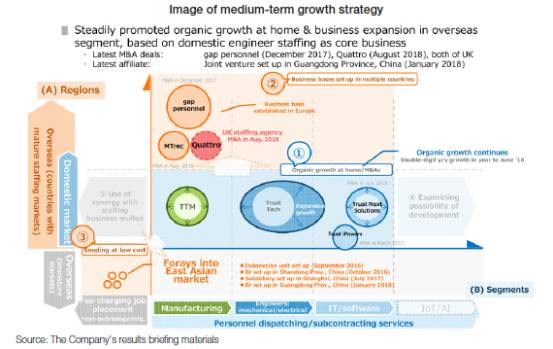 The earnings goal presented this time is ¥10bn in operating income. There is also an indication of the targeted growth pace, just as previously, calling for "annual increase of at least 20% in operating income." Starting with the ¥6bn operating income target in FY6/19, this value should surpass ¥10bn in FY6/22 based on the proposed growth rate (¥6bn x (1.2) to the third power = ¥10.3bn). The Company hopes to realize this level sooner.
While the plan does not offer a sales goal, estimated sales at the time of attaining ¥10bn in operating income work out to about ¥137bn applying the 7.3% operating margin targeted in FY6/19. Another approach puts sales at roughly ¥141.7bn assuming three straight years of 20% annual growth set as a goal from the ¥82bn FY6/19 target. Based on these values, we think the sales goal is around ¥140bn. Necessary sales for ¥10bn in operating income might also drop to about ¥120bn if we also factor in profitability gains in engineering and overseas fields.
報告內容僅供參考,不得作為任何投資引用之唯一依據,且其投資風險及決定應由投資人自行判斷並自負損益。
【免責聲明】 本研究報告專區中的資訊均來自於各金融機構授權刊登或是已公開的資訊,鉅亨網對資訊的準確性、完整性和及時性不作任何保證,也不保證上述資訊報告做出的建議在未來不發生修正。在任何情況下,鉅亨網不對本資訊的使用人基於本資訊報告觀點進行的投資所引致的任何損益承擔任何責任。本網研究報告版權均歸各家提供機構所有,不得任意引用、刊發,且不得對原文進行修改或刪除。以上資訊僅供參考。