◆M&A strategy and business reorganization
How to remain an essential presence
1. Management policy and stage
Since its founding, the Company promoted a concept of "becoming an essential presence, similar to air, in the network society" and "aggressively developing businesses in areas with rapid growth" in order to sustain a position as an essential firm. It aims to develop businesses over the longer term by keeping pace with advances in the network society, including blockchain, AI, VR/AR, and other new technologies, and harnessing new areas, such as growth in lodging demand from foreigners visiting Japan. Active M&A and other investments in growth markets in the Company's various businesses are a vital component of the business cycle of acquiring business assets that generate stable income, aggressively investing in growth markets, and strengthening the business foundation in growth markets. However, we think the Company has currently entered a stage of reinforcing the business foundation in growth markets.
M&A aimed at acquiring human resources and synergies
2. M&A strategy aims and accelerated M&A
The Company's M&A strategy aims to acquire management resources and teams and boost their motivation and obtain business assets capable of creating synergies. In particular, the latter seeks to build a robust income foundation that distributes risk in the various businesses and expand scale and also bring the Company into growth markets. We think the Company incurred the most risk with four companies it purchased in 2015 - First Penguin in pursuit of stable income, Liber Entertainment with smartphone games, a growth area, ASGARD, and GESI. However, in the following fiscal year (FY12/16), the Company booked an operating loss of ¥1,605mn (though it reported ¥501mn in EBITDA) because ASGARD and GESI did not reach initial profit expectations, Liber Entertainment incurred substantial costs for new title development expenses and advertising outlays, and it had goodwill depreciation costs and impairment charges due to these difficulties. Yet A3! released by Liber Entertainment in January 2017 was a major hit and income recovered sharply to ¥2,691mn in operating profit in FY12/17. With this success, the Company accelerated M&A activity by purchasing nine companies in FY12/17 and two companies in FY12/18.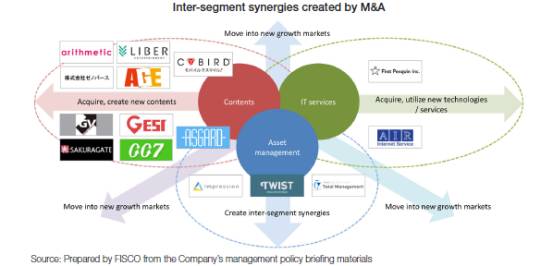 Strengthening synergies and governance through business reorganization
3. Business reorganization
(1) Reorganizing subsidiaries and contents
Thanks to hits with A3! and I★Chu, the Company acquired IP business as a new business field. We think the purchase of the Ikemen series in 2018 gave the Company confidence to achieve growth in IP business. Therefore, in order to allocate business resources to IP businesses and expand into new technologies and new fields, such as foreign travelers to Japan, it is consolidating business scope that had been broadened and strengthening the business foundation with selectivity and focus. Since 2Q FY12/18, the Company started reorganizing businesses and booked impairment charges on goodwill (¥655mn) for Arithmetic and other investments with insufficient progress toward business plans. It also took goodwill impairment losses due to conservatively revising outlooks for four consolidated subsidiaries (¥686mn) and on software assets at five consolidated subsidiaries (¥659mn). With ASGARD, the Company received debt forgiveness on loans from ASGARD directors (¥657mn; it thus booked ¥657mn in debt forgiveness profit) because ASGARD slipped into a state of excess liabilities on rising development costs and sluggish sales and merged ASGARD into Arithmetic through a spin-off style absorption intended to shore up mutual weaknesses. Additionally, the Company sold shares in eitarosoft, which has extensive IP from other companies, and Seisyou, on diminished synergy expectations in minpaku cleaning, and removed these entities from consolidated scope.
(2) Bolstering synergies and governance through business reorganization
The next step after selectivity and focus is promoting efforts to build an efficient business model as a corporate entity. The Company established Aeria Contents Holdings (ACH), an intermediate holding company, with Chairman Nagashima as the president and Liber Entertainment's representative director and president Kotaro Hayashida as a director and thereby created a framework to comprehensively manage and supervise the contents business. This scheme facilitates 1) collaboration with the ACH executive team, mainly built around Mr. Hayashida, in development of new game titles at the various companies, 2) sharing of management functions and related curtailment of managing costs, 3) curtailment of hiring costs through optimal allocation of human resources and effective utilization of human resources, and 4) sharing of company information and knowledge with ACH as the hub. The Company also established Aeria One Inc. for the purpose of actively creating synergies through use of group business resources, such as IP, and promoting alliances by finding new business opportunities inside and outside the group without being restricted by concepts in existing business segments.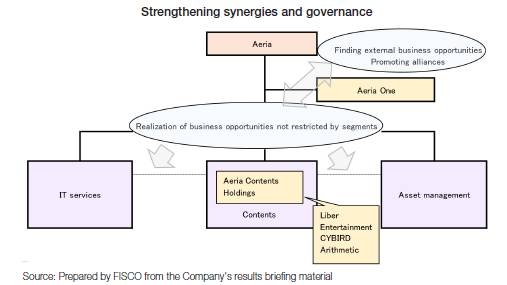 Incorporating new technologies and growth markets
4. Anticipated new fields
Despite business reorganization, the Company has strived to incorporate new technologies, such as AI, VR/AR, and blockchain, and markets related to the growing number of foreign visitors to Japan as new fields. Both opportunities offer large scale and could make fundamental changes in social structure.
(1) New technology field
In new technology, the Company is developing a trading card service that utilizes blockchain and reviewing use of VR/AR in lodging facilities, but these efforts are still looking ahead to the future. In application of AI to creative areas, the Company invested in DataGrid, a venture firm with AI technology that employs deep learning. DataGrid is engaging in R&D on technology that automatically generates character appearance images using AI. If the Company applies this technology, it could assign not only character appearance image creation, but also scenario creation, automated voice generation, natural language processing, and other aspects to AI software and limit the role of people to training and supervision. This might enable production of global only-one customized games. At the current stage, character appearance automated generation software has succeeded in automatically generating 70,000 characters from data exceeding 200,000 items. The Company could increase income if it becomes possible to endlessly add characters. Replacement of manually drawing characters from scratch with AI should help curtail costs as well. We think this is an attractive project and see applications in other areas besides games, such as minpaku reservations and key hand-offs, lodging rights interaction, and blockchain.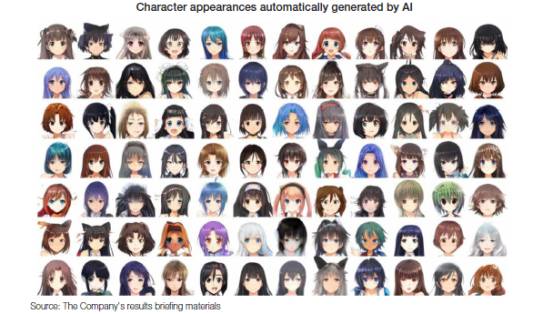 (2) Asset management business in a growth market
The number of foreigners visiting Japan rose by 8.7% YoY to 31.19mn people in 2018 (Source: Japan National Tourist Organization) and continued increasing in January and February 2019. We expect further growth in foreign visitor volume ahead of the 2020 Tokyo Olympics and Paralympics event, including support from national policy aimed at making Japan a major tourist destination. However, Japan faces a significant shortage of lodging facilities and minpaku sites have the potential to fill the gap. It implemented the Residential Accommodation Business Act (New Minpaku Act), which lifted the ban on minpaku practices, in June 2018. The new law aims to cultivate minpaku service, but also sets regulations, such as a limit on the number of operating days and notification and lodging party identity confirmation duties. A growing number of local government entities are bolstering their regulations in reaction to concerns expressed by neighboring residents, including noise, garbage disposal practices, and other manner infractions and criminal usage. Nevertheless, we project steady improvement in minpaku business health over the longer term because of increase in the number of official registered operators under the New Minpaku Act. The Company started its asset management business to target this area and is currently preparing and conducting experiments aimed at expansion of room volume.
◆Results trends
Major changes in the business structure
1. FY12/18 results trends
The Company reported FY12/18 results with ¥31,471mn in sales (+98.3% YoY), ¥1,876mn in operating income (-30.3%), ¥1,615mn in ordinary income (-41.5%), and ¥1,380mn in net losses attributable to parent shareholders (setback to a loss). In Internet-related business areas where the Company operates, Internet usage and EC (elec­tronic commerce) markets are still expanding and content services have diversified. Competition among companies, meanwhile, has been intensifying, and development costs, personnel costs, and sales promotion outlays are trending upward. In this environment, the Company built a position in the smartphone market by focusing on women and other niche markets with support from stable income in IT services business. Furthermore, it promoted minpaku business that taps into foreign tourists visiting Japan and also utilizes the Company's IP and generates synergies.
Sales climbed because of robust income from A3! and additions of CYBIRD and other consolidated subsidiaries. While gross margin slipped, this can be attributed to the impact of development costs at consolidated subsidiaries. SG&A expenses rose on higher collection agent fees with increase in contents business sales and larger advertising and promotion costs. In particular, the Company reinforced advertising and promotions to the point of updating guidance during the period because of its recognition of the strong potential of its IP assets. This stance pulled it away from new entrants. A3! remains highly received because of its impressive game content and has acquired sustainable popularity. Nevertheless, we think this was a major turning point for the Company's IP strategy. The Company booked ¥722mn in extraordinary profits, including debt forgiveness profits from ASGARD, but ¥2,201mn in extraordinary losses, including impairment charges on goodwill from Arithmetic and some other consolidated subsidiaries and software titles accompanying focus and selectivity. It also booked ¥454mn in 2Q related to cor­rection of the corporate tax and other values related to the purchase of Infotop shares by Infotop Capital in 2015.

In the results by segment, the IT services business posted ¥6,055mn in sales (+30.2% YoY) and ¥481mn in profit (+9.4%) as the two main subsidiaries (AIR Internet Service and First Penguin) maintained stable income. The contents business reported ¥14,262mn in sales (+59.6%) and ¥922mn in profit (-61.9%). Sales rose on continued robust A3! business and rapid expansion of IP business, including character good sales and stage events, while profits came under pressure from advertising and promotional costs to obtain market position. Asset management business booked ¥10,008mn in sales (+320.4%) and ¥452mn in profit (vs. a ¥94mn loss in FY12/17). Sales and earnings improved substantially, including promotion of IP collaboration with the Company's contents business at Twist and Total Management.
Slightly conservative guidance
2. FY12/19 outlook
For FY12/19, the Company forecasts sales of ¥32,000mn (+1.7% YoY), an operating profit of ¥2,200mn (+17.3%), recurring profit of ¥2,000mn (+23.8%), and net profit attributable to parent company shareholders of ¥1,400mn (vs. a ¥1,380mn loss in FY12/17).

In FY12/19, the Company expects continuation of stable income growth in IT services business. It also anticipates improved profitability in contents business driven by focus on expansion of existing titles and IP, enhanced gross margin from business reorganization and sharing knowhow through ACH, and curtailment of development costs due to decline in new titles versus the previous year. Additionally, a full-year contribution from CYBIRD, which was acquired as a subsidiary in June 2018, is likely to make a large contribution to raising market share. There might also be interest in the Company's casino games that offer added value with operational knowhow following passage of Japan's Integrated Resort (IR) Act in July 2018. The Company aims to strengthen minpaku service, including collaborative minpaku with IP from other companies. While it is beginning to accelerate business activities following reorganization, as described above, the outlook still seems somewhat conservative. We attribute this stance to the Company's strong resolve to avoid lowering guidance in FY12/19.
◆Shareholder return policy
Undecided FY12/19 dividend
1. Dividend
The Company acknowledges that returning profits to shareholders is an important management issue, but wants to expand profit retention in light of efforts to improve and strengthen operations and future business initiatives. It intends to use retained profit funds mainly for M&A and other capital alliances, R&D activities, and new business plans. While the Company had a basic policy of paying a continuous stable dividend from surplus funds in FY12/18, it ended up lowering the annual dividend outlay by ¥5 YoY to ¥5 (no interim dividend), including the impact of lowering profit guidance during the period. In FY12/19, we hope to see recovery to the previous level based on profit trends, but the Company has not reached a decision on the dividend yet.
QUO cards for the popular A3! title as a shareholder benefit
2. Shareholder benefit program
The Company provides a shareholder benefit each year with the aim of deepening shareholder understanding of its businesses and encouraging share ownership over the longer term. It sends the benefit with notification of resolutions for the general shareholder meeting typically mailed in late March to shareholders on the ledger as of the shareholder benefit standard date (at the end of December). The shareholder benefit in FY12/18 was QUO cards for the popular A3! Title, with expected distribution of ¥300 for 100 shares up to less than 1,000 shares, ¥500 for 1,000 shares up to less than 5,000 shares, ¥700 for 5,000 shares up to less than 10,000 shares, and ¥1,000 for 10,000 shares or more.
◆Information security
Strict compliance with confidentiality in regards to personal information
In the course of business, some Aeria Group companies require that individual users registering for online services provide personal information, including their name, address, telephone number, and email address. Personal information may also be collected and held temporally by client companies with the consent of the provider of that personnel information. Such personal data is treated as confidential by the Group, with internal access subject to restrictions and additional measures in place to prevent unauthorized external access. Aeria does not store any personal information stemming from sales made through App Store or Google Play.
報告內容僅供參考,不得作為任何投資引用之唯一依據,且其投資風險及決定應由投資人自行判斷並自負損益。
【免責聲明】 本研究報告專區中的資訊均來自於各金融機構授權刊登或是已公開的資訊,鉅亨網對資訊的準確性、完整性和及時性不作任何保證,也不保證上述資訊報告做出的建議在未來不發生修正。在任何情況下,鉅亨網不對本資訊的使用人基於本資訊報告觀點進行的投資所引致的任何損益承擔任何責任。本網研究報告版權均歸各家提供機構所有,不得任意引用、刊發,且不得對原文進行修改或刪除。以上資訊僅供參考。