◆Outlook
Expecting continued sales growth and higher operating profit for the first time in two years on recovery in Pharmacy Services in FY3/20
1. Company forecasts for FY3/20
The FY3/20 consolidated results outlook targets ¥120,552mn in net sales (+3.6% YOY), ¥7,498mn in operating profit (+2.6%), ¥7,711mn in ordinary profit (-2.4%), and ¥5,096mn in net profit attributable to parent shareholders (+1.4%). While it expects slightly lower sales and profits in Environmental Services after strong growth in the previous fiscal year, the overall outlook sees restoration of higher sales and profits on continued growth in mainstay Healthcare Services and progress adjusting to medical fee revisions implemented in April 2018 in Pharmacy Services. The main reason for anticipated decline in ordinary profit is removal of insurance surrender refunds booked in FY3/19.

The Company budgets ¥4,074mn in capital investments for FY3/20, an increase of ¥1,449mn YoY. Its capex spending was fairly low in FY3/19, compared to recent years, at ¥2,625mn because of decline in investment costs for rental materials, plant equipment, and new dispensing pharmacy stores. Increase sources in FY3/20 include purchasing various rental materials, including white gowns for hospitals and LEASEKIN item replacements, as well as planned acquisition of some leased assets mainly for plant equipment. The Company also intends to make IT investments aimed at improving business efficiency in the management division, SILVER Service business, LEASEKIN business, dispensing pharmacies, and other operations under system-related investments. The plan guides for a rise in depreciation costs by ¥269mn from ¥3,424mn in FY3/19 to ¥3,694mn in FY3/20.
Targets profitability at an early stage in new business iAide through aggressive sales efforts, despite widening losses due to investment costs
2. Outlook by business
(1) Healthcare Services
In Healthcare Services, the Company targets ¥62,790mn in net sales (+3.7% YoY) and ¥5,882mn in operating profit (+2.4%). It expects Hospital Services and bedding business to post higher sales and profits with a 3.5% increase in net sales and a 6.2% rise in operating profit. Emphasis in Hospital Services is expanding sales of hospitalization sets and NEXSURG. Anticipated sales growth rates are hospitalization sets at +14.8% YoY mainly by broadening sales channels to clinics and care facilities, in addition to hospitals, and NEXSURG at 10.9% by recruiting customers with hybrid products (combination of surgical drapes and other disposable products, and reusable products) proposals in Kanto as the priority area. It also intends to increase sales in hotel bedding and linen supply by acquiring robust demand in the hotel industry.
SILVER Service business targets are a 4.6% increase in net sales and a 1.4% gain in operating profit. The Company plans to add about 50 people to strengthen sales operations aimed at expansion of market share in urban areas. It also wants to improve business efficiency by moving sales and administrative work to computer systems and raise productivity through revision of work processes at the maintenance center. While operating margin will be slightly lower due to higher personnel costs and system investment costs, the Company positions these outlays as prior investments toward recruiting robust demand and expanding regional market shares.
Revisions to the Long-Term Care Insurance Act created a tougher management situation for smaller and tiny elderly care equipment rental firms, and we expect consolidation by major businesses. The Company conducted four M&A deals, albeit fairly minor ones, in FY3/19. More recently, it purchased the elderly care equipment rental business (about ¥20mn in annual sales) following a corporate split from Naito Construction Service Company based in Gifu prefecture in May 2019 for ¥6mn. It intends to continue to proactively expand business through M&A deals if companies have a stable customer base.
The Company projects a 3.4% decline in net sales and flat operating profit for Food supply business. It aims to secure human resources and also put priority on income improvement rather than pursuing larger scale. In other services, the Company forecasts an increase of 16.3% YoY in sales and a decline of 54.7% in operating profit. It expects double-digit growth in cleaning equipment manufacturing and sales business on support from release of new products. While profit should recover too, higher investment burden for the iAide new business is a setback in earnings.
In iAide business, the Company plans to begin sales of successor model iAide2 during FY3/20. The first model only measured pulse. iAIde2, meanwhile, adds measuring capabilities for body surface temperature and activity volume. The Company hopes to expand sales through collaboration with Hospital Services and SILVER Service businesses on the basis that it is an important tool not only in remote monitoring of home-care patients, but also in determining the rehabilitation effect at rehabilitation facilities and other locations. It set a shipment goal in FY3/20 of 5,000 units (vs. about 450 units at the end of FY3/19), including monitors. This business is likely to incur operating losses over multiple years due to incurring depreciation costs (one-year depreciation) from terminal purchases. The Company estimates that it can achieve profitability at sales volume of about 50,000 units and hopes to reach this level within 3-4 years. The business might grow rapidly if approval of insurance coverage for the equipment at some point alleviates the burden on users. The Company set a goal of selling 100,000 units over the medium term. We expect about ¥5bn in annual sales and larger profit contributions if it attains proliferation of 100,000 units.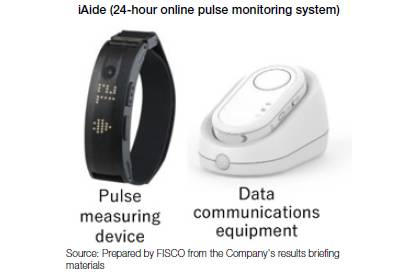 (2) Pharmacy Services
In Pharmacy Services, the Company targets ¥43,765mn in net sales (+4.7% YoY) and ¥2,722mn in operating profit (+9.2%). It expects profit drivers from increase in prescription handling volume related to opening new stores and higher technical fee income after making adjustments to medical fee revisions implemented in April 2018.
As FY3/20 business policy, the Company intends to continue efforts to strengthen capabilities as a "family pharmacy," just as in the previous fiscal year. It plans to increase health support pharmacies by nine sites YoY to 11 stores with a model of one site per area. It will also focus on training certified pharmacists for specific diseases, such as cancer, dementia, and diabetes, to strengthen advanced pharmacy management capabilities. It aims to improve work efficiency by actively deploying ICT, including use from May 2019 of automated voice input for the drug record creation process, which had previously been input manually to a personal computer.
The store-opening strategy is looking at diversification of store types. In FY3/20, the Company plans to open nine new pharmacies (with no closures), including two in medical malls and one on premises of hospital. It hired 40 new-graduate pharmacists and also added 20 medical staff. It intends to lift productivity by clearly distinguishing work assignments.
(3) Environmental Services
In Environmental Services, the Company targets ¥13,783mn in net sales (-0.1% YoY) and ¥918mn in operating profit (-3.8%). Based on a policy in the mainstay LEASEKIN business of aggressively developing and expanding sales of related products aimed at being the "top Japanese firm supplying products used around toilets," it plans to increase "toilet advisers," a unique certification, to 300 people during FY3/20. It also intends to deepen business at regional and customer levels by reinforcing sales operations through reorganization and improve sales activity efficiency and enhance sales proposal capabilities by bolstering the LEASEKIN app, a workflow app. Even franchise stores have responded very favorably to the LEASEKIN app because it handles estimate preparation, which had taken more than an hour, in about 10 minutes. Resulting increased usage might contribute to higher income. However, the Company expects a slight drop in sales as backlash from robust headquarter sales booked in FY3/19 and profit decline due to increase in rental materials costs.
The Company forecasts higher sales and profits in the cleaning business. It wants to focus on hospital interior cleaning, a high value-added service, and especially the surgical area in emergency hospitals. It also intends to continue pursuing sales expansion for the Halosil business, which efficiently implements measures to prevent hospital infections using a specialized device, started in FY3/19*.
* It is providing proposals, mainly to medical institutions, to introduce the Environmental Surfaces Sterilization System, which uses HaloFogger manufactured by Halosil International Inc., in the United States, and the HaloMist antiseptic solution, which has been certified by the United States Environmental Protection Agency (EPA).
◆Business development in the future
Aims for stable growth through steady acquisition of growing home medical and care services demand driven by arrival of an ultra-aged society
1. Business environment in the healthcare industry
Japan's healthcare industry will be facing an ultra-aged society due to increase in the senior population and decline in the productive-age population supporting the seniors. Single-person seniors and elderly people caring for each other are emerging as social issues in this environment. The Japanese government is taking steps to build a "community- based integrated care system" that aims to curtail steadily growing social security costs. The "community-based integrated care system" calls for a shift in the venue for provision of medical and care services from "facilities to homes" and this should lead to growing seamlessness between medical and care services. Shortages of medical and care service providers, meanwhile, is an issue too. We expect further expansion of demand for "home medical and care services."
We think the Company is capable of continuing growth over the longer term in this market environment by leveraging its strengths in medical and care business development to solidify unique "home medical and care services." In particular, the population of seniors who are 75 and older, the main target for the Company's business, is expected to increase at a 2% annual pace through 2030. This is a rare market with growth opportunities amid steady shrinkage of the overall population and offers robust growth potential.
2. Medium-term business strategy by segments
We expect stable growth in Healthcare Service because of the anticipated upward trend in the population of seniors who are 75 and older, the main customer segment. In SILVER Service business, the Company aims to actively expand business scale, including use of M&A deals, with a goal of being the No.1 firm in regional share in direct rent sales, mainly in urban areas.
In Hospital Services business, meanwhile, it intends to continue expanding sales with emphasis on hospitalization sets, NEXSURG, and other priority products amid a downward trend in hospital bed volume toward the necessary amount estimated by the national government.
Pharmacy Services is undergoing a transition in business strategy to address calls for dispensing pharmacies to enhance functionality as a "family pharmacy" that supports the "local comprehensive care system." The Company thus is promoting efforts to add "family pharmacy" capabilities while still mainly operating pharmacies located next to hospitals. In the store strategy, meanwhile, it intends to test stores that utilize a new style without being constrained to the existing model near hospitals. Since the Company is adhering to an organic store-opening policy, we anticipate continued fluctuations in income results around the timing of periodic medical fee revisions.
Environmental Services is arriving at a mature phase in mainstay LEASEKIN business amid shrinkage of the dust control market. Nevertheless, the Company aims to achieve moderate growth by deepening business with existing customers and developing new customers with emphasis on products used around toilets that are generating robust sales.
◆Shareholder return policy
Targets a total return ratio of 20% as the standard for returns to shareholders
The Company's policy for returning profits to shareholders is to target a total return ratio of 20% as the standard. In FY3/20, it is planning a dividend per share of ¥30.0 (dividend payout ratio, 21.2%), which is effectively the same as in the previous fiscal year.
報告內容僅供參考,不得作為任何投資引用之唯一依據,且其投資風險及決定應由投資人自行判斷並自負損益。
【免責聲明】 本研究報告專區中的資訊均來自於各金融機構授權刊登或是已公開的資訊,鉅亨網對資訊的準確性、完整性和及時性不作任何保證,也不保證上述資訊報告做出的建議在未來不發生修正。在任何情況下,鉅亨網不對本資訊的使用人基於本資訊報告觀點進行的投資所引致的任何損益承擔任何責任。本網研究報告版權均歸各家提供機構所有,不得任意引用、刊發,且不得對原文進行修改或刪除。以上資訊僅供參考。