◆Summary
Capable of minimizing impacts from US-China trade friction and Brexit
Advanex Inc. <5998> is a major specialty manufacturer of precision springs. With growing disruption from the widening trade conflict between the US and China, which account for 40% of the global economy, and the UK's exit from the European Union, manufacturers urgently need to move production out of China and the UK. The Company is capable of a quick and efficient response with 17 overseas production sites and global parallel manufacturing operations. We expect the Company to enter a full-fledged phase of recouping investments from FY3/21 following completion in June 2019 of its expansion plan to double global plant size that began in 2015.
1.Provides support for production transfers related to US-China trade friction and Brexit
The Company's global production operations consist of five domestic sites and 17 overseas sites. It stands out as the precision spring industry's leader in the number of overseas sites. Since 2015, it steadily expanded areas with operations as outlined in the mid-term management plan. This initiative finished with the opening of its Czech plant and an addition to the Saitama plant in June 2019. Besides Japan, it opened plants or used M&A deals to establish capabilities in Indonesia, Vietnam, India, Czech, the United States, and Mexico as production transfer sites. The Company operates global parallel production. It prepares equipment, dyes, tools, and other items used for volume output in Japan and transports them to overseas sites. It also has support operations that help in ramping up production and hence is capable of guaranteeing uniform product quality. Since the Company has arranged a global orders placement system that provides a unified sales contact point for procurement teams at customers with global operations, it is capable of promptly responding to changes in regional mix of production activities.
2.FY3/19 results and FY3/20 forecasts
In FY3/19, the Company reported ¥20,967mn in net sales (+3.3% YoY) and ¥66mn in operating profit (-74.4%). It had a ¥107mn net loss attributable to parent shareholders due to taking a ¥121mn extraordinary loss mainly on a goodwill impairment loss related to its Indonesian subsidiary. In FY3/20, it guides for ¥21,900mn in net sales (+4.4% YoY), ¥330mn in operating profit (+396.1%), and a ¥50mn net profit attributable to parent shareholders (restoring profit). Operating margin is just 1.5%, despite the large projected increase in operating profit. While the Company lowers its capital investment budget from the ¥4,144mn peak in capex spending from FY3/19 to ¥2,118mn, it expects a rise in depreciation costs from ¥1,008mn to ¥1,215mn.
3.Arrival of a turning point from an upfront investment phase to recouping investments Although the Company only posted ¥66mn in FY3/19 operating profit, its earnings from profitable plants totaled ¥1.3bn. Immature plants operating for less than five years are still incurring losses. The Mexican plant, which incurred the largest deficit, holds IATF16949 automotive-industry quality management certification and is likely to reach breakeven income in the latter half of FY3/20 and be a profit driver in FY3/23. The Saitama plant, which the Company built as a smart plant for automotive business, needed extra time initially to obtain quality management certification, but starts volume production of next-generation automobile core parts in FY3/20. It received more new order deals than anticipated and thus accelerated plant expansion. The Company expects profitability at the Saitama plant within two years. We think profits should continue to increase substantially from FY3/20 thanks to shrinkage of losses at "immature" plants.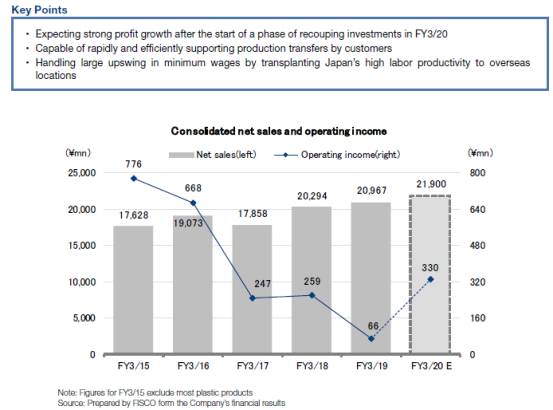 ◆History and company overview
Precision spring maker with a global network
1. History
The first-generation president founded a spring factory in Tokyo in 1930. In 1946, this factory was incorporated as Kato Spring Works Co., Ltd., and in 2001, the company name changed to Advanex Inc.
In 1964, the Company listed its shares on the Second Section of the Tokyo Stock Exchange, and in 2004, the shares were elevated to the First Section.
Since the 1980s, Advanex has released many products that have become global hits and has gained top shares of the markets for these products. Advanex has held a 70% share of the Japanese market for tape pads for audiotapes, a 50% share of the global market for flat springs for videotapes, an 80% share of the global market for shutters for 3.5-inch floppy discs, a 50% share of the global market for hinges for cellular phones, and a 90% share of the Japanese market for center hubs for optical discs. Advanex also holds a 60% share of the Japanese market for springs to protect needles implanted in the human body.
Japanese electric equipment manufacturers dominated the global market for audiovisual equipment and other related products in past years, but advances in digital technology, appearance of smartphones and other new products, and advances by emerging countries led to shrinkage of business scale and exits. In response to this market change, the Company has been focusing on automotive business that offers stable demand opportunities, requires production technology, product quality, supply capabilities, global supply operations, and continuous cost reduction efforts, and enables utilization of competitive advantages in precision springs.
The Company was early in entering overseas markets and set up its first overseas subsidiary in 1971 in the US. In following years, it established subsidiaries in Singapore, the UK, Hong Kong, Thailand, China, Vietnam, Mexico, Germany, Czech, Indonesia, and India.
2. Business description
The Company is a specialty manufacturer of precision springs after the sale of the plastics business in FY3/15. It operates a single business segment, but discloses breakdowns of consolidated net sales by application and location. Net sales composition by market in FY3/19 was automotive (transportation equipment) at 47.9%, OA equipment at 16.3%, medical equipment at 8.8%, precision equipment at 5.0%, infrastructure and household at 4.1%, airplane equipment at 3.4%, audiovisual equipment and electrical appliances at 3.1%, information and communication at 2.9%, and others at 8.5%. In three-year CAGR (compound annual growth rate) through FY3/19, automotive (transportation equipment) significantly outpaced overall sales (+3.2%) at +12.9%. OA equipment and precision equipment, meanwhile, weakened at paces of -6.5% and -3.8% respectively. The automotive market has been the largest destination since FY3/15.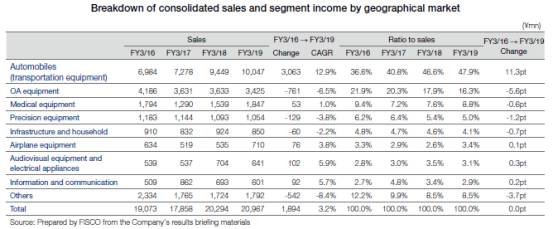 Advanex has about 2,000 business counterparts and handles roughly 15,000 product types. It engages in transac- tions with German and Japanese auto parts manufacturers battling for global No.1 and No.2 positions.
Net sales composition by location consists of Japan at 39.6%, Asia at 39.0%, the Americas at 11.7%, and Europe at 9.6%.
◆Business strategy
Follows a "blue ocean" strategy as a top global niche supplier
1. Follows a "blue ocean" strategy as a top global niche supplier
Advanex is the only maker of many of its products, which has allowed it to earn high market shares in Japan and globally. Initially venturing into overseas business in 1971, the Company now has many plants and sales offices in the Americas, Europe and Asia. It has developed its automobile products business and medical equipment businesses globally, and it targets global manufacturers in a timely fashion. Advanex identifies areas where it can obtain a global niche top position, and extracts target customers. It formulates the business strategy by area, customer, field, and processing technology and product in order to strengthen its positioning. The Company is now stressing four businesses in which it is very competitive and for which the markets are growing rapidly: automobile products, medical equipment, housing equipment, and infrastructure products.
Advanex pursues a blue ocean strategy of priority development of markets with few rivals where it can leverage strengths. In the automotive spring market, major domestic spring firms specialize in chassis springs and other large products and have minimal direct competition with Advanex in precision springs. Advanex's rivals are over 500 small and very small firms. These companies generally lack the resources to enter overseas markets.
Global Tier 2 parts manufacturer accommodating mega suppliers
2. Structural changes in the automotive industry and the Company's measures
(1) Mega-suppliers and global Tier 2 parts manufacturers
Electronic equipment production shifted from "coordinated technology" in the analog era to "combined technology" with interface standardization in PCs and digital home electronics. This change enabled emerging economies with little technology accumulation to manufacture electronic equipment. In the automotive industry with elec- tronic systems making steady inroads, we expect advances in combinations of standardized modular parts as the mainstream production format for electric vehicles (EVs). Developing and producing individualized parts by model faces issues in the development period, capital investments, and manufacturing costs. To simultaneously diversify auto models and lower costs, auto firms are likely to standardize and share platforms, develop common components (parts), standardize designs, and extensively adopt modules that can be shared. With component sharing, usage of modular parts will transcend chassis sizes and types.
Discussions are taking place toward industry standardization of technologies used in automated driving and connected cars. Automobiles utilize about 30,000 parts, and commodity parts comprise half of overall costs. Commodity parts offer low pricing because of the large production volume. Wider usage hence contributes to cost savings. Automakers have unique parts on the scale of a few hundreds of thousands versus a much larger order of a few million for commodity parts. Added value from parts is shifting from automakers to parts firms through standardization and modularization. Global Tier 1 parts firms are emerging as mega-suppliers to multiple car manufacturers, in contrast to their previous role as sub-contractors to specific firms. Mega-supplier formation is more advanced in the US and Europe than in Japan. Global No.1 and No.2 Germany-based Robert Bosch and Continental have sales at 2.1x and 1.7x the level at top Japanese supplier Denso <6902> respectively.
Advanex aims to be a Tier 2 supplier that deals directly with Tier 1 mega-suppliers. The Company thinks that while a certain number of the few hundred Tier 1 firms have 10 or more overseas sites, very few of the few thousand Tier 2 firms possess this type of presence.
(2) Advanex's global production operations
Advanex's global production operations consist of five domestic sites and 17 overseas sites. It is expanding domestic and overseas production capacities and opening new sites to bolster the sales network in accordance with the medium- to long-term plan.
The Company has aggressively opened new plants and conducted M&A from FY3/16 through FY3/20. Besides Japan, it established production sites in the US and Mexico for North and Central America, Indonesia, India, and Vietnam for Asia, and Czech for Europe.
Increase in sales value per vehicle to 1.25 times the level from conventional vehicles with EVs
(3) Automotive parts and the Company's field
Advanex pursues a business strategy of extending reach in areas, customers, fields, and processing technology and products and thereby expanding its business "coverage." It has broadened scope in the automotive market by entering areas where it can leverage strengths and with a high difficulty and quality strictness hurdles.
When it first entered the automotive market in 2000, Advanex was supplying products only to optional car navigation systems and other car electronics and antennas. Its area scope was Japan and Thailand. Advanex broadened market areas to instruments and interior from 2005, powertrains from 2010, and safety and control (advanced driver assistance system; ADAS), HVs and EVs, and automated driving from 2015.
Potential demand for the Company's products viewed in terms of the vehicle drive format is larger per vehicle for HVs than existing internal combustion engine (ICE) vehicles and even more for EVs. Based on use of the Company's products in ICE vehicles as 100, the estimated level expands to 120 in HVs and 125 in EVs. Engines, radiators, crankshafts, frames, suspensions, seats, and bodies required by ICE vehicles do not come under the Company's scope. Safety and control ADAS, meanwhile, is a common feature in ICE vehicles, EVs, and EVs and offers demand for the Company in all of the drive formats. While ICE vehicles mainly utilize wire springs and other simpler products, EV products have higher added value since many of them use multiple processing technologies, such as forming and insert mold.
The Japanese government views wider adoption of next-generation vehicles as an important issue in automotive industry policy. In the "Japan is BACK Revised Strategy 2015," it sets a goal of raising the next-generation vehicle percentage of new vehicle sales from 50% to 70% by 2030. In particular, it is putting emphasis on EVs and PHVs because of the high CO2 reduction effect and ability to be used as emergency power sources in a disaster. METI's "Automobile Industry Strategy 2014," presents goals of lowering the conventional (ICE) vehicle share of new vehicle sales from 65.2% in 2016 to 30-50% in 2030 and raising hybrid vehicles from about 30% to 30-40% and EVs and PHVs from less than 1% to 20-30%.
3. Strategic products and priority areas
(1) "Insert collars"
Insert collars are used to strengthen plastic fastenings. As global regulations on fuel efficiency have been tightened, automakers have increased their use of plastic components to lighten automobiles. Insert collars are metallic components used to strengthen the parts of plastic components into which bolts are affixed. A single automobile uses hundreds of insert collars. Insert collars are the main strategic product made at the Company's new Saitama factory. Insert collars are important strategic products at the Saitama plant that specializes in automotive parts.
(2) Medical equipment parts
Advanex's sales of products for the medical equipment market in FY3/19 were ¥1,847mn, 8.8% of total sales, making them the Company's third largest selling products. The medical equipment market seems appropriate for the Company, as it aims to be a top provider for global niche markets. As the global population and global medical expenditures are increasing, the global market for medical equipment is likely to grow steadily. Furthermore, the trend of increase in self-administered health care indicates that the demand for disposable medical products is likely to increase. Medical equipment has a long product life cycle, few model changes, and provides large profits. On the other hand, the cost of developing medical equipment and producing it on a trial basis is high, this equipment must be tested for a long time before it can be commercialized, it requires government approval and license and the plan for developing and commercializing a piece of medical equipment may be abandoned. If these negative factors, which constitute barriers to entry, can be overcome, medical equipment can provide large profits consistently.
(3) Standardized parts
Advanex focuses on sales of standardized parts with broad applications and large demand potential. Its main standardized parts are tangless inserts used to strength screw holds in soft materials, such as aluminum, and LockOne devices that prevent loosening of bolt-nut connections. Advanex developed these items leveraging its technology advantages. They offer better cost performance and operational efficiency than existing products and cannot be easily replicated by other firms.
a) Tangless wire inserts for strengthening screw holes
Tangless wire inserts are used to strengthen screw holes in soft materials, such as aluminum. Airplanes are made of light materials, such as aluminum. Screw holes in these materials must be reinforced, and a single airplane may require reinforcement for several tens of thousands of screw holes. Tangless wire inserts are much easier to handle than conventional products and this aspect justifies higher prices. They are also profitable because they do not use more materials or steps to produce than conventional reinforcements. They are projected to grow at a roughly 10% annual pace.
b) LockOne device to prevent loosening of bolt-nut connections
A promising product for housing equipment and infrastructure is the "LockOne" spring that prevents loosening of nut-to-bolt connections and failures. The "LockOne" spring targets use in railways, condominiums and other buildings, highways, electric power equipment, and other areas. However, the spring must be certified, which lengthens time to adoption. It is already being used by subway systems. The "LockOne" acquired written rec- ognition from The Building Center of Japan in October 2017, and the product is now being used in buildings. Specialty trading companies for each market handle sales.
報告內容僅供參考,不得作為任何投資引用之唯一依據,且其投資風險及決定應由投資人自行判斷並自負損益。
【免責聲明】 本研究報告專區中的資訊均來自於各金融機構授權刊登或是已公開的資訊,鉅亨網對資訊的準確性、完整性和及時性不作任何保證,也不保證上述資訊報告做出的建議在未來不發生修正。在任何情況下,鉅亨網不對本資訊的使用人基於本資訊報告觀點進行的投資所引致的任何損益承擔任何責任。本網研究報告版權均歸各家提供機構所有,不得任意引用、刊發,且不得對原文進行修改或刪除。以上資訊僅供參考。