◆Summary
IP business driving growth
Aeria Inc. <3758> (hereafter, also "the Company") has three main business areas - IT services, contents, and asset management. The IT services business provides data service, the contents business develops smartphone games, and asset management handles planning and operation of lodging facilities. The Company has leveraged stable earnings in IT services business to fuel M&A and steadily expand contents and asset management businesses. It headed in a new direction in contents business following the hit A3! game and purchase of CYBIRD Co., Ltd., which has the Ikemen (Handsome) series, with a shift from simple fee-based income to intellectual property (IP) rights business, such as selling goods using characters and stage adaptations, as the main income source. The Company is currently promoting business reorganization via selectivity and focus in order to concentrate business resources in IP business. It aims to fuel growth with IP business.
The Company also earnestly pursues initiatives in new technologies, growth markets, and other new fields, just as it has previously done. In contents business, it is developing contents that apply AI, VR/AR, blockchain, and other new technologies. An example is creating high-quality character appearance images, which could even be mistaken as the face of an actual idol, utilizing AI-based automated generation of character appearance images jointly developed with DataGrid Inc. In asset management, which it entered in 2017, the Company started minpaku (short-term rental housing) service to tap into growing accommodations demand from foreign tourists visiting Japan. The minpaku experiment through collaboration with its own IP is enjoying a healthy start.
The Company reported FY12/18 results with ¥31,471mn in sales (+98.3% YoY) and ¥1,876mn in operating income (-30.3%). Sales climbed on upbeat A3! sales and increase in consolidated subsidiaries, such as CYBIRD. Meanwhile, development costs at consolidated subsidiaries increased due to M&A activity, and SG&A expenses rose too because of higher collection agency fees related to growth in contents business sales and advertising and promotional costs. Based on a determination that its IP offers very high potential, the Company decided to bolster advertising and promotional activities during the fiscal period as an effort to pull away from late arrivals. A3! remains highly received because of its impressive game content and has acquired sustainable popularity. We think this was a major turning point for the Company's IP strategy.
The Company guides for ¥32,000mn in sales (+1.7% YoY) and ¥2,200mn in operating income (+17.3%) in FY12/19. It expects the IT services business to continue stable growth. Contents business is likely to drive consolidated earnings with focus on existing titles and IP expansion and margin improvement as well as full-year contribution by CYBIRD profits. Asset management earnings should settle down with a shift from start-up status to expansion in the minpaku service business. We think the outlook seems slightly conservative, despite the Company's acceleration of activities in its various businesses, because of a strong resolve to avoid lowering guidance.
◆Company profile
Promoting three businesses centered around the Internet
1. Company profile
The Company has three main business areas - IT services, contents, and asset management. The IT services business handles an affiliate platform that specializes in online electronic publications, data services, and system development business. The contents business develops, distributes, and operates smartphone and tablet games and sells drama CDs, voice CDs, and character goods. The asset management business consists of real estate business, leasing management business, accommodations facility planning, operation, control, and management business, consulting business related to these areas, and investments in domestic and overseas companies. The Company aims to "become an essential presence, similar to air, in the network society" by moving in the direction of network society advances and harnessing Internet and mobile technologies. With this spirit, it has taken on challenges in many businesses since being founded. The Company utilizes a holding-company format that consists of 27 consolidated subsidiaries and one equity-method affiliated as of end-December 2018.
Transition from M&A-driven expansion to pursuit of synergies
2. History
Takayuki Nagashima, chairman and representative director, and Yusuke Kobayashi, president and representative director, founded predecessor Communications Online to deliver Internet-related information provision services in Chiba Prefecture in 1998. The Company entered the game industry (online games) with the acquisition of Game Pot (GMO Group) in 2001, established Aeria in 2002, and listed shares on the Osaka Stock Exchange's Hercules market (now Tokyo Stock Exchange JASDQ market) in 2004. Leveraging income from IT services business Air Internet Service Co., Ltd. acquired in 2005, it expanded to smartphone games and online sales sites. It launched the asset management business in light of growing minpaku demand in 2017. The Company is currently promoting business reorganization from a perspective of selectivity and focus aimed at realizing synergies following exhaustion of M&A activity that targeted future growth and synergies and is cultivating game characters and other intellectual property rights (IP) as a major income source.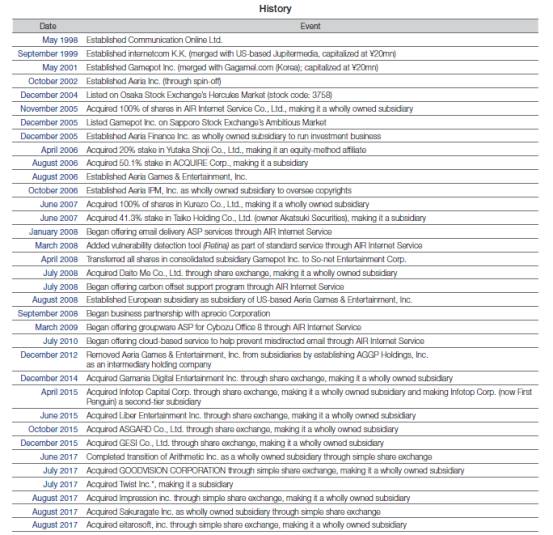 ◆Business overview
All three segments showing strong growth
1. Business description
Segment sales composition in FY12/18 was IT services business at 20%, contents business at 47%, and asset management business at 33%. In IT services business, mainstay Air Internet Service and First Penguin continue to achieve stable growth. In contents business, A3!, a major hit developed by Liber Entertainment, is sustaining healthy momentum and acquired CYBIRD started contributing income too. In asset management business, which began in 2017, existing business is vibrant, and the Company has started initiatives for minpaku service. Rapid expansion stands out in contents business and asset management business in recent years.
Stable income source, though also takes on challenges
2. IT services
Under the IT services segment there are two main companies, AIR Internet Service and First Penguin. AIR Internet Service operates a data service business while First Penguin operates an affiliate platform business. Other subsid­iaries under the IT services segment include Grey Cells, Inc., which offers system solutions and consulting services, and CyberZero Ltd., whose services include social app development and support services for companies uses social media.
(1) AIR Internet Service
AIR Internet Service provides various internet services for businesses, including its cloud-based email solutions service (All in One Mail) and a cloud-based reservations management system (Reserve Keeper) for restaurants. With the bulk of its business stemming from its data center operations, AIR Internet Service generates an excep­tionally steady stream of revenues and earnings. It divides its services lines broadly into three areas: business cloud services, managed hosting services, ISP services. Under business cloud services, in addition to All in One Mail and Reserve Keeper, AIR Internet Service offers the popular Cybozu Office (said to be the No. 1 groupware product in Japan). Under managed hosting services, AIR Internet Service offers its proprietary WEBooth hosting services which comes with its own online storage service. ISP services include domain registration and other website-related services.
(2) First Penguin
First Penguin operates diversified businesses, including the affiliate platform business, advertising, content cre­ation/sales, media management, overseas trading, and overseas and domestic employment assistant businesses. This segment covers a wide range of businesses, including affiliate platform, advertising, contents production and sales, media operation, overseas trade, overseas job placement assistance, and domestic job placement assistance. It newly entered payment agency business in 2018. Affiliate platform business is the main area. It operates the infotop portal site, which sells information materials (information reaching materials) *1, and generates strong income on a stable basis. The infotop site has over two million cumulative registered sellers, buyers, and introducers and sells more than 60,000 materials. It is a popular site that covers all types of categories related to daily life. First Penguin serves as a broker for sellers, buyers, and introducers and has a framework for managing sales and compensation payments between sellers and introducers as well as payment and product transfer agent services between sellers and buyers. While the business model has some resemblance to Rakuten Ichiba, infotop differs significantly in just handling the single category of information materials and managing commercial flow and the presence of introducers (affiliate *2 partners).
*1 Information materials: Information that is primarily bought and sold over the internet. The information itself is the product, such as study guides for foreign language, guides on asset management, and self-improvement guides. While some of them are said to be fraudulent, Infotop's careful examination of the materials sold through its website leaves very little room for disreputable operators to sell their wares.
*2 Affiliate: An advertising technique wherein a blogger or magazine receives compensation from the seller if the write-up of the product leads to a sale.
Rapid expansion of IP business
3. Contents segment
In contents business, the Company has supplied various games to the market for the platforms of each era, including PCs, Japan-style mobile phones, and smartphones. Smartphone games are currently the most popular offerings. The Company develops smartphone games for women and has achieved major hits with I★Chu and A3!. It also acquired CYBIRD with the Ikemen Series, a major offering. Furthermore, the Company is shifting this business from simple fee income to an IP business that utilizes characters cultivated in these titles in other areas besides games too.
(1) Liber Entertainment
Liber Entertainment is a core company in the contents business that develops and operates social games, develops consumer games, and operates consulting business for games. It has achieved success by focusing on development of Ikemen training games for women and delivered a hit with the I★Chu smartphone game in 2015 and a major hit with A3! in the 2017. It is also expanding business scope to peripheral businesses that utilize its IP. Hit products have an effect for three years, and broadening to peripheral businesses can extend the period even more. This is a well-performing subsidiary currently in a growth phase.
a) I★Chu
This is a love rhythm adventure game in which the player is a teacher and producer who trains the "Ichu," an idol egg, to become a full-fledged idol. It began official service in June 2015 and generates income from item charges. Basic play is free. It took off and reached one million downloads by January 2017. Real-world products have done well too because of this success. The Company supplies music CDs, comic anthologies, short stories, fan books, and other items. I★Chu The Stage is a 2.5D* version and has been more than 10 times up top now. The game is enjoying a very long run, including collaboration events with Hello Kitty and the possibility of a new series.
* 2.5D: Original works and concepts from "2D" anime and video games converted into "3D" live stage productions.
b) A3!
This is an Ikemen training game in which the player assumes the role of director at a run-down theater on the verge of closing and trains new Ikemen actors through rehearsals and makes the production a success. The entire series is dubbed with voices, and minigames have been recorded to generate additional income. Service began with free basic play and item charges in January 2017. Leveraging its success with I★Chu, the Company attained a massive hit that was at six million downloads as of February 2019. It has already launched numerous real-world related products, including CDs and comic anthologies. It developed the stage version MAINSTAGE A3! and held live events in June to November 2018 and January to March 2019. It is also holding the new MAINSTAGE A3! In April-May and August-September 2019. Furthermore, it is promoting overseas rollout, including the start of traditional-Chinese version distribution (Taiwan, Hong Kong, and Macau) and conclusion of a licensing contract for an English version to be distributed globally. We anticipate that it will start distributing in China, where it has lagged thus far, too. The Company has developed A3! into a larger business than I★Chu, and the game's popularity is unlikely to recede for the time being.

c) Other products from Liber Entertainment
Soen No Kantai is a full-fledged naval battle game in which the player becomes the general commander of the Soen fleet and battles with a mysterious enemy, the shadow fleet. Service started with free basic play and item charges in September 2017. It is steadily attracting interest and reached 880,000 downloads in March 2019. Other consignment and development cooperation titles include Kai-ri-Sei Million Arthur, Rebellion Run: Dash or Capture!!, and One Piece ROMANCE DAWN Boken-no-Yoake. Management is also considering development of a beautiful girls training game aimed at male players.
(2) CYBIRD
The Company acquired CYBIRD, a longstanding smartphone game provider with the story-type female-oriented romance game Ikemen series that is highly popular with women, as a subsidiary in June 2018. It is also well respected in escape game and fortune-telling segments. The Ikemen series is a blockbuster game with over 20 million cumulative downloads. Following consolidation, we expect CYBIRD to provide not only a large income base in the game market for women, but also synergies in overseas rollout and contents promotion for the Company's other games and characters in light of CYBIRD's robust track record in overseas business and character IP management.
(3) Shift to IP business
Besides these, the Company has many other games and contents that have either been released or are currently in development. It owns numerous well-received products, including Arithmetic Inc.'s DYNAMIC CHORD and 10 Count (a boys' love comic) and Sakuragate Inc.'s online casino and land casino slot games. However, the Company's approach to contents business has changed considerably since the A3! hit and acquisition of Ikemen series. While games offer appeal as fee-based business, they are even more attractive as IP business utilizing characters because of significant room to expand income beyond just the games to goods, CDs, stage events, and other areas. Furthermore, characters have a longer lifecycle than games and generate high royalties. Platform changes have less impact on IP than games. With new usage styles due to broad adoption of smartphones, interest in characters originating from games has risen and animation developed from games, which previously was not that common, is increasing too. The Company's direction in game development has shifted from high-volume output aimed at obtaining fee income to careful development with emphasis on IP business since the hit with A3! and acquisition of the Ikemen series. We think the shift has provided motivation for reorganizing subsidiaries and titles with an approach of focus and selectivity as explained below.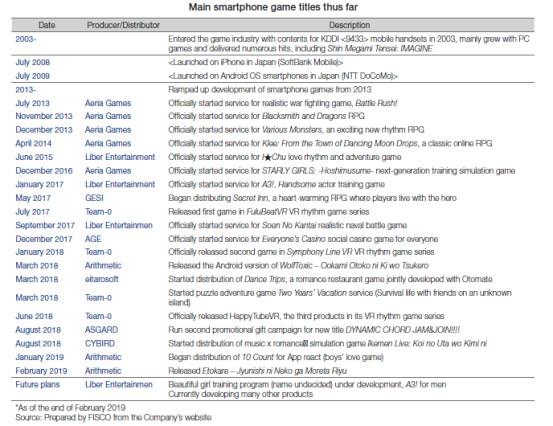 Succeeded in a minpaku collaborative experiment
4. Asset management segment
The Company quickly acquired multiple real estate-related companies after the halfway point in 2017 - Twist in July, Impression in August, and Total Management in November. Impression develops investment-purpose condominiums harnessing its strength in investment property sales, sells residence real estate, and handles renovation business. Total Management excels at development of standalone home units and income-earning properties, implements used condominium renovations and property sales, and provides consulting services. It acquires many properties related to inheritance situation, and this business has surprisingly low risk. Companies in the asset management have already been generating solid profits. While income sharply increased in FY12/17, the segment contributed substantially to overall sales and profits in FY12/18 too.
Twist is a unique company that offers minpaku operation agent service to individuals and others. It provides a one-stop complete agent service for high-income properties mainly in Tokyo and Kyoto that covers from selection of minpaku sites with potential to generate high investment return, conversion to minpaku specifications with interior design by professional designers, provision of 24-hour multi-language support, property cleaning and management, and placement on Airbnb and Agoda, Asia's largest global online lodging reservations site. It offers excellent affinity with the group as a whole. By collaborating with Twist, other companies in the asset management business can supply properties from their portfolios as minpaku sites. The Company combines this service with technology from IT services business to supply highly convenient service known as "real estate tech." It also has an even richer range of ideas utilizing contents business IP.
The Company started a collaborative minpaku service with DYNAMIC CHORD and 10 Count in 2018. In a test for two rooms owned by Total Management in Shimo-Kitazawa (Tokyo), room interior utilized characters to create a lively environment with the games and the locations offered limited character goods and limited novelty presents. These steps were very popular. It was possible to charge higher rents and boost profits. The Company intends to continue to actively operate minpaku sites that collaborate with games and obtain economies of scale by expanding this business. It is reviewing events and other activities too in light of recent expansion of the 2.5D market. The Company is also looking at utilization of other company IP, not just IP from its own group. Progress realizing various synergies and collaboration with Twist as a key company could enable this business to increasingly contribute to higher added value and growth as a group.
報告內容僅供參考,不得作為任何投資引用之唯一依據,且其投資風險及決定應由投資人自行判斷並自負損益。
【免責聲明】 本研究報告專區中的資訊均來自於各金融機構授權刊登或是已公開的資訊,鉅亨網對資訊的準確性、完整性和及時性不作任何保證,也不保證上述資訊報告做出的建議在未來不發生修正。在任何情況下,鉅亨網不對本資訊的使用人基於本資訊報告觀點進行的投資所引致的任何損益承擔任何責任。本網研究報告版權均歸各家提供機構所有,不得任意引用、刊發,且不得對原文進行修改或刪除。以上資訊僅供參考。