◆Medium- to long-term growth strategy
1. Growth strategy for the pharmacy business
The Company implements a consistent growth strategy in its dispensing pharmacy business (pharmacy business) that targets scale expansion and provision of pharmacies sought by patients. As a real-world issue, it is also vital to secure pharmacists to work at stores and improve quality. Efforts to expand dispensing pharmacy business therefore focuses on three main points: 1) expanding scale, 2) building pharmacies sought by patients, and 3) cultivating personnel.
(1) Building pharmacies sought by patients
This mission strives to enhance customer draw (thereby raising the number of prescriptions filled). Store sales are determined as product of multiplying the average prescription price by the number of prescriptions. The average prescription price is affected by drug cost, and the pharmacy technical fee, a key component, is impacted by periodic fee revisions. Prescription volume, on the other hand, can be increased through Company efforts.
The national government specified the ideal image of pharmacies in its "vision of pharmacies for patients." In its "building pharmacies sought by patients," the Company adhered to the pharmacy image presented by the government. Specifically, it realizes pharmacies with family pharmacist and pharmacy, advanced pharmaceutical management, and health support functions. A key point is bolstering certain functions in accordance with the location and customer segment, rather than providing all these capabilities in a single pharmacy. The one-on-one pharmacy, which was described above, is the core format in the store strategy. The Company implements measures for "being sought by patients" based on one-on-one pharmacy attributes.
In one-on-one pharmacies, the Company is putting efforts into promotion of pharmacies with health support. It reached 43 stores with such support as of March 2018. It is also engaging in education of personnel and had 753 pharmacists who completed a training course on pharmacies with health support. The Company held a roughly 5% share in this category since the total number of qualified pharmacies with health support functionality nationwide at end-March was 817 stores. While a "5% share" is an important value in the longer-term growth strategy, we think it is very significant to have quickly reached the 5% share in the category of pharmacies with health support.
The one-on-one pharmacy has a direct relationship with a certain medical institution. From this perspective, the Company's emphasis on pharmacies with health support is extremely sensible. We actually think the one-on-one pharmacy is the best-suited way of utilizing pharmacy health support to attract customers because it rooted in the local community and has a fixed customer base. Street pharmacies are unlikely to attract people walking past the store who do not have a prescription to visit even if they set up a sign as a pharmacy with health support. If people use the pharmacy on a regular basis, meanwhile, they might be more inclined to enter the store following some other activity with the aim of measuring blood pressure or ask about a health matter. We expect increase in customer draw and income if pharmacies are capable of fostering an approachable atmosphere through enhancement of pharmacist communication skills and broadening of product line-ups. We also believe this might help lower the concentration ratio.
Along with its initiatives in pharmacies that provide health support, the Company is working to foster a comfortable usage environment at stores. It has deployed free WiFi and multi-payment devices at all Qol pharmacies. It is also promoting use of Qol cards and a prescription transmission app to achieve continuous management that employs ICT. A future initiative is the planned deployment of digital signage at Qol pharmacies.
(2) Expanding scale
Dispensing pharmacy business sales reflect sales per store multiplied by the number of stores. Expansion of scale (store volume) hence is an extremely important aspect of the growth strategy.
The Company has a two-pronged approach to store deployment, as explained above, with Qol pharmacies that mainly utilize the one-on-one model and new-format pharmacies through collaboration with other industries. Qol pharmacy additions come through organic openings (new stores opened by the Company) and acquisitions (purchase stores from another company). The Company aggressively utilizes acquisitions in its growth.
We think the Company's aggressive use of acquisitions in its store expansion strategy make sense and is more likely to be successful. A major reason for this view is the one-on-one pharmacy concept that it employs. All leading pharmacy chains look to acquisition-driven growth as a core component in their growth strategies. These conditions could fuel tougher competition among major chains in acquisition deals. The Company's one-on-one pharmacy concept should pay off when this happens.
The one-on-one pharmacy concept does not necessarily put top priority on sales per store. Instead the Company stresses enhancement of efficiency by building a concentrated dominant presence in areas that helps in logistics, drug inventory management, and other ways. The success scenario we envision is the Company's stance giving it leeway to consider acquisitions that other major chains might reject.
Meanwhile, the Company plans to continually expand new-format stores. These stores are primarily aimed at achieving high customer draw. It is useful to work with companies in other industries for new-format pharmacy rollout because they can effectively deploy street-type pharmacies.
An issue is the significantly greater number of medical entities providing prescriptions and resulting increase in the number of drugs in inventory. This makes it difficult to enjoy the benefits of highly efficient and low-cost store operation enabled by one-on-one pharmacies.
The Company has accumulated knowhow and experience in this area and should offer improvements. Specifically, it operates a division at the logistics center assigned to handling transfers among stores and efficiently manages the inventories of new-format stores. We think it is important to establish conditions that facilitate transfers among stores, such as a store strategy for local dominance, in order to fully take advantage of this mechanism. The Company is implementing related actions. We will be looking for faster openings of new-format pharmacies and improved profitability.
(3) Personnel education
The Company focuses on personnel training, particularly for pharmacists. It arranged the QOL Certified Pharmacist Program, a proprietary credential with the aim of training pharmacists capable of providing quality medical care and boosting pharmacist skills and motivation. More than 3,000 people have become QOL Certified Pharmacists thus far.
Besides this, the Company hopes to enhance pharmacist communication capabilities and change attitudes from passive to proactive.
Growing needs for communication capabilities from pharmacists already began in the response to family phar­macists. With its model of one-on-one pharmacy features and pharmacy health support, the Company expects improved pharmacist communications to contribute to stronger income.
Another perspective is clarification of a shift in the approach to assessing pharmacist activities in the 2018 revisions from "working with things" to "working with people." To fulfill their role in the local comprehensive care system, pharmacies needs to collaboration with medical entities, authorities, and others in their work. We believe the one-on-one pharmacy concept has an advantageous position in this respect. Pharmacists might also take initiative in achieving closer collaboration and broader scope in some cases. Proactive attitude is essential in order to accommodate this.
Expansion of CSO business with a higher CMR ratio and dispatching services with stable gains as growth engines
2. Growth strategy in the BPO business
BPO business is involved in CSO, dispatching services, CRO, and publishing. The Company aims to expand coverage in these businesses by collaborating with Qol pharmacies. CSO and dispatch services are main income sources at this point. We think these areas should continue as growth engines over the medium term too.
(1) CSO initiatives
The main source of income in CSO business is outsourcing demand for MRs, who are currently full-time employ­ees, at drug companies. Even in Japan, drug companies are increasingly switching MR from full-time employees to outsourcing each year and the number of companies using CSO service is steadily rising. The number of CMRs climbed as well in line with this trend.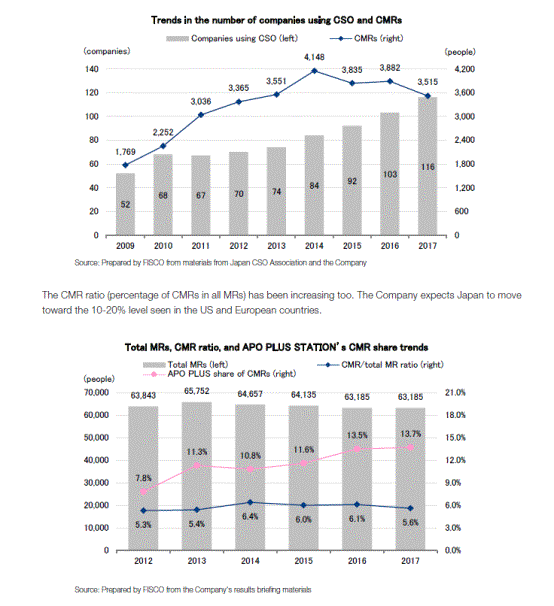 CSO business exhibits stronger income volatility (fluctuation) than seen in general dispatching businesses. Demand often increases on a project basis when drug companies release new drugs and pursue sales to medical institutions nationwide. Contract MRs return to their dispatching company after the project finishes. The issue is the number of people. Projects can involve more than 100 people. Resulting movement of contract MRs on a scale of 100 people back and forth between the dispatching company to customers in a relatively short period leads to significant volatility in income. The top two companies in Japan's CSO industry in the sales ranking are foreign-capital entities. We think they with demand shifts by allowing CMR movement.
In response, the Company plans to steadily expand the number of contracted companies and secure CMRs as preparation for a future era of a 15% CMR ratio. We believe the Company (APO PLUS STATION) limits the number of CMRs per dispatch location to smaller teams of a few tens of people in light of CMRs affiliated with it and the number of contract companies. In other words, it is distributing and lowering business risk through distribution of dispatching customers. This cautious stance reassures CMRs and customer companies. We expect benefits in recruiting people and acquiring contracts.
A key point is improvement in CMR quality. The Company aims to train and reinforce general MRs and professional MRs, including use of Qol training and educational programs. It wants to accelerate growth in CSO business by combining trust and reassurance as a CSO business and the presence of quality CMRs.
(2) Dispatching services
Dispatching services delivered a third straight year of higher sales and profits through FY3/18 and is realizing stable growth potential and profitability. The Company expects further growth and has prepared a plan to double sales compared to FY3/16 in FY3/21.
The Company's dispatching services stand out in having a rich variety of professions in the field of medical personnel. It mainly covers pharmacists, but also dispatches and recruits nurses, occupational health nurses, pharmacy administrative staff, nutritionists, and registered sales people. The Company recently formed a Health & Beauty (H&B) division and is dispatching and recruiting personnel who can propose health support products backed by evidence and sold at special medical entity shops.
We think the Company, one of the major pharmacy chains, is capable of advantageously recruiting personnel thanks to its broad recognition, and continuing the double-digit growth sustained up to now from FY3/19.
◆Outlook
Projecting lower profits on a sales increase in FY3/19 due to pharmacy fee revisions; aiming for recovery from FY3/20 via steady implementation of a growth strategy led by store acquisitions
• FY3/19 outlook
For FY3/19, the Company projects a 4.5% YoY rise in net sales to ¥152,000mn, a 12.0% decrease in operating income to ¥8,000mn, a 14.3% fall in ordinary income to ¥8,000mn, and a 9.7% drop in profit attributable to owners of parent to ¥4,500mn.
The Company forecasts ¥140,600mn in net sales (+4.1% YoY) and ¥7,600mn in operating income (-11.9%) in FY3/19. It expects to deliver higher sales, despite the setback of weaker pharmacy technical fee income related to the 2018 revisions, thanks to the addition of new store sales based on a plan to increase store volume by 100 stores (including acquisitions) in FY3/19. The breakdown includes 20 Qol pharmacy openings, 10 new-format stores, and 70 stores acquired from others.
The main cause of profit decline is the impact from pharmacy fee revisions. New openings should offset the sales impact. In earnings, meanwhile, losses often occur at new stores in the first fiscal year due to an inability to cover initial costs. Profitability at acquired stores also tends to be lower in the first fiscal year because of downward pressure on profitability from various costs. We think the outlook factors in lingering impact from price revisions that and thus a profit decline.
We estimate the impact of the 2018 revisions for three main items (pharmacy basic fee, generic drug pharmacy operation addition, and elimination of the standard pharmacy addition and introduction of the local assistance operation addition) as a 19.1-point drop in average points at all of the Company's stores. We see a sales setback of ¥2,623mn, assuming a 5% rise in the number of prescriptions from the FY3/18 result (13,084,000) and the point gap before and after revisions lasting one year (therefore, (19.1 points x 13,084,000 x 1.05) x ¥10 = ¥2,623mn), and a direct earnings impact from this amount.
If the Company added 100 stores, meanwhile, we estimate extra sales at ¥17,900mn (on a full-year contribution basis) using the Company's average sales per store (¥179mn in FY3/18). In fact, the Company will be opening the stores during the fiscal year and the results impact could vary considerably depending on the timing. If the additions come at mid-year, the boost in FY3/19 sales works out to ¥8,950mn, which is half of the above-mentioned level. This leaves ¥6,327mn after subtracting the estimated sales decline effect from above-mentioned revisions, which is generally in line with the target of a 4.1% sales increase (¥5,491mn).
The Company actually plans to acquire point additions by promoting use of generic drugs and taking other actions and hence revive average point volume. Conversely, sales at new stores (including acquired ones) are often lower than the Company's average and deal timing of acquisitions is often in the latter half of the fiscal year. Even with these detailed adjustments, however, we believe the Company is sufficiently capable of attaining a sales increase of about ¥5.5bn YoY if it adds to store volume as planned.
In BPO business, the Company guides for ¥12,000mn in net sales (+11.7%) and ¥1,700mn in operating income (+33.5%). Orders and sales slipped in FY3/18, despite healthy CSO and dispatching service activity, because of reorganization in the CRO business. Publishing-related business was also sluggish. The FY3/19 plan expects higher sales and profits driven by recovery in CRO business and solid growth in CSO and dispatch businesses.
◆Shareholder returns
Raised the FY3/18 annual dividend by ¥4 to ¥28 Plans to keep the dividend unchanged, despite lower profit, in FY3/19
Qol primarily relies on dividends as shareholder compensation. Its basic policy advocates steady return of profits to shareholders while also retaining profits in order to pursue future business initiatives and reinforce corporate operations. It does not set an official payout ratio or other standards on dividend value.
The Company decided to raise the dividend by ¥4 to ¥28 (¥14 at end-1H, ¥12 (normal) and ¥2 (commemorative) at period end), as expected. While the period-start dividend target was ¥24 (¥12 at end-1H, ¥12 at period-end), the Company raised the dividend along with upward revisions of the results outlook during the fiscal year and ultimately lifted it by ¥4 YoY. This puts the dividend payout ratio at 19.8%.
The Company disclosed a ¥28 dividend target (¥14 at end-1H, ¥14 at period-end), which is flat YoY, in FY3/19. As mentioned earlier, while it projects lower profit in FY3/19 from the impact of pharmacy fee revisions, we think it kept the dividend unchanged in line with a policy of continuously implementing stable dividends. Dividend payout based on anticipated net income per share comes to 22.0%. The stance of retaining the dividend also contains a message of confidence in restoring profit increase in FY3/20, in our view.
◆Information security
Manages drug records and other personal data in a cloud service with strong security, focuses on employee education too
Qol has robust capabilities in information security because it handles highly confidential information, such as customer drug and illness records, in the dispensing pharmacy business. It took steps to acquire a privacy mark as an indicator of personal information protection and already received it. It also promotes employee education and awareness and conducts security checks periodically and often. Qol switched from an on-premise site to a more secure cloud format in personal information management. This approach reduces business risk and improves security.
報告內容僅供參考,不得作為任何投資引用之唯一依據,且其投資風險及決定應由投資人自行判斷並自負損益。
【免責聲明】 本研究報告專區中的資訊均來自於各金融機構授權刊登或是已公開的資訊,鉅亨網對資訊的準確性、完整性和及時性不作任何保證,也不保證上述資訊報告做出的建議在未來不發生修正。在任何情況下,鉅亨網不對本資訊的使用人基於本資訊報告觀點進行的投資所引致的任何損益承擔任何責任。本網研究報告版權均歸各家提供機構所有,不得任意引用、刊發,且不得對原文進行修改或刪除。以上資訊僅供參考。