◆Business trends
Posted higher operating income but faced forex loss and extraordinary loss setbacks in FY3/18
1. Summary of operating results in FY3/18
Advanex reported FY3/18 results with ¥20,294mn in net sales (+13.6% YoY), ¥259mn in operating income (+5.0%), ¥237mn in ordinary income (-31.5%), and ¥49mn in net income attributable to the owners of the parent company (-25.9%). The Company posted an increase in operating income, despite investment burden and higher personnel costs in emerging countries. Recurring income, however, slipped due to booking a ¥72mn forex loss from yen appreciation and other impacts (vs. a ¥5mn profit in the previous fiscal year) under non-operating costs. Net income attributable to the owners of the parent company moved to a larger decline because of a taking a ¥60mn extraordinary loss as an impairment charge for goodwill from an acquired subsidiary. Compared to guidance, while sales overshot by 1.5%, profits missed at shortfalls of 35.1% in operating income, 37.5% in recurring income, and 79.2% in net income.
(1) Trends by location
The Company revised headquarters costs covered by regional entities from FY3/18. These adjustments take into account that not only R&D activities, but also prototyping of products made at overseas sites and establishment of volume production technology occurs in Japan. Regional operating income changes worked out to an addition of ¥328mn for Japan and reductions of ¥65mn for the Americas, ¥56mn for Europe, and ¥206mn for Asia.
For Japan, sales rose 3.7% YoY on upbeat automotive business and segment income improved by ¥485mn YoY to an ¥87mn loss (narrowing the loss). Profit increase factors were higher sales in automotive business and revision of the headquarters burden. Increase in fixed costs at the Saitama plant, meanwhile, was a negative factor. In the Americas, while sales climbed 10.4%, the segment loss widened from ¥161mn a year earlier to ¥369mn. Sales benefited on growth in automotive business and new plant additions, but the loss increased due to Mexican plant investments, higher personnel costs, and extra headquarter costs. In Europe, even though sales rose 8.5%, segment profit weakened 4.1% to ¥238mn because of the headquarters cost change. For sales, aircraft-related business was flat, while medical business and standard product had gains. In Asia, sales expanded 27.3% YoY thanks to upbeat automotive and office equipment businesses and consolidation of the Indonesian subsidiary. Segment profit, meanwhile, fell 32.4% from ¥724mn in FY3/17 to ¥489mn due to higher fixed costs and personnel costs and the change in headquarters costs.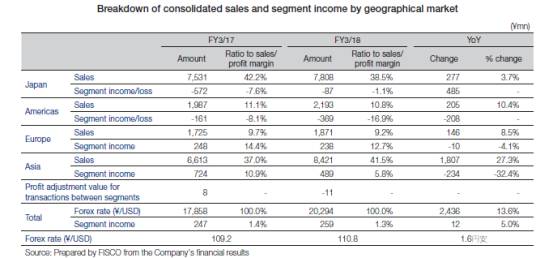 2) Trends by market
Automotive sales grew 29.8% YoY and climbed 5.8ppt to 46.6% as a share of overall sales. While sales of office automation equipment, the second largest category, had dropped sharply through the previous fiscal year due to the impact of design changes that eliminated the Company's products, this factor disappeared and sales were flat in FY3/18. Medical equipment sales rose by a robust 19.3%. Infrastructure and housing equipment sales were up 11.1%. The Company is promoting a strategy that focuses on automotive, medical equipment, and infrastructure and housing equipment areas to drive growth. Audiovisual and electric appliances sales increased 31.1%. Information and communications equipment sales, meanwhile, fell 19.6% on removal of Asian smartphone business. Aircraft-related sales only gained 3.1% due to sluggishness in manufacturer output.
2. Financial conditions and cash flow statement
Gross assets at end-FY3/18 were up ¥1,577mn YoY to ¥20,325mn with gains of ¥1,245mn in current assets and ¥332mn in fixed assets. Current assets added ¥439mn in cash and deposits on higher sales, ¥365mn in promissory notes received and accounts receivables, and ¥296mn in inventory assets. In liabilities, interest-bearing debt increased ¥1,558mn. Capital investments in FY3/18 totaled ¥1,568mn, exceeding the ¥975mn in depreciation costs and goodwill amortization costs.
Cash and cash equivalents were down ¥271mn YoY to ¥3,533mn at end-FY3/18. Cash flow from operating activities only amounted to ¥311mn and was not enough to offset the ¥1,496mn outflow in cash flow from investing activities. The Company covered the gap with higher loans in cash flow from financing activities.
◆Forecasts
Projects gains of 2.5% in net sales and 34.9% in operating income in FY3/19
1. Consolidated outlook for FY3/19
The Company projects higher sales and profits in FY3/19 with ¥20,800mn in net sales (+2.5% YoY), ¥350mn in operating income (+34.9%), ¥320mn in ordinary income (+34.9%), and ¥160mn in net income attributable to the owners of the parent company (+3.2x). It expects operating margin to improve from 1.3% in FY3/18 to 1.7%. The ¥100/$ forex rate assumption provides some flexibility in the projections.
Combined operating income from plants that are profitable is ¥1.2bn
2. Initiatives to improve income at individual plants
Income conditions at the Company's domestic and overseas plants adhere to a clear pattern depending on the number of years elapsed from opening or acquiring the facility. Plants are generally profitable when five or more years have elapsed since beginning operations, excluding special cases. Facilities in operation for four years or less, meanwhile, generally have deficits. Combined operating income from plants that are profitable is ¥1.2bn, the amount targeted for FY3/21 in the mid-term management plan. The Company is currently aiming for loss reduction and profitability at plants with deficits.
Plants in Thailand and the UK are the main income sources, but even China is delivering profits despite dispersed locations. Japan's longstanding plants in Niigata, Oita, and Aomori generate positive income. The Saitama plant, which has only been operating for two years, incurs a hefty loss. The China plant, which was obtained in the acquisition of Funabashi Electronics, is still running a loss, despite integration with the Miyagi plant. Losing half of the plant's sales for mobile-phone antennas since 2015 had a major impact. The acquired Indonesia plant is likely to take until at least FY3/20 to reach profitability due to curtailment of orders after the purchase. Since adding this site as a subsidiary, the Company deployed its production technologies and quality and delivery control system and thereby improved quality and restored customer trust. The subsidiary's name was changed to PT. Advanex Precision Indonesia in April 2018. Plans call for deployment of wire springs and forming capabilities to contribute to acquisition of new orders.
Income slumped at the US plant due to pressure from provision of ramp-up assistance to the Mexican plant. These efforts include transfers of equipment from the US, hiring, acceptance of 30 trainees from Mexico, negotiations with customers, and working fund support. The FY3/19 outlook envisions a profit on non-recurrence of the Mexican assistance. Expansion of customer production in the medical business from the UK to the US means that the Company's US plant will be making the same product as the UK plant. The new product output ramp-up should be quick because the US site is receiving molds and other equipment and technology assistance from the UK.
The Mexican plant is receiving operational and technology assistance from Japan in FY3/19. A larger number of inquiries from Japanese companies than expected are coming to the Company due to hesitancy by rivals with their initiatives in Mexico with the policy change of the US government. In Japan, the Company is strengthening its sales activities to Japanese Tier 1 firms. It is moving equipment and molds with solid track records in Japan to Mexico. The Company is dispatching wire spring and press engineers for technological assistance. New product volume output should start in FY3/19. The plan calls for profitability from 2H and an addition of 6,000m2.
The Saitama plant, which is positioned as a specialty automotive site, is putting efforts into raising productivity and profitability and reduction of the loss. Profitability is likely to take until after FY3/19. Main efforts through FY3/18 were transferring equipment from other plants, hiring, education, prototyping, customer evaluation, and customer certification reviews. New product volume output should accelerate during FY3/19 given the prospect of receiving certification for the automotive quality management system standard (IATF) in 1H. Facility operating rates in FY3/18 were just 70% for insert collars and 30% for insert molds. The plant was manufacturing items with excessive fixed costs prior to starting volume output for new products. Insert molds should move to a higher operating rate once production gains momentum. The Company is considering adoption of two shifts. It is also preparing a plan to expand plant floor space from 5,000m2 to 9,000m2 in order to accommodate increased demand from 2020.
◆Longer-term growth strategies
Growing business in automotive and medical areas on favorable assessment of global supply operations
1. Mid-term management plan
The current mid-term management plan targets ¥26,500mn in net sales, ¥1,200mn in operating income and 4.5% operating margin in FY3/21 and also sets goals for FY3/23, the final year, of ¥31,500-35,000mn in net sales, ¥2,500- 3,000mn in operating income, and 7.9%-8.6% in operating margin. Three-year CAGR with FY3/18 as the base year works out to 9.3% in sales and 66.7% in operating income. The Company is factoring in sharp earnings growth.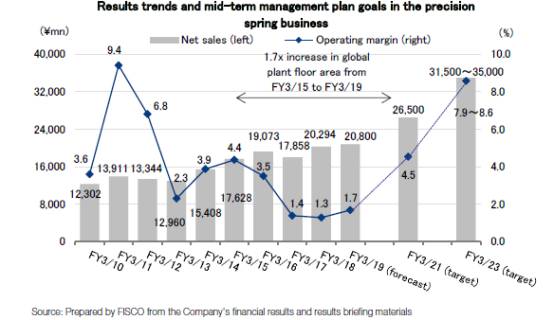 We think the FY3/21 goal is within reach because the Company posted 4.5% or higher operating margin in the precision spring business five times since FY3/00. The FY3/23 margin goal, meanwhile, is a tougher hurdle because this level has only been surpassed once with FY3/11's 9.4%. While expansion of global plant floor area by 1.7x from roughly 80,000m2 in FY3/15, when the mid-term plan was announced, through FY3/19 lays the groundwork for attaining the FY3/21 goal, we believe the Company needs additional or new capital investments to reach its FY3/23 goal.
2. Strategy outlined in the mid-term management plan
The business model of delivering high-quality products in large amounts with lengthy lead times on tight schedules continuously to multiple global sites is challenging for the Company and presents significant entry barriers to smaller precision spring manufacturers. Auto market mega suppliers with global operations are increasingly impressed by the Company's capabilities. With its global operations, the Company is aiming for priority supplier certification from the top-four Tier 1 firms.
(1) Area strategy
The Company will have 17 overseas plants following completion of new sites in Czech, India, and Vietnam. The Czech and Vietnam plants are large sites with 7,700m2 and 8,000m2 respectively. Global production floor area will have increased 1.7x in the five years through FY3/19. The Company budgets a steep rise in capital investments from ¥1,568mn in FY3/18 to ¥3,364mn in FY3/19. Depreciation costs are likely to increase from FY3/18's ¥939mn to ¥1,034mn in FY3/19.
(2) Market strategy
The Company's market strategy focuses on automotive, medical, and infrastructure and home equipment applications as core areas and also targets rechargeable batteries and aircraft. Market sales ratio projections in FY3/23 are automotive at 50% (+3.4ppt vs. FY3/18), office automation equipment at 10% (-7.9ppt), medical at 10% (+2.4ppt), infrastructure and housing equipment at 10% (+5.4ppt), and others at 20% (-3.4ppt). Automotive business has already risen more than expected and is likely to meet the 50% target.
In automotive business, the Company benefits from a strong volume effect and global orders from mega suppliers. It has added a few hundred new customers in the past three years. The Company's approach has been well received by customers, confirming the efficacy of the global Tier 2 concept.
Global production involves orders for a single product that might begin in Japan and then spread to other locations, such as Thailand, China, and India. Automotive parts pass through repeated inquiries, estimates, and designs and prototypes prior to starting volume output. Additional overseas orders remove the design and prototype process. Increased output volume lifts skill levels and enables the manufacturer to meet cost savings requests from customers. A key factor supporting substantial improvement of profit margin in the medium-term business plan is less growth in SG&A expenses and other spending than sales.
In the medical market, a highly profitable area, the Company plans to begin volume output at the US plant and start operations at the Czech plant in FY3/19. It expects to begin volume production of self-injector springs and deep-drawn parts in FY3/21. Global production provides significant cost benefits. PC, mobile phone, and camera parts have annual outputs ranging from 100,000 units to 10mn units and thus are suited to concentrated output at one location. Disposable medical kits with outputs in the range of 10mn and 100mn units, meanwhile, realize savings through dispersed production in areas of consumption in light of tariffs, domestic production incentives, and transport costs.

While Europe and other developed markets with aging societies had been the main markets, the number of patients with lifestyle diseases due to lifestyle changes has dramatically risen in emerging markets with large populations too. The Company's global supply operations are the strength because medical customers also have global presence.
(3) Product strategy
The Company is bolstering its line-up of standard products, such as Tangless inserts, insert collars, and LockOne, and widening sales channels globally. It transfers technology to overseas plants and recruits demand for insert molds and deep-drawn products with robust demand in overseas markets.
The UK subsidiary acquired the AS9100 quality management system standard for aircraft production and is strengthening Tangless insert orders. Aircraft extensively utilize soft materials to reduce weight and use about 300,000 Tangless inserts that reinforce bolt holes per plane. Tangless inserts enable faster process speed than previous products because the Tang portion does not need to be broken and retrieved after insertion. The Company proposes use of a reel and connected insertion tool to improve operation efficiency at customer production sites for airplanes, railway vehicles, and other equipment that requires large volume. Automated insertion robots are an option for use in PC housings. Sales totaled ¥1bn in FY3/18, and the Company hopes to double business within five years.
(4) M&A strategy
The Company continues to look at M&A opportunities for companies with unique technologies and companies that can expand sales channels.
◆Shareholder return policy
Intends to keep the dividend at ¥30 per share
The mid-term management plan targets a dividend payout ratio of 30%. Advanex set the dividend at ¥30 per share for a 51.0% payout ratio in initial FY3/18 forecast. The FY3/18 dividend payout ratio exceeded 100% for a second straight year at 245.7% because the Company maintained a ¥30.0 annual dividend despite shrinkage of net income per share to ¥12.21 on weaker earnings.
◆Information security policy
The Company takes an organizational approach to information security measures. It utilizes anti-virus software, intrusion detection, firewalls, and other functionality as the system-level response and educates employees and conducts periodic tests as personnel and organizational efforts. It has not incurred major trouble over the past year. The division handling security participates in external seminars and acquires knowledge. Society as a whole, includ­ing customers, is requiring more information security, and the Company intends to make necessary investments. While the Company uses data centers with seismic-resistance capabilities and other disaster-related preparations, it wants to further improve safety, such as storing data at a remote site.
報告內容僅供參考,不得作為任何投資引用之唯一依據,且其投資風險及決定應由投資人自行判斷並自負損益。
【免責聲明】 本研究報告專區中的資訊均來自於各金融機構授權刊登或是已公開的資訊,鉅亨網對資訊的準確性、完整性和及時性不作任何保證,也不保證上述資訊報告做出的建議在未來不發生修正。在任何情況下,鉅亨網不對本資訊的使用人基於本資訊報告觀點進行的投資所引致的任何損益承擔任何責任。本網研究報告版權均歸各家提供機構所有,不得任意引用、刊發,且不得對原文進行修改或刪除。以上資訊僅供參考。