◆Financial results trends
Proactively allocating R&D expenses toward future growth since FY3/14 with the arrival of a major industry turning point
1. Performance over the past fiscal years
In FY3/11, the Company's sales shrank YoY because of restrained consumer spending and the impact of the Great East Japan Earthquake. Its net sales rebounded in FY3/12-FY3/13, even though the pachinko industry continued to contract. This recovery was led by the Information System Segment, which holds high market shares for its products. Sales in this segment reached consecutive record highs in FY3/13-FY3/15, supporting the Company's overall performance. However, sales have been contracting since FY3/16 due to various negative external factors, such as voluntary industry regulations, retrievals and removals of risky machines, and uncertainty related to new regulations.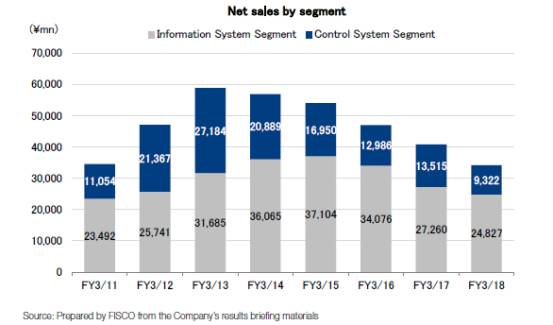 The Information System Segment provides profits, and has maintained high profit margins as the Company's performance recovered. Reflecting increasing investment in the development of next-generation products since FY3/14, profit margins have declined, but considering the size of the investment, margins are still high. In particular, steady progress in conversion to a recurring-income business model, such as growth in MG service business, has been supporting income.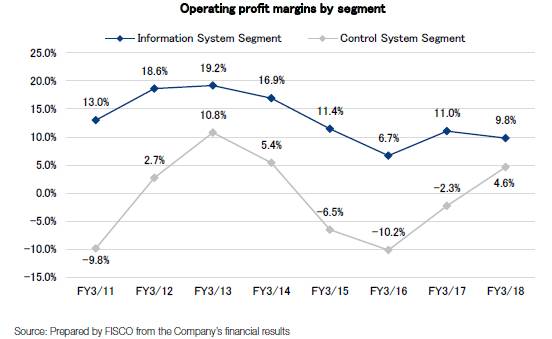 The Company's equity ratio, a measure of financial stability, has risen, reflecting large retained earnings, reaching 67.1% in FY3/18. The current ratio, which indicates the ability to make payments in the short term, was 203.8% in FY3/18, mainly due to large holdings of cash and deposits. The ROE, a measure of capital efficiency, has been low since FY3/15 due to a deterioration of net income. In FY3/15, the Company suffered a loss due to the bankruptcy of a manufacturer customer. In FY3/16, because of the industry restrictions on risky machines, the Company launched fewer new pachislot machine models than planned, and its sales volume of these machines was far below the planned level. As a result, the Company suffered a loss due to the devaluation of parts and materials for its pachislot machines. However, conditions have been gradually recovering recently.
Posted higher earnings on a decline in sales in FY3/18 Growth in service sales is providing support to income
2. Overview of FY3/18 results
The Company reported higher profits on a decline in sales in FY3/18 with net sales at ¥34,093mn (-16.3% YoY), operating income at ¥1,192mn (+13.8%), ordinary income at ¥1,390mn (+1.2%), and net income attributable to owners of parent at ¥785mn (+56.2%). Both sales and profits missed period-start targets.
Sales dropped in the Information System Segment and Control System Segment due to continuation of a difficult market environment of cautious stances toward capital investments because of uncertainty about the impact of new regulations. Information System Segment sales were substantially lower than forecasts due to impacts from declines in new pachinko hall openings and major renovations. Furthermore, Control System Segment sales undershot forecasts on delays in development schedules and equipment release timing at amusement equipment firms ahead of new regulations.
Profit rose, despite weakness caused by the decline in sales, thanks to a large improvement in operating margin to 3.5% (vs. 2.6% in FY3/17) on revisions in the "next-generation system" development plan that reduced development costs. Main sources of decline in the SG&A expenses ratio were a lull in R&D spending and the reversal of allowance for doubtful accounts (*).
* As the bankruptcy claims were finally settled in July 2017 for a client company that declared bankruptcy in April 2015.
In finances, while total assets dropped 7.0% YoY to ¥43,564mn on decline in notes and accounts receivable -trade (with lower revenue), decline in inventories (self-delveloped pachislot amusement machines), and depreciation under non-current assets, shareholders' equity was roughly flat at ¥29,369mn and the shareholders' equity ratio improved to 67.1% (vs. 62.3% at end-FY3/17).
The results by segment were as follows.
(1) Information System Segment
Both sales and profits slipped with sales off 8.9% YoY to ¥24,827mn and profit down 19.1% to ¥2,435mn, substantially missing forecasts. Sales volume for the BiGMO PREMIUM and IL-X series that disclose information to enthusiasts was higher than in the previous fiscal year, even with ongoing cautious investment stances at pachinko halls amid uncertainty about industry prospects, thanks to increase in new customers (*1) and acquisition of demand with the effect of new products (*2). Nevertheless, fewer new openings and large-scale renovations weighed heavily on sales volume in CR units (mainly the new VEGASIA III) released in June 2017) and hall computer and prize management systems, undermining segment results.
*1 Includes new transactions with operators of major pachinko hall chains.
*2 Replacement proposals with BiGMO PREMIUM II and IL-X released in December 2017.
In earnings, operating margin dropped to 9.8% (vs. 11.0% in FY3/18), despite decline in R&D expenses (through revisions to the development plan) and cutbacks in sales promotion costs, and advertising and promotional expenses, because these benefits were not enough to fully offset profit shortfall from lower sales.
Even as equipment sales as a whole ran into increasingly stiff headwinds, sales from services were basically flat, and should be given credit for underpinning sales and earnings as a whole. (In particular, we would note that sales from management support services, an area in which the Company is working hard to expand, rose 4.1% YoY to ¥4,312mn.) The Company also achieved solid results in forward-looking activities, such as the new CR-unit VEGASIA III (*1) with innovative functions, and Fan-SIS (disclosure service covering nationwide fan trends) (*2) that supports more detailed customer analysis. While it needs some time to expand sales, the Company appears to have secured firm footing for income contributions from FY3/19.
*1 The most distinguishing feature of VEGASIA III is its built-in facial recognition camera that allows pachinko hall managers to get a good handle on player trends. While its contributions to business performance will not start kicking in until 2H, this next-generation CR unit is already attracting a lot of attention.
*2 Fan-SIS is a new data analytical service that offers more detailed analysis based on the data collected via VEGASIA III. By collecting data from pachinko halls nationwide, the Company will be able to do more accurate and reliable analysis of player trends. At the individual pachinko hall level, hall operators will be able to see how their establishment stacks up against national trends, find the strengths and weakness of their operations, and see where there is room to improve. In particular, this helps individual pachinko halls find the optimum equipment lineup suited for their own player segment and is expected to improve their profitability.
(2) Control System Segment
Earnings climbed sharply (restoring a profit) on lower sales with a 31.0% YoY decline in net sales to ¥9,322mn and ¥433mn in profit (vs. a ¥306mn loss a year earlier). (These results missed forecasts.)
Display unit and control unit sales volumes dropped significantly because of delays in development schedules and releases from changes in machine type factoring new regulations at amusement equipment firms, along with sluggish new sales volume in the amusement equipment market. Proprietary pachislot amusement machines slightly exceeded the plan at about 5,500 units, but this was considerably less than the previous year's deployment (about 12,300 machines).
Earnings, on the other hand, improved because of lower sales commission fees for proprietary pachislot amuse­ment machines, substantial decline in R&D expenses (less than expected) on postponement of the development schedule, and reversal of allowance for doubtful accounts.
We have a favorable view of FY3/18 results in light of these trends, despite the setback from shortfall in sales readily affected by external conditions, given income support from growth in MG service income (this trend signals steady conversion to a profitable income structure). While full-fledged sales growth is likely to take some time, we think the Company clarified the general direction of its business with releases of revolutionary products and services and the start of transactions with major chain stores.
◆Outlook
Expecting higher sales and profits on reinforced sales of new products as the market recovers from difficult conditions
For FY3/19, the Company forecasts increase in sales and profits, with net sales at ¥35,000mn (+2.7% YoY), operating income at ¥1,300mn (+9.0%), ordinary income at ¥1,400mn (+0.7%), and net income attributable to owners of the parent at ¥800mn (+1.9%).
While Control System Segment sales are likely to weaken again, the overall outlook calls for a boost from the Information System Segment with pick-up in sales on reinforced activities in new products and services* in the second half of the fiscal year. In earnings, the Company expects improvement in operating margin to 3.7% (vs. FY3/18's 3.5%), even with increase in SG&A expenses led by advertising and promotion cost and consignment costs, on the higher sales effect and better efficiency in the development process (Control System Segment).
* Feature enhancements that place emphasis on "understandability and easy viewing" in BiGMO PREMIUM II, REVOLA, IL-X3, and other machines that disclose information, and Fan-SIS (data disclosure service on nationwide fan trends) proposals and reinforced sales of the VEGASIA III CR unit required in deployment of this service
We think the Company is capable of attaining its targets, even with continuation of difficult market conditions, on likely strengthening of replacement demand in peripheral equipment with customer draw amid market deployment of amusement equipment that meets new regulations and expansion of transactions with major chains and others added as customers in FY3/18. However, it is important to recognize that the outlook is skewed toward 2H (factoring in a 16.7% YoY decline in 1H sales).
◆Future strategic direction
Seeking to boost market share with next-generation products and solidify an earnings structure unaffected by the market environment
The Company is currently promoting the Next 50 Chapter One medium-term management plan that lasts through FY3/20. In FY3/18, the second year of the plan, the organization was altered, including replacement of the president and a new management team, to help address sharp changes in the business environment and to strengthen its income structure. Nevertheless, the Company did not change its overall direction. The plan focuses on bolstering the business foundation to help respond to market change (acquiring players with stronger interest in game features) and reforming pachinko hall management (strategic decision-making based on data analysis) with an outlook of moderate recovery in the market environment over the medium term, despite the ongoing uncertainty in the near term. In particular, the Company intends to enhance growth potential and profitability through expansion of market share with the next-generation hall computers (including peripheral equipment) that it has been aggressively developing, and achieve new value creation by leveraging data analysis and planning and development capabilities.
While it is likely to be difficult to attain quantitative goals due to various external factors, we think the Company's steady advances in the strategic direction described below are positive.
1. Information System Segment
The pachinko market's appetite for new investments is likely to remain depressed for at least a while longer. However, equipment demand is gradually stirring due to replacement of game machines in response to the new regulations, and Daikoku Denki intends to develop new products and services that will help it bring in new players, and increase its market share, while maintaining the flexibility needed to respond to changing market conditions. More specifically, the Company has set forth three key measures, as detailed below.
(1) As before, the Company plans to work at growing its market share and transforming its earnings structure by increasing sales of CR units, data displays, and other equipment. Coupling this with an expansion of management support services, the Company also aims to shift to a business model that is more reliant on services that produce recurring revenue. The expansion of management support services in particular, because they help pachinko hall operators increase their competitiveness and reduce labor costs, is expected to help the Company secure its customer base while at the same time stabilizing its own sales and earnings.
(2) The Company plans to make timely introductions of new products and services that have the flexibility needed to meet the changing needs of the market following the new regulations. The Company will also be looking to take advantage of the business opportunities created by the changes in the industry by developing new products and services that will help attract new players (winning back former players as well as attracting new players). One example here would be the expansion of various services to provide information to players.
(3) After reviewing product development plans to comply with the standards set forth under the revised regulations, the Company plans to continue actively investing in R&D to create a new generation of systems. Along with the changes in the market environment, the Company will make additional technical adjustments and alter its product development process to comply with the new rules and regulations. The Company also plans to step up its efforts to provide products and services that will help pachinko halls improve their operating efficiency and reduce labor costs. In terms of the timing of new product and service introductions too, the Company will keep a close watch on market trends and respond flexibly.
2. Control System Segment
In addition to a growing demand for reduced development costs for pachinko and pachislot machines, product planning is becoming increasingly important at the manufacturing level as the need grows for new ideas that will help clients cope with the changes in the market environment. In response, Daikoku Denki intends to closely coordinate the efforts of its Control System and Information System segments in order to further differentiate itself from competitors, assure rapid response to changes in the market environment, and raise operating efficiency. Towards this end, the company has laid out three specific measures it intends to implement, as outlined below.
(1) Contribute to the healthy operations of pachinko halls by emphasizing the entertainment aspect, and focus on revitalizing the game environment through creation of games that comply with new rules.
(2) Promptly respond to the requests of game machine manufacturers to shorten customers' product development period and contribute to cost reduction and quality improvement, while at the same time leading to lower in-house costs.
(3) Utilize Information System Segment's DK-SIS data and Fan-SIS data to help implement project proposals that will create new "game value" and help expand business territory of the Control System Segment.
Even though the pachinko industry is approaching a major turning point and this is weighing heavily on near-term performance, over the medium to longer term, we believe the years Daikoku Denki has spent actively developing next-generation hall computers and related peripheral equipment will give it a major advantage over competitors. In particular, we see the Company's management support services and value proposal through its unique services and data analysis putting it in a strong position to meet the changing needs of the industry. Even assuming the pachinko market continues to contract for a while longer, we believe it will be possible for Daikoku Denki to sustain growth with the help of a full-scale rollout of a high value-added lineup of next-generation products that will capture the replacement demand of existing pachinko hall operators. Additionally, polarization is likely to proceed further in the pachinko hall industry with survival mainly by firms with extensive capital resources. These conditions are likely to work favorably for the Company in its efforts to increase market control with the next-generation hall computers and raise market share.
With regard to sales, which are easily swayed by changes in the external operating environment, we must remain cautious in the near term. That said we will be keeping a close eye out for improvements in profitability stemming from the development of new products and services designed to help clients cope with changes in the market environment and the expansion of management support services. Although the impact of the new regulations is likely to leave the pachinko industry in a state of flux for at least a while longer as many sit on the sidelines to watch and wait, we believe that pachinko hall operators who have been holding off on making any new investments thus far may soon re-enter the market to buy new equipment, especially those with adequate financial resources. As this could put demand on the road to recovery from 2H, investors will want to keep an especially close eye on developments on this front. Over the medium to long term, we see Daikoku Denki's growth taking full advantage of its dominant position within the industry, as well as additional measures aimed at revitalizing the industry as a whole. We will be closely monitoring direct contacts beyond just pachinko halls and amusement equipment firms to pachinko and pachislot fans, amusement fans, and new fan segments (such as providing information to members via a smartphone app and efforts to draw people to halls).
◆Shareholder returns
Plans to pay a ¥40 annual dividend in FY3/19 (same as in FY3/18); likely to have room to raise the dividend over the medium term accompanying profit growth
In FY3/18, the Company decided to lower the dividend by ¥10 to ¥40 per share for the full year (¥10 interim and ¥30 year-end), taking into account uncertainty about the future market environment. The Company plans to pay a ¥40 annual dividend in FY3/19 (¥10 interim, ¥30 year -end), the same as in the previous fiscal year.
Given the Company's policy of supplementing its minimum dividends with dividends dependent on earnings, FISCO foresees the likelihood of increases in annual dividends as the Company's profits grow over the medium term.
To make its shares more attractive to investors and to encourage shareholders to keep their holdings over the medium-to-long term, the Company has adopted a system of awarding gifts to shareholders. Shareholders (owning 100 or more shares) as of September 30 each year receive points that can be exchanged with products (such as food, beverages, electronic equipment, travel or experiences, or donations to social contribution activities) in accordance with the number of shares owned and length of ownership. The Company's IR official explains that this program has been highly praised by individual shareholders.
報告內容僅供參考,不得作為任何投資引用之唯一依據,且其投資風險及決定應由投資人自行判斷並自負損益。
【免責聲明】 本研究報告專區中的資訊均來自於各金融機構授權刊登或是已公開的資訊,鉅亨網對資訊的準確性、完整性和及時性不作任何保證,也不保證上述資訊報告做出的建議在未來不發生修正。在任何情況下,鉅亨網不對本資訊的使用人基於本資訊報告觀點進行的投資所引致的任何損益承擔任何責任。本網研究報告版權均歸各家提供機構所有,不得任意引用、刊發,且不得對原文進行修改或刪除。以上資訊僅供參考。