Double-digit increases in sales and profits in the SaaS/ASP business due to the rise in sales per customer from cross sales and the growth in IoT- and big data-related sales
2. Trends by business segment
(1) SaaS/ASP business
In the SaaS/ASP business, sales revenue increased 11.9% YoY to ¥3,141mn and non-GAAP standard operating profit rose 41.2% to ¥559mn. Looking by type of sales revenue, monthly and usage-based billing revenue steadily grew, up 9.5% to ¥2,201mn, due to the progress made in spreading cross sales among existing customers and in acquiring new customers. One-time sales revenue also increased for the first time in 2 fiscal periods, up 17.8% to ¥939mn. This was from the contribution of orders for development projects to add to and enhance the functions relating to the safe driving support services for individuals provided by Sompo Japan Nipponkoa Insurance.
By service, sales revenue increased for the mainstay services, up 11.8% YoY to ¥457mn for i-search and up 26.3% to ¥450mn for i-ask, and both performed strongly. Also, in the i series, the new i-gift service (a store visit-type prod­uct exchange digital gift service)*1 was newly introduced by five companies, including SAISON AUTOMOBILE AND FIRE INSURANCE COMPANY, LIMITED, while i-assist (a web chatbot system)*2 was introduced by 3 companies, such as The Shizuoka Bank, Ltd. <8355>, and the Company is steadily accumulating results for new services.
*1 i-gift is a digital gift service in which companies conducting sales promotion campaigns for new products or gifts can send customers an SMS or email (electronic message with an ID, such as a QR code) that can be presented at stores to receive a product. As the billing system is a combination of usage-based billing according to the number of IDs issued and fixed monthly billing, the greater the number of IDs issued, the more the Company's sales revenue will increase.
*2 i-assist is a chatbot system that utilizes AI. Its monthly usage fees start from ¥200,000.
Sales revenue for IoT- and big data-related increased greatly, up 44.5% to ¥487mn. This was mainly due to the development of a big data processing and management system relating to Driving!*, which is Sompo Japan Nipponkoa Insurance's safe driving support service, and also the recording of monthly operations and man­agement revenue following the start of this service from January 2018. Other than this, sales were strong for telephone system service, including IVR, increasing 3.8% to ¥273mn, and for the news distribution service, rising 2.2% to ¥430mn.
* It is a service that fully supports a safe and secure car life by providing security when driving through the installation of a dedicated dashboard camera with communication functions equipped with the Safe Driving Support Function. After driving, the Safe Driving Diagnosis and Visual Function Training features allow users to self-maintain driving skills. Also, should an accident occur, the service provides an Accident Report Function and Accident Scene Emergency Assistance Service.
Looking at the factors causing operating profit to change, the cost-increase factors were that outsourcing costs rose ¥110mn and personnel costs climbed ¥60mn. But these increases were covered by the effects of the higher sales, mainly of the i series, so the operating margin rose from 14.1% in FY6/17 to 17.8%.
(2) SFA business
In the SFA business, sales revenue increased 7.4% YoY to ¥4,190mn, while operating profit decreased 17.1% to ¥649mn. Sales of e-Sales Manager, which is sales support software that contributes to improving productivity in sales departments, trended steadily, particularly for the cloud type. But the reason why profits declined was that costs increased, such as personnel costs and relocation-related costs, including to more actively invest in human resources toward realizing growth and to move the head office. It was the only business that failed to achieve the Company forecasts, but this was mainly because of the occurrence of delay in two comparatively large-scale, on-premise projects for e-Sales Manager, and also the pushing forward of the investment in human resources (the recruitment target for 2018 was achieved in half a year), and at the present time, orders received continue to trend steadily.
(3) Field marketing business
In the field marketing business, sales revenue increased 7.0% YoY to ¥3,423mn and operating profit rose 16.5% to ¥262mn. Results slumped in 1H of the fiscal period due to the decline in orders for spot projects. But on entering 2018, the Company made progress in acquiring new customers through the effects of the review of the sales organization and making independent a special department for acquiring new customers. As a result, orders for short-term spot projects rapidly recovered and doubled compared to in the same period in the previous fiscal year. In addition, lump-sum contracts for field activities from the main existing customers steadily increased, and therefore sales and profits rose for the full fiscal year.
(4) Customer support business
Leoconnect, which conducts a customer support consulting business to provide a one-stop service to solve various problems within call center management, entered the scope of consolidation from March 2018. Therefore, it recorded four months' worth of results, of sales revenue of ¥856mn and operating profit of ¥7mn.
(5) Other businesses
In the other businesses, sales revenue increased 60.9% YoY to ¥1,217mn and operating profit was ¥67mn (compared to a loss of ¥16mn in the previous fiscal year). Looking at the breakdown of sales revenue, in the systems development business, it declined 25.9% to ¥369mn alongside the reduction in the scale of existing projects, but in the publishing business, it increased 16.5% to ¥300mn due to the recovery of book sales.
In the EC business of plube, which entered the scope of consolidation from August 2017, sales revenue was ¥547mn due to the strong sales of battle game trading cards.
Equity ratio of 39.7%, sustained financial soundness
3. Financial condition and business indicators
Looking at the financial condition at the end of FY6/18, total assets were up ¥1,291mn on the end of the previous fiscal year to ¥16,233mn. The main change factors were that in current assets, there were increases in operating receivables and other receivables of ¥1,005mn and in inventories of ¥79mn. In non-current assets, goodwill rose ¥103mn and other long-term financial assets increased ¥166mn.
Total liabilities increased ¥566mn from the end of the previous fiscal year to ¥7,587mn. The main factors were that operating debt and other payables increased ¥353mn and income taxes payable increased ¥43mn. Total equity increased ¥725mn from the end of the previous fiscal year to ¥8,645mn, with the main factors being the recording of net income attributable to owners of the parent of ¥707mn, net income attributable to non-controlling interests of ¥354mn, and dividend payments of ¥320mn.
Looking at the business indicators, the equity ratio was basically unchanged, declining slightly from 40.1% at the end of the previous fiscal year to 39.7%, while the interest-bearing debt ratio fell from 79.7% to 74.3%. This was mainly because while interest-bearing debt was at about the same level as at the end of the previous fiscal year, shareholders' equity increased. While there is room for the equity ratio to improve even further, net cash (cash and deposits – interest-bearing debt) is being kept at the equilibrium level, so it can be judged that the Company is main­taining a sound financial condition. However, goodwill accounts for approximately 36% (¥5,787mn) of total assets, and it is necessary to be aware that there is the risk that its financial condition could worsen should the earnings of Softbrain, which provides the majority of this goodwill, deteriorate due to it requiring impairment treatment. But Softbrain's results are trending stably, and at FISCO, we think the possibility of this risk materializing is extremely low. The Company has expressed its intention to gradually reduce the level of interest-bearing debt in the future.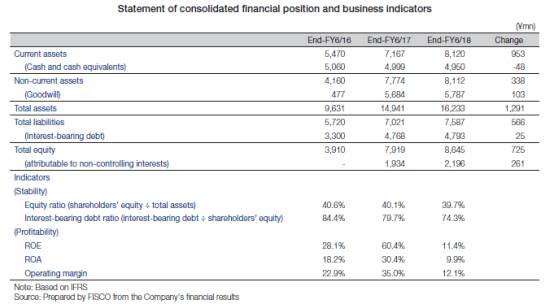 ◆Outlook
Outlook is for the double-digit increases in sales and profits to continue in FY6/19, mainly from the SaaS/ASP business
1. Outlook for FY6/19
The outlook for FY6/19 is for the double-digit increases in sales and profits to continue, with sales revenue to rise 20.4% YoY to ¥15,450mn, operating profit to grow 18.3% to ¥1,830mn, pretax profit to climb 18.5% to ¥1,820mn, and net income attributable to owners of the parent to increase 16.0% to ¥820mn. The SaaS/ASP business and the field marketing business are expected to grow, while the SFA business is set to return to a growth track, with sales and profits to increase by double digits. Leoconnect's recording of results for the full fiscal year will also contribute to sales revenue. In 1H, the Company will conduct upfront investment in development costs and to invest in human resources, so the profit-increase rate will slow down to single digit. But from 2H onwards, the forecast is for the profit-increase rate to rise, including due to the effects of the higher sales and the improved profitability of Leoconnect.

Synergies expected with the SaaS/ASP business and the customer support business
2. Outlook by business segment
(1) SaaS/ASP business
The outlook for the SaaS/ASP business is for sales and profits to increase by around 15% YoY. The Company will continue to work on acquiring cross sales for the i series and new customers, aiming to accumulate monthly-billing earnings. One-time sales are also expected to increase from the contribution to sales of new development projects.
For the i series, a major cosmetics company and major non-life insurance company have decided to introduce i-livechat (a web chat system)*, and in addition, a major cosmetics company and a major financial company have decided to newly introduce i-assist. Including the new introductions of i-gift that were decided in FY6/18, the outlook is that these new services will contribute greatly to sales. Particularly for i-livechat and i-assist, it is possible to re-use the knowledge database of i-ask, which is the Company's mainstay service, so it is proposing cross sales to customers using this service, which is leading to contracts. For i-livechat, its policy is to strengthen sales through a cooperating service with LINE Customer Connect.
* i-livechat is a web chat service that enables site operators, such as in a customer support center, to guide users in solving problems they may face and addressing their questions or concerns through real-time chat. By linking and checking users' i-search and i-ask history, site operators are able to respond while confirming content on the chat response screen. i-livechat is a service that contributes to improving customer satisfaction. It is anticipated that it will be introduced mainly at corporate call centers, with an expected minimum monthly usage fee from ¥200,000.
Other than the above, higher sales are expected to continue in FY6/19 for Sompo Japan Nipponkoa Insurance, for which in the previous fiscal year, sales revenue of approximately ¥600mn was recorded. This is because the Company plans to record sales from development projects for insurance sales systems other than for vehicles.
(2) SFA business
The outlook for the SFA business is also for sales and profits to increase by around 15% YoY. As Softbrain's fiscal year ends in December, in terms of Softbrain's results that correspond to the Company's accounting period (FY6/19), 2H of FY12/18 and 1H of FY12/19 will be reflected in the Company's results. On provisionally calculating the growth rate of the sum of Softbrain's FY12/18 2H forecasts and 50% of the FY12/19 forecasts announced in the medium-term management plan, sales revenue will increase 23% YoY and operating profit will rise 46%. There are slight differences, because the two companies' accounting standards are different. But if Softbrain proceeds as planned, it is possible that they will be factor behind results exceeding the forecasts.
Sales of Softbrain's e-Sales Manager are expected to continue to grow. Currently, in order to expand its customer groups, it has introduced e-Sales Manager Remix MS, which is a self-serve version that is intended for SMEs. It is also developing industry-specific products, and these products are expected to contribute to earnings from FY12/19 onwards.
(3) Field marketing business
In the field marketing business, sales and profits are expected to grow by around 5% YoY. If provisionally calculated in the same way, based on Softbrain's forecasts, sales revenue will increase 1% and operating profit 3%. These are less than the Company forecasts, but this is because the FY12/18 1H results were increases in sales and profits that exceeded the Company forecasts. As orders have been trending steadily since July, at FISCO we think it is fully possible that it will achieve higher sales and profits of around 5%.
(4) Customer support business
In the customer support business, sales revenue of ¥2bn is expected. As the amount in FY6/18 was ¥856mn for 4 months, on simply multiplying this amount by 3, the total for the full fiscal year becomes around ¥2.5bn. But in order to improve the profitability of Leoconnect, the Company plans to acquire customers from outside of the HIKARI TSUSHIN Group. Toward, this, it is aiming to reduce the number of telephone inquiries at call centers and establish a structure to accept new customers. As the solution for this, it is proposing introducing the Company's IVR service into each call center, and it is also proposing the introduction of i-ask on the websites of its customers, which are the HIKARI TSUSHIN Group companies. While other companies' systems have already been introduced into Leoconnect's call centers, the Company's IVR is superior in terms of performance and costs, so the plan is to sequentially replace the other systems with it.
Therefore, it is anticipated that the growth in sales revenue will slow due to the temporary fall in the number of telephone inquiries. However, the plan is to allocate the surplus capacity created from the fall in the number of telephone inquiries to new customers from outside of the HIKARI TSUSHIN Group, and if it is able to smoothly acquire new customers, this can be expected to have a positive effect on earnings. Moreover, the number of introductions of IVR and i-ask will rise, which will also be a factor for sales and profits to increase in the SaaS/ ASP business.
Other than these, as new services, the Company will start providing multilingual call center services for foreigners and a service to translate FAQ pages. For the multilingual call centers, it has entered into a business alliance with Inbound Tech, which has a leading track record in Japan in this field, and the Company will utilize its resources to provide high-quality services. It is said that the number of annual overseas visitors to Japan will exceed 30 million in 2018, and this number is expected to rise even higher toward the Tokyo Olympics in 2020. Therefore, it is forecast that needs of companies for such services will also increase in the future. The service to translate FAQ will be in the SaaS/ASP business area, and the Company's strategy is to ascertain market changes in advance to quickly capture potential demand.
In the customer support business, the industry average operating margin is around 10%, so the aim at the present time is to improve profitability up to this level by acquiring new customers in the future. Also, through making Leoconnect a subsidiary, it has become possible to ascertain quickly and in more detail the needs of call center worksites, and synergies can be expected going forward in terms of the development of SaaS/ASP services.
(5) Other businesses
In the other businesses, even within Softbrain, the systems development business and publishing business are not considered to be businesses to be actively expanded, and their results are expected to remain at the same level as in the previous fiscal year. On the other hand, the outlook for the EC business in FY6/19 is for higher sales and profits from the strong sales of battle-type trading cards.
◆Future direction
Aiming for double-digit growth while working to enhance services in the CRM area
In terms of its direction for the future, the Company plans to develop a wide range of businesses in the CRM area, which supports communication between corporations and individuals, with the aim of providing the necessary information and goods on the correct timing based on IT services. In addition to the sustainable and stable growth of the existing SaaS/ASP business, its plan is to target double-digit growth by enhancing the synergies with the customer support business acquired through M&A.
In the last two years, the Company has successively and quickly conducted three M&A to acquire Softbrain, plube, and Leoconnect. It is prioritizing the early realization of synergies through collaborating with Leoconnect. Therefore, it seems it will temporarily take a break from conducting M&A, but it is thought that they continue to be one important growth strategy. The targets for the M&A and business alliances can be summarized into the following four types of companies: 1) companies with the expertise and technologies to develop new services, 2) companies with a large customer base that will lead to expansions in market share for the Company's existing services, 3) companies that will enhance the Company's service lineup and that have expertise and technologies it does not possess and will contribute to the evolution of its existing services and improved competitiveness, and 4) companies with many excellent engineers who will strengthen the Company's development capabilities.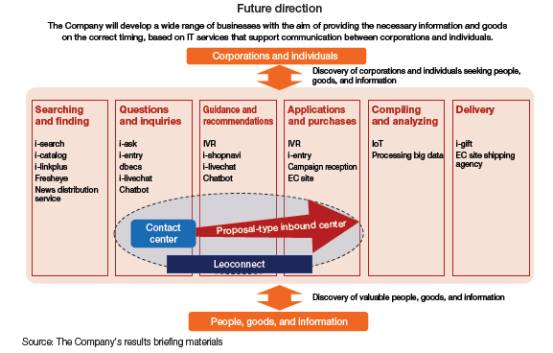 ◆Shareholder return policy
Plans to increase the FY6/19 dividend per share by ¥4 YoY to ¥24, for the 10th consecutive fiscal year of higher dividends
The Company's basic policy on returning profits to shareholders is to stably and continuously pay a dividend while also retaining the internal reserves necessary to strengthen its financial structure and develop its businesses in the future. The standard for the consolidated dividend payout ratio is around 50%, and in FY6/19, the Company plans to increase the dividend per share by ¥4.0 YoY to ¥24.0 (dividend payout ratio, 49.5%). This will be the 10th consecutive fiscal year of higher dividends, and it is also expected to continue to increase the dividend in the future, if earnings continue to grow.
◆Information security measure
The Company's mainstay business is SaaS/ASP services that utilize the Internet, so information security is one of its most important management issues. In terms of specific measures, all Group companies have been and continue to work to acquire ISO/IEC27001 certification, which is the international standard for information security, and to implement information security measures incorporating a global-standard third-party perspective. They also strive to thoroughly manage the information assets owned by the Group based on an internal management system. They use in-house servers and some private clouds for the information system, while also constructing backup systems.
報告內容僅供參考,不得作為任何投資引用之唯一依據,且其投資風險及決定應由投資人自行判斷並自負損益。
【免責聲明】 本研究報告專區中的資訊均來自於各金融機構授權刊登或是已公開的資訊,鉅亨網對資訊的準確性、完整性和及時性不作任何保證,也不保證上述資訊報告做出的建議在未來不發生修正。在任何情況下,鉅亨網不對本資訊的使用人基於本資訊報告觀點進行的投資所引致的任何損益承擔任何責任。本網研究報告版權均歸各家提供機構所有,不得任意引用、刊發,且不得對原文進行修改或刪除。以上資訊僅供參考。