◆Outlook
Expected to deliver record-high profits for FY3/19 for the first time in two fiscal years, mainly based on growth in the customer base and a decrease in sales promotion costs
1. Outlook for consolidated FY3/19
For consolidated FY3/19, the Company has left its initial forecasts unchanged at net sales to increase 5.1% YoY to ¥195,600mn, operating profit to increase 27.2% to ¥13,960mn, recurring profit to increase 24.0% to ¥13,880mn, and net income attributable to owners of the parent to increase 19.6% to ¥7,920mn. Net sales are forecast to increase for the second consecutive fiscal year and to achieve a record high for the first time in five fiscal years, while profits are also expected to achieve record highs at every level for the first time in two fiscal years.
The main reasons for the increase in profits will be an increase of ¥2,100mn in profits from an increase in monthly revenue atop an increase in the number of Group customers by 65,000 to 2,941,000 as of the end of FY3/19, as well as reduced costs for measures to win new customers and prevent contract cancellations implemented in FY3/18. Most of the increase in the number of customers will come from the LP gas and CATV businesses. The number of customers is expected to increase by 35,000 (26,000 in 2H) for the LP gas business and by 28,000 (14,000 in 2H) for the CATV business from the end of the previous fiscal year. By segment, profits in the gas and petroleum business are expected to swing from a decline in FY3/19 1H to an increase on a full year basis. In addition, following on from FY3/19 1H, the CATV and Aqua businesses are expected to continue to perform favorably.

Looking at profit forecasts in core businesses, profit in the LP gas business had declined in FY3/19 1H. However, the Company will increase prices from FY3/19 3Q, so profitability will likely increase from FY3/19 2H. Based on this outlook, profit in the LP gas business is forecast to increase by double digits on a full-year basis. One risk factor is temperature trends in the winter. If winter temperatures are higher than normal, sales volume of LP gas could decrease. The Company will work to further increase the number of customers in existing areas by acquiring new customers. It is expected to acquire customers in Okayama Prefecture and Gifu Prefecture, which it newly entered in FY3/18, and Fukuoka Prefecture, which it newly entered in June 2018. It also plans to enter the new areas of Mie Prefecture and Nagano Prefecture in FY3/20. Going forward, the Company will continue to working to increase the number of customers with the aim of achieving growth in profits.
In the information and communications services business, net sales are forecast to grow by only single digits due to sluggish growth in the number of customers in the consumer business. However, profits are forecast to turn upward and increase by double-digits. Profits in the corporate business, which had declined in FY3/19 1H, are also expected to turn upward as a result of growth in sales from data communications services, system development projects and other areas, thereby contributing positively to profits. Another contributing factor will be a decrease in sales promotion costs for LIBMO and Hikari Collaboration. In data communications services, at the end of August 2018, the Company began mutual connectivity with the network of Telstra Japan K.K., a member of the Telstra Group, which has one of the largest networks in the Asia-Pacific region, and started offering data communications access services to overseas customers. This will serve as another driver of profit growth in FY3/19 2H.
In the CATV business, the Company will work to increase the number of customers by continuing to sell service bundles based on tie-ups with mobile phone carriers. In addition, the Company will raise the multiple contract rate for broadcasting and communications services based on its strengths in being able to provide high-speed communications services leveraging its proprietary optical fiber network. Through these measures, the Company is forecasting a double-digit increase in operating profit in the CATV business.
In the Aqua business, double-digit growth in operating profit is projected based on measures to increase the number of customers through continued sales activities at stores such as large shopping centers in FY3/19 2H. In addition, as a new initiative, the Company announced that it had concluded a business alliance agreement with TOELL <3361>, a peer company in the bottled water delivery industry (November 8, 2018), with the aim of streamlining delivery operations and enhancing service quality in the home water delivery business in the Kanto area. Specifically, TOELL's delivery system will be used to deliver the Company's Aqua products in the Kanto area, in order to streamline delivery operations, reduce costs, and strengthen customer contacts. The aim is to drive further growth in the Aqua business. Previously, in the Kanto area, the Company had outsourced delivery operations to a major freight company. However, freight costs had risen due to the recent shortage in drivers and the Company had passed some of the freight costs on to customer fees. Through this business alliance, the Company expects to generate cost savings by utilizing TOELL's delivery system. TOELL serves 250,000 customers in the home water delivery business in the Kanto area.
As one of its digital marketing strategies, the Company launched a smartphone app called "TLC Points App" in October 2018. The TLC Membership Service is a membership program for customers using the services provided by the TOKAI Group. Designed for TLC members, the new smartphone app enables members to confirm, redeem and otherwise make use of their TLC points. It also facilitates the timely distribution of information to members, including information on various services, as well as campaigns and events, from the Group. Looking ahead, the Company will analyze the big data (user activity history) gathered from the smartphone app, websites for various services, and other sources and use the findings to implement optimal digital marketing initiatives according to customer attributes and preferences. By doing so, the Company plans to build a platform that successfully maximizes revenue per customer. The number of TLC members stood at 757,000 as of the end of September 2018.
Aim for more than 4,320,000 Group customers and consolidated operating profit of ¥22.5bn for FY3/21 by advancing the M&A strategy
2. Medium-term management plan
(1) Basic policy and M&A activities
In the new medium-term management plan (IP20) launched in FY3/18, the Company sets out its basic strategy of prioritizing topline growth and switching from defensive to proactive management. By the end of FY3/21, it will proactively conduct M&A and form alliances that will lead to the expansion of its customer base, and it plans to conduct strategic investment worth a total of ¥100bn.
The candidates for M&A are companies that have a customer base in its core businesses, including gas, CATV, and information and communications services, and it is also targeting companies in areas peripheral to its existing lifestyle-related services. The Company is currently investigating and negotiating with several candidate companies. The Company is also working to create new businesses that utilize the advanced technologies of AI and Big Data, the cloud, IoT, and robotics. It has taken the first letters of these keywords and combined them with the first letter of smartphone, which will be the device that utilizes these technologies, to create the term ABCIR+S. As a specialist organization, it has established the Next Generation Management Strategy Headquarters to investigate a model to utilize ABCIR+S horizontally across the Group (including to create new businesses, to enhance its customer contact points, and a strategy to utilize information). For these advanced technologies, it is investigating using M&A to acquire companies that have technologies and expertise that it does not possess itself.
Looking at the Company's recent history of prominent M&As, in the CATV business, the Company converted Tokyo Bay Network Co., Ltd. (Koto-ku and Chuo-ku, Tokyo) and TV Tsuyama Inc. (Tsuyama-shi, Okayama Prefecture) into subsidiaries. In October 2018, the Company obtained approval for the transfer of a city gas business operated by Shimonita-machi, Gunma Prefecture from the Director-General of the Kanto Bureau of Economy, Trade and Industry. With this approval, the Company has decided to succeed to this city gas business from April 2019. Previously, the Company had conducted the city gas business only within Shizuoka Prefecture. This decision marks the first time that the Company will operate a city gas business outside the prefecture. Based on this track record, the Company plans to further expand its city gas business to cover a wider region.
In the information and communications services field, the Company converted Cyze Inc.* into a consolidated subsidiary in September 2018. Cyze develops and provides online survey systems as its core business. In addition, the Company concluded a capital and business alliance with Tripleize Co., Ltd., a startup with strengths in cutting-edge technologies such as IoT, AI and blockchain. The purpose of converting Cyze into a subsidiary is to strengthen the Group's digital marketing strategy using Cyze's data collection solutions. With regard to Tripleize, the Company intends to expand the systems development business and create synergies in areas such as the development of new businesses and services by working to further strengthen its relationship with Tripleize by forming a capital alliance. Previously, the Company had partnered with Tripleize in the system development business.
* Cyze posted net sales of ¥179mn and operating profit of ¥36mn in FY11/2017. The Company's shareholding ratio in Cyze is 100%.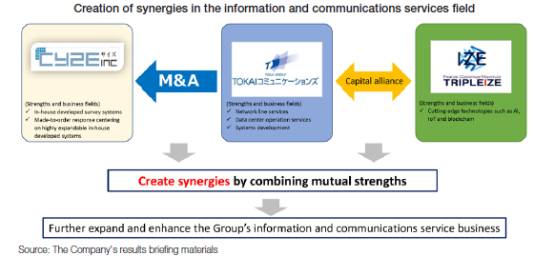 In other areas, in August 2018 the Company entered into a capital and business alliance with Minna-Denryoku, Inc., a power producer and supplier (PPS). With this move, the Company has started to explore possibilities for entering the renewable energy field in earnest. In April 2019, the Company plans to establish a wholly owned subsidiary to conduct electricity sales and related activities. From 2019, this business will purchase electric power generated using photovoltaic power generation facilities, for which the purchase period for the Feed-in-Tariff (FIT) scheme will expire. It will also utilize sales agencies, including Group companies and local construction companies, for the actual sales. The Company is expected to first sell electric power to corporations, individuals, public facilities and other customers in Shizuoka Prefecture, and subsequently expand sales to areas in which the Company provides services. Demand for purchasing renewable energy is projected to increase among companies strengthening their efforts in ESG (Environment, Society, Governance), RE100 member companies* and local governments that have a high environmental awareness. The Company's initiatives in this field will warrant close attention from FY3/20 onward.
* RE100: An international consortium in which member companies are committed to use electricity generated from 100% renewable energy. As of September 2018, it had 132 member companies from around the world, of which, 8 are from Japan, including Ricoh <7752>, AEON <8267>, and ASKUL <2678>.
(2) Strategy for the CATV business
The CATV business is one of the Company's core businesses, accounting for around 15% of net sales, and around 33% of operating profit, and around 36% of the number of customers. Notably, the number of customers in the CATV business is the highest among the Group's businesses (the information and communications services business has the second highest number of customers, representing around 35% of the total). The CATV busi­ness began when the Company made an investment in a fixed-line television equipment company in Shizuoka Prefecture in 1988. Thereafter, the Company expanded its CATV sites through M&A initiatives. It currently conducts business in Tokyo and five prefectures: Shizuoka, Kanagawa, Chiba, Nagano and Okayama.
In the CATV industry, the J:COM Group holds a dominant share of more than 50% of the entire market. The second-largest CATV company and smaller players have market shares in the single digits and are locked in a tight race for market share. Looking at the ranking of broadcasting service providers in terms of net sales, the TCN Group (TCN: TOKAI Cable Network Corporation) is ranked third place in the industry. In terms of the number of subscribing households, the TCN Group comes in at sixth place. Currently, there are more than 300 companies providing CATV services in Japan. Going forward, the largest companies are expected to swallow up the smaller players. Notably, the Company has announced plans to actively push ahead with alliances and M&As as a lifestyle infrastructure services company with strengths in providing a wide range of services such as LP gas and Internet services.

In the broadcasting industry, new 4K and 8K ultra high-definition satellite broadcasting services will begin in December 2018. Investment in the conversion of standard cable to fiber-optics infrastructure will be needed to allow CATV customers to view these broadcasting services without any problems. If a customer's incoming line is coaxial cable, a set-top box (STB) is needed to view CATV. With a fiber-optic line, CATV can be viewed using the pass-through method without an STB. Therefore, the Company plans to actively invest in the conversion to fiber-optics infrastructure, with a view to completing the conversion of almost all of its infrastructure to fiber optics by FY20. The Company has already made progress on the conversion to fiber-optics infrastructure. With this in mind, the Company is budgeting for capital expenditures of around ¥6,000mn per year. Progress on the conversion to fiber-optics infrastructure will enable the Company to provide faster and more user-friendly communications services. Even better communications services are expected to lead an increase in the number of communication service customers and to a rise in the multiple contract rate. The Company also plans to simultaneously conduct M&As targeting CATV companies that do not have the financial strength needed to invest in the conversion to fiber-optics infrastructure. The Company has laid around 6,000 km of fiber-optic cable in areas ranging from Kanto to Okayama. Its return on investment will be higher when undertaking M&As targeting companies in its fiber-optic service areas. However, without limiting itself to these areas, the Company plans to expand the scope of M&As nationwide as it advances M&A initiatives.
(3) Targets for management indicators
The numerical management targets set in the medium-term management plan for FY3/21 are consolidated net sales of ¥339.3bn, operating profit of ¥22.5bn, net income attributable to owners of the parent of ¥11.5bn, and ROE of 13.0%. Looking at the levels of these targets compared to FY3/18, the Company is targeting increases of 1.8 times in net sales, 2.0 times in operating profit, and 1.7 times in net income attributable to owners of the parent. It is considered that, while utilizing M&A, the Company is aiming to achieve these targets by increasing the number of Group customers by more than 1.5 times to over 4,320,000, and also by raising the multiple contract rate from around 14% as of the end of FY3/18 to around 20%.
Financially, interest-bearing debt is expected to increase as the Company conducts investment of ¥100bn to accelerate M&A and alliances. Looking at the interest-bearing debt / EBITDA (operating profit + amortization expenses, including goodwill expenses) ratio, although it will increase slightly, from 1.9 times in FY3/18 to 2.6 times in FY3/21, the equity ratio will be kept at the 30% level and financial soundness will be maintained. The Company conducted normal capital investment excluding M&A expenses of ¥12.6bn in FY3/18 and plans an annual level of ¥14bn from FY3/19 onwards.
◆Shareholder return policy
Remaining firmly committed to continuously paying a stable dividend
The Company returns profits to shareholders by paying dividends, presenting shareholders with gifts, and also purchasing treasury shares depending on conditions. Its basic policy is to continuously pay a stable dividend and it targets a dividend payout ratio of 40% to 50%.The FY3/19 dividend per share will be unchanged YoY at ¥28.0 (for a dividend payout ratio of 46.3%). But the Company will also determine the dividend while considering trends in results and its demand for capital.
The Company presents gifts to shareholders at the end of March and September depending on the number of shares held. For each unit of shares (100 shares) held, shareholders can receive one of the following gifts: an Aqua product worth ¥2,050 (such as the Ulunom) "Fuji-no-Tennensui Sarari" (Mt. Fuji natural water), a QUO card worth ¥500, food coupons worth ¥1,000, ¥1,000 worth of TLC Membership Service points, or a ¥2,100 discount on LIBMO usage fees. When including the gifts to shareholders in an estimate of the total investment yield per share unit from the current share price level (¥947 on November 13, 2018), it is in the range of 4% to 7% (depending on the selection of either a QUO card or an Aqua product as the gift).
◆Information security measures
In terms of information security measures, previously each Group company had separately managed the personal information held and conducted measures against system failures and cyber-attacks. Since FY3/18, the Company has established a Group-wide expert committee in order to share information between all the Group companies and at the same time, to heighten awareness of its security measures.
報告內容僅供參考,不得作為任何投資引用之唯一依據,且其投資風險及決定應由投資人自行判斷並自負損益。
【免責聲明】 本研究報告專區中的資訊均來自於各金融機構授權刊登或是已公開的資訊,鉅亨網對資訊的準確性、完整性和及時性不作任何保證,也不保證上述資訊報告做出的建議在未來不發生修正。在任何情況下,鉅亨網不對本資訊的使用人基於本資訊報告觀點進行的投資所引致的任何損益承擔任何責任。本網研究報告版權均歸各家提供機構所有,不得任意引用、刊發,且不得對原文進行修改或刪除。以上資訊僅供參考。