◆Longer-term growth strategy
Promoting the "elematec x (cross)" longer-term strategy with a goal of setting all-time high profit in 2 years
1. Overview of the "elematec x (cross)" longer-term business strategy
The Company does not prepare medium-term business plans with a fixed period, but formulates basic policies for initiatives related to a medium- to long-term strategy and proceeds with business on this basis. It updated the slogan in FY3/18, switching from "elematec + (plus)" to "elematec x (cross)." Compared to the previous "elematec + (plus)" slogan, it emphasizes accelerated pursuit of synergies and timely action.
In annual guidance, the Company discloses targets for the subject fiscal year and goals for two years later. This style resembles a rolling medium-term business plan. Therefore, at the start of FY3/19, the Company presented subject fiscal year target and FY3/21 goals. It hopes to reach ¥250bn in sales and ¥8bn in ordinary profit in FY3/21, setting all-time high profits.
Strengthening processing service and planning and development functions and aims to become a fabless manufacturer
2. Targeted direction
The "elematec x (cross)" strategy is currently in the second year in FY3/19 and has a year and a half remaining. Harnessing its flexibility, meanwhile, the Company is already conducting various reviews for the new medium-term growth strategy scheduled to begin in FY3/21. While the details are unknown, the direction targeted by the Company has become evident in our contacts up to now.
We think the Company's strongest feeling at this point is a "sense of crisis." It leveraged three core strengths to achieve stable growth in past years, but is wondering about the possibility of the same strategy not succeeding in the future and the possibility of changes in the format of transactions between companies due to advances in IT technology (thereby altering the current significance and importance of the trading-company function).
The Company's response to this concern is raising added value it supplies. It is specifically eyeing reinforcement of processing service and planning and development capabilities as a way of getting this done. As discussed in the company overview section of this report, while the Company has already been providing these functions to customers, it did not sufficiently capitalize on their presence due to being hidden behind traditional trading company business of selling products. However, the Company plans to bolster these functions and highlight them as characteristics and strengths and thereby aims to expand income and improve profitability. Below we review specific content of processing service and planning and development capabilities. The explanations cover the image presented by the Company at this stage. Content and naming might change in the future in accordance with the business environment and actual transaction conditions.
(1) Processing services
The Company is a trading company and not a manufacturer. However, customers (sales destinations) often request delivery of processed items. To accommodate these needs, the Company has its own processing sites – one in Japan and two in China.
In Japan, Elematec Logi Serve Corporation (based in Yokohama) processes and manufactures electric materials and other products, conducts acceptance inspections, and handles environment-related material measurements. In China, Elematec Electronics (Dalian) Co., Ltd. implements surface mounting of parts into electronic circuit boards and Elematec Wuxi Technology Co., Ltd. handles silk-screen printing for plastic panels, cutting and processing, and assembly.
(2) Planning and development function
Planning and development begins with appropriate understanding of customer needs. Basic flow in this business involves the Company identifying optimal parts and materials from its roughly 7,300 domestic and overseas suppliers to meet the wide-ranging needs of customers for electronics, mechatronics, exteriors, design, and other aspects; planning products that satisfy requirements (even creating product prototypes in some cases); and submitting proposals to customers.
Two essential capabilities in this business are grasping and realizing needs. Not many rival companies have both of these capabilities, and we believe this function is another source of differentiation for the Company versus other companies. Additionally, adoption of new products based on the Company's plans and designs means that it becomes unique for corporate customers. We think this is a very effective way of strengthening relationships with customers. As explained above, these new products should generate high profitability due to the Company's role of modularization for delivery.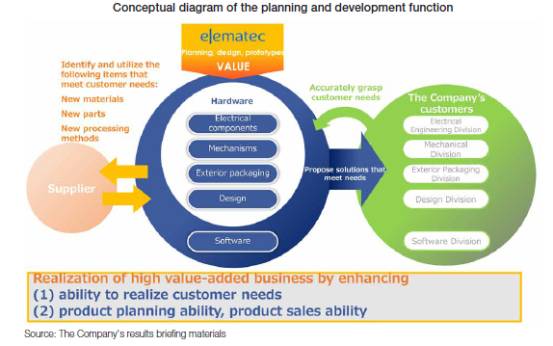 Provision of the above-mentioned processing services outsources "burden" for customers, kind of like a procure­ment agent service. The Company shoulders the task of finding companies to conduct processing, instead of it being done by the customer. Just handling the burden, however, runs the risk of being a low-margin business or even taken for granted as a free "service." We think the only way for the Company to generate added value and raise profitability is through provision of customized products that it has planned and designed using new product development information and information on the latest technology trends in its possession. Its calls for promoting "modularization" in the past refer to this activity. In other words, processing service and planning and development capabilities are essential technologies (functions) for realizing modularization.
As seen above, the direction targeted by the Company is "expansion of modularization transactions" in terms of the transaction format, "bolstering processing service and planning and development capabilities" from the standpoint of strengthening its own functions, and "creating and increasing added value" in the context of income. These are all referring to the same thing.
While the Company currently has three production and processing sites as noted earlier, it is not adamant on needing to manufacture and process at its own processing sites in future initiatives. This is because modular business of delivering materials that it sells as intermediate or semi-finished products with a certain extent of processing obtains added value from planning and development and solutions proposal capabilities, rather than the processing itself. The Company therefore is likely to cultivate a business model that actively utilizes external manufacturers for processing. We could describe this as a "fabless manufacturer" operation.
The Company has been gradually making advances toward becoming a fabless manufacturer for some time. A concrete example is strengthening personnel in its technology group directly related to planning, design, and development. These measures bolster its ability to understand customer needs and provide prototypes. There has also been steady expansion of efforts to encourage clients to adopt the Company's specifications in Automotive and Broad Market areas. Such activities are often the first step in beginning transactions in these businesses. Expansion of such activities boosts expectations for future actual transactions. Conversely, the Company's growing interest in becoming a fabless manufacturer might be the background to the widening trend of encouraging clients to adopt the Company's specifications, leading to real transactions.
Aiming for income growth with Automotive and Broad Market segments as drivers Focus also on progress in business development as a fabless manufacturer
3. Direction of results
As mentioned earlier, the Company does not formulate medium-term plans with a fixed period structure and instead discloses outlooks for the subject fiscal year and two years later at the start of each year. The medium-term outlook disclosed at the start of FY3/19 (April 2018) targets ¥250bn in sales and ¥8bn in operating income for FY3/21.
These medium-term targets are not that significant because they vary with results from the previous fiscal year and the global economic outlook at the time and other factors. However, we can see market areas and product categories where the Company has expectations through chronological analysis of the breakdown by markets. This process is also likely to increase the precision of forecasts for the Company's results.
Compared to the outlook from a year ago, there has been a decline in the Digital Electronics business sales share and gains in Automotive and Broad Market sales. Looking at growth rates from results posted three years ago, Digital Electronics has slowed considerably and is likely to stay in a flat range, while the Automotive business has sustained 80.2% growth and Broad Market sales increased substantially to 52.2%. We think the growth driver from a medium-term perspective has completely switched from Digital Electronics to the Automotive and Broad Market segments.

As explained in the review of 1H FY3/19 results, the Digital Electronics business has been steadily shrinking, while Automotive and Broad Market growth has been accelerating. The Company expects sales in the Digital Electronics business (namely, smartphone-related products) to bottom out in 2H FY3/19. However, we do not expect a change in the recent pattern of the Automotive and Broad Market being greater than Digital Electronics in a comparison of relative growth rates.
We explained our view of the medium-term outlook by markets in our report issued on July 9, 2018. Below we offer updates in light of subsequent market changes through 1H FY3/19.
(1) Digital Electronics
We do not expect the presence of smartphones and tablets to fade in this area, despite market maturation, because of massive volumes. Yet the possibility of the medium-term average annual growth rate being negative cannot be ruled out due to heavy impact from sales trends for final products for customers given the Company's position as a supplier of parts and materials (we suggested in our previous report that the average annual growth rate estimate for Digital Electronics was too conservative, but take a more cautious view this time). While there is currently not an alternative product capable of replacing smartphone-related demand on its own, we will be closely monitoring demand expansion scenarios for smartphones, such as the transition from LCDs to OLEDs for the display and the move to 5G for the communications format.
(2) Automotive
Our primary focus in the Automotive business is whether the demand structure changes. Existing segment sales mainly reflect commercial flow from prior to becoming part of the Toyota Tsusho Group. We think transactions with automotive manufacturers related to Toyota Motor Corporation <7203> that have been developed since entering the group are likely to start expanding. Since the Company will be supplying parts and materials for volume-output products in these transactions, we expect much larger transaction volume and amounts than previously.
This reflects our main scenario. However, we think there could be a different growth scenario too that involves broadening business scope in automotive transactions that currently exist. While sales are likely to expand more efficiently in the main scenario, the current transaction structure might attain higher profitability (when viewed in terms of earnings). A key point is whether the Company is capable of expanding the modularization business (operating as a fabless manufacturer) in light of its position within the group.
We definitely expect the Automotive area to serve as a growth driver and will be closely monitoring the business initiatives through which the Company achieves this growth.
(3) Broad Market
The Broad Market segment covers a variety of customer industries, though industrial equipment and aftermarket businesses have relatively large scale and strong potential growth rates. The aftermarket business contains many automotive-related parts and materials. So the sales ratio of products supplied to the automotive-related industry might be in the 20% range, substantially higher than the sales ratio of the Automotive business alone. This means attention should be given to automotive industry trends in assessing the Broad Market business. There are also many industries and customers that require built-in specification activities. We thus will be watching the Company's initiatives in activities as a fabless manufacturer for this segment as well, similar to the Automotive segment.
◆Outlook
Maintains the initial outlook that forecasts higher sales and profits Expects automotive-related products to drive growth
The Company forecasts slight increase in sales and profits of ¥198,000mn in net sales (+0.9% YoY), ¥6,600mn in operating income (+1.8%), ¥6,300mn in ordinary profit (+3.5%), and ¥4,500mn in profit attributable to owners of parent (+2.8%) in FY3/19.
The Company retained its overall sales target, but revised market segment breakdown. It reduced Digital Electronics by ¥7,595mn from the initial level with almost all of the revision from further sales decline for LCD, touch panel, and backlight products. Meanwhile, it lifted Automotive and Broad Market targets by ¥424mn and ¥7,170mn respectively. The Broad Market addition covers a wide range of areas, including aftermarket business along with industrial equipment and medical equipment. The Automotive revision itself seems small, but Broad Market's aftermarket business includes many parts and materials for the automotive industry and automotive-related products actually account for a large share of the upward revision.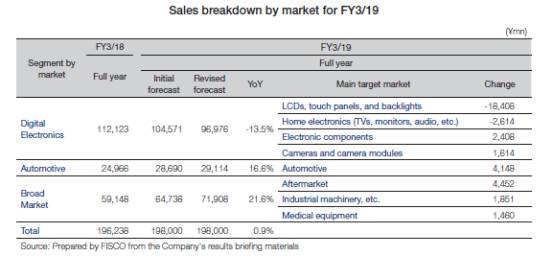 We think the Company can attain its FY3/19 sales target if sales effectively rise by about 10% YoY in 2H after adjusting for above-mentioned delay in sales recognition to 2H (estimated at about ¥5-10bn). Considering progress in various new deal opportunities in Automotive and Broad Market areas, we believe the Company should be capable of reaching the FY3/19 target.
Nevertheless, it is important to recognize that risk still exists. The Company projects a decline of ¥18,408mn in LCD, touch panel, and backlight sales under Digital Electronics in FY3/19 (while the actual 1H decline was ¥19,265mn) and thus is factoring in a bottom in LCD, touch panel, and backlight sales in 2H. Its basis for the anticipated bottom appears to be that Digital Electronics sales are already down by roughly ¥30bn from the FY3/17 peak through FY3/19 with the bulk from LCD, touch panel, and backlight sales. Yet we advise caution because sales trends in final products heavily affect outcomes in the smartphone-related business.
In profits, the Company projects a consecutive rise in operating income with a 1.8% YoY increase to ¥6,600mn. We think this target is feasible, similar to sales, because of likely continued improvement in profit margin on changes in product mix in 2H as well and the 2H forex-rate assumption of ¥105/$ (and ¥107.63/$ for the full year).
◆Shareholder return policy
Plans a dividend of ¥66 in FY3/19, an increase of ¥1
The Company primarily pays dividends as its shareholder return policy and aims to keep the dividend payout ratio at 30% while taking into account the earnings outlook (short term and medium term), growth investments, cash flow, and other factors.
The Company announced a dividend target of ¥66 for FY3/19 (¥30 interim dividend and ¥36 period-end dividend). It maintained the dividend target following 1H results, just as it did with FY3/19 targets. We think it arrived at the ¥66 dividend based on its ¥219.80 FY3/19 net income per share target and dividend policy of adhering to 30% payout ratio. There is a possibility of fluctuation in FY3/19 profits depending on business environment changes. Given the Company's basic dividend policy explained above, it might revise the dividend if the fluctuation margin exceeds a certain level.
報告內容僅供參考,不得作為任何投資引用之唯一依據,且其投資風險及決定應由投資人自行判斷並自負損益。
【免責聲明】 本研究報告專區中的資訊均來自於各金融機構授權刊登或是已公開的資訊,鉅亨網對資訊的準確性、完整性和及時性不作任何保證,也不保證上述資訊報告做出的建議在未來不發生修正。在任何情況下,鉅亨網不對本資訊的使用人基於本資訊報告觀點進行的投資所引致的任何損益承擔任何責任。本網研究報告版權均歸各家提供機構所有,不得任意引用、刊發,且不得對原文進行修改或刪除。以上資訊僅供參考。