◆Outlook and strategy
Formulated a new medium-term business plan that lasts through FY3/21
• Medium-term business plan
The Company finished the medium-term business plan lasting through FY3/17 that had final-year goals of ¥80,000mn in consolidated sales (up 18% versus FY3/14), ¥3bn in consolidated operating profit (up 30%), and a ¥50 dividend (effectively a ¥15 dividend hike). While sales slightly missed the goal due to the impact of yen appreciation on conversion of overseas value to a yen basis, operating profit reached the goal one year ahead of time and ultimately overshot by ¥416mn.
The Company is advancing a new medium-term business plan that lasts through FY3/21 with aims of further growth and improved corporate value by sustaining "proactive management." The new plan continues the three measures from the previous medium-term plan of pursuing supply capacity for products with market advantages, stimulating and improving the domestic market, and taking actions in overseas markets.
The final fiscal year is FY3/21 and targets the Tokyo Olympics and Paralympics year. We expect a reasonably healthy environment given the prospect of heightened sports excitement in Japan. But with the population declining there is no hope of the large Japanese market expanding. While the domestic market is likely to pick up, we think overseas business will remain the primary source of growth opportunity.
Income levels should be rising in Asia, and these gains are likely to broaden demand for products related to fishing for leisure. We forecast continuation of a growth trajectory along with the plan, thanks to this addition to market development room.
The numerical targets for the plan's final fiscal year of FY3/21 are net sales of ¥100,000mn and operating profit of ¥5,000mn, while the Company is aiming for an annual dividend of ¥70. Recently, it has been increasing the dividend by ¥5 each year, and if it realizes a dividend of ¥70 in FY3/21, it will have recorded a ¥5 dividend increase for 10 consecutive fiscal periods, which seems an achievement worth paying attention to.
The plan also has strong awareness of "post-Olympics" from 2020. In the situation of slumping domestic demand, the Company will advance the creation of highly appealing products while also further strengthening its overseas bases so it can keep on a growth path. In fact, at the present time, it is dispatching top sales team members in Japan to local markets as marketers for overseas sales, and this measure is bearing fruit.
The Company previously focused on sales of luxury goods for overseas, but at the current time it has started to place more emphasis on the largest customer segment. Products in the medium, popular price range have a low profit margin compared to luxury goods, but even so, currently profits are accumulating from the increase in the sales volume.
The strategies by product are as follows.
(1) Fishing product business
Aging is affecting the fishing population in Japan, and the overall trend is moving downward. This environment raises concern about the future similar to other consumption goods.
The Company is addressing the situation by proposing a different type of fishing than in the past and hopes to increase sales by creating a new market. We think the Company is capable of pursuing this strategy because of its strength of steadily launching innovative products that cannot be produced by rivals. The Company also conducts activities to raise awareness among young people, such as the Daiwa Young Fishing Club (D.Y.F.C.) started 40 years ago, and takes an aggressive stance to market development.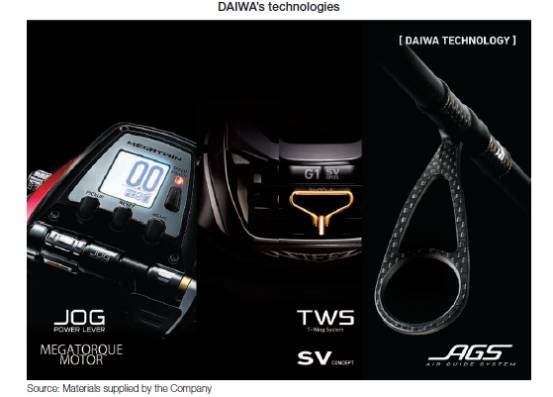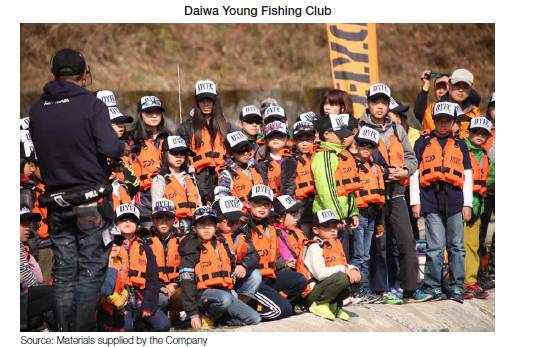 Yet overseas markets are the primary opportunity for driving future growth. Asia, which is already exhibiting robust growth, offers clear potential. For example, particularly strong demand for the Company's high-end products exists in China from the segment with large incomes even though these items cost a few times more than normal prices. The fishing style is also changing from simple fishing, mainly for crucian carp and koi carp, to fishing using lures and reels. Inquiries for high-end products handled by the Company are likely to strengthen as income levels climb in Southeast Asia and other regions.
US and European markets have matured and largely fluctuate with trends in economic activity, but the Company still has substantial room to expand its share. The Company plans to use a strategy of acquiring share by bolstering the line-up of products that meet regional characteristics.
(2) Golf products business
While the Company aims to increase its global market share in fishing business, it is not trying to compete for volume with Sumitomo Rubber Industries, Ltd. <5110> (former DUNLOP SPORTS CO. LTD.), Bridgestone Corporation <5108>, and other firms in the golf business.
While the Company is aiming to increase its global market share in the fishing products business, in the golf products business the Company is not trying to compete for volume with companies such as Sumitomo Rubber Industries' <5110> Sports Business Headquarters (formerly DUNLOP SPORTS CO. LTD.) or Bridgestone Corporation <5108>.
The Company differentiates itself from other manufacturers and provides high-end products and services to customers who are fans of these products, with an emphasis on nurturing the brand value of ONOFF, FOURTEEN, and other brands. Specifically, following on from the FOURTEEN fan club, which has more than 10,000 members, the ONOFF brand has started to build a membership organization and enhance customer services to increase its customers' satisfaction. As discussed above, the Company is working to engineer a rebound for FOURTEEN by reconfirming it as a premier wedge brand.
The membership organization holds test-hitting events exclusive to members. These activities put emphasis on fans and pursue steady improvement of brand value and stable sales growth.
(3) Racquet sports business
The Company utilizes a strategy that nurtures a brand in the tennis business too, similar to golf products. It serves as the sales agency for PRINCE in Japan. PRINCE triggered a boom with "oversized racquets" and fueled a revolution in the tennis playing style in the 1970s. Recently, the company launched new products featured world-first technology. This brand has continued to deliver innovations in racquet technology and actively engages in product creation and promotions that propose an enjoyable tennis life for adults both on and off the court.
Windsor Corporation, a subsidiary running a retail business, is a well-known specialty racquet shop in Japan. It has a broad range of sales connections that extends from students to adults and also other racquet sport players, mainly in the Kanto area, and aims to expand sales going forward.
(4) Apparel
Apparel business offers opportunity in the new medium-term plan. The Company mainly supplied fishing apparel up to now and has launched an independent apparel brand for the first time. It is developing the D-VEC brand released in 2017 as an urban fashion line that combines technology and functionality cultivated over many years for DAIWA fishing apparel with fashion sense from a dedicated design team.
D-VEC items, which can be worn comfortably even in a harsh fishing natural environment, comprise an extensive line-up of not only outerwear, but also T-shirts, shorts, shoes, umbrellas, and eyewear. The Company opened the EC site and a shop in Harajuku, Tokyo in March 2017. It is proposing sports apparel that makes life fuller in accordance with the corporate ideal of being a "lifetime sports company" and hopes to enhance corporate value.
The Company is planning to open a second store in the near future, following the store in Harajuku.
In July 2018, the Company launched "A Lifetime Sports Studio" in the ifs Future Laboratory inside Itochu Garden located in Gaienmae, Minato Ward, Tokyo. The Company plans to use this space to advocate itself as a "lifetime sports company" and communicate Globeride's corporate value.
Elsewhere, the Company is planning to address the consumption tax rate hike scheduled for October 2019 by adjusting the timing of new product launches. It seems that the Company is planning to mitigate the impact of the rush in demand before the tax rate hike and the recoil dip in demand following the hike as much as possible.
◆Shareholder returns
Steadily raised the dividend each fiscal year, targeting ¥60 in FY3/19
The FY3/18 annual dividend was ¥55 per share, while the forecast for FY3/19 is ¥60. The dividend payout ratio was 26.3% in FY3/17 and 25.3% in FY3/18, while the estimate for FY3/19 is 26.5%, so the Company is stably paying dividends.
The Company pays shareholder returns while striking a balance with internal reserves, seeking proactive R&D and capital investments to develop innovative products. Based on the target dividend of ¥70 in FY3/21, the final fiscal year of the medium-term management plan, we expect that the dividend amount will increase by ¥5 per year over the near term.
The Company is expecting capital investment to be around ¥2.5bn per year, but the Company is considering quickening the pace of capital investment in overseas factories in response to the growth in overseas sales.
◆Information security measures
On considering the environment created by the increasingly malicious and sophisticated ransomware and other types of computer viruses, the Company constantly installs the latest virus-detection software at various places in its networks, servers, and PCs. It has also established a multi-level defense system, including tools to catch unknown threats in advance. In addition, it has in place a 24-hour monitoring system operated by an external specialist agency for detecting and protecting against abnormalities. The Company actively conducts promotions for customers, so it handles a lot of personal information. Therefore, it is thoroughly educating employees on information management, while it has also launched a risk management committee within the Company and is working to prevent the leakage of information.
報告內容僅供參考,不得作為任何投資引用之唯一依據,且其投資風險及決定應由投資人自行判斷並自負損益。
【免責聲明】 本研究報告專區中的資訊均來自於各金融機構授權刊登或是已公開的資訊,鉅亨網對資訊的準確性、完整性和及時性不作任何保證,也不保證上述資訊報告做出的建議在未來不發生修正。在任何情況下,鉅亨網不對本資訊的使用人基於本資訊報告觀點進行的投資所引致的任何損益承擔任何責任。本網研究報告版權均歸各家提供機構所有,不得任意引用、刊發,且不得對原文進行修改或刪除。以上資訊僅供參考。