◆Business trends
Profits down sharply in FY3/19 due to new plant ramp-up costs
1.Summary of operating results in FY3/19
In FY3/19, the Company reported ¥20,967mn in net sales (+3.3% YoY), ¥66mn in operating profit (-74.4%), ¥69mn in ordinary profit (-70.7%), and a ¥107mn net loss attributable to parent shareholders (vs. a ¥49mn profit). While it lowered profit guidance at the 1H announcement, final results were even weaker. Besides higher ramp-up costs from opening new plants, the Company also incurred setbacks from US-China trade friction and an upswing in materials costs. The Indonesian subsidiary confronted decline in transaction volume because of quality control issues prior to the acquisition. Deployment of the Company's production management and quality control knowhow is restoring customer confidence and also contributing to earnings recovery. Nevertheless, the Company still took an impairment charge for ¥67mn in goodwill value due to delay in the initially anticipated volume production plan plus impacts from higher materials costs and local currency weakness. Extraordinary losses reached ¥121mn and pushed net income attributable to parent shareholders into a deficit. Chinese operations were almost entirely engaged in domestic business and thus not directly affected by trade friction. Slower economic activity and other trends, however, had an indirect impact. US plants faced higher raw material costs because of expensive tariffs on imported steel materials. As a longer-term factor, even though plant launches and M&A deals proceeded in line with the plan, full-fledged operations lagged and this resulted in a higher burden from ramp-up costs.

(1) Trends by location
For Japan, sales rose 6.4% YoY on upbeat automotive business, but the segment loss widened from ¥87mn in FY3/18 to ¥115mn. The Company struggled to raise utilization rates at Chiba and Saitama plants. In the Americas, sales climbed 11.9% and the segment loss slightly narrowed from ¥369mn a year earlier to ¥360mn. While medical-related sales improved, infrastructure and housing equipment business contracted. The start-up costs of a plant in Mexico and considerably higher raw material expenses weighed on profits. In Europe, sales increased 8.1%, thanks to healthy automotive and aircraft equipment businesses, but profit was down 21.4% because of launch preparation costs for the Czech plant and upswing in raw material costs. In Asia, sales fell 2.9% and profit dropped 26.3%.
(2) Trends by market
Markets with sales gains (YoY) were airplane equipment at 32.7%, medical equipment at 19.9%, automotive (trans- portation equipment) at 6.3%, and others at 4.2%. Those with declines were information and communications equipment at 13.4%, audiovisual and electric appliances at 8.9%, infrastructure and housing equipment at 8.0%, OA equipment at 5.8%, and precision equipment at 3.7%. The Company delivered stronger sales in markets where it successfully developed products, built supply operations, and steadily carried out sales activities. Main impacts that led to declines were market trends and competitiveness of finished product manufacturers. Infrastructure and housing equipment sales weakened on one-time impact from completion of initial inventory purchases of standard products by trading companies and other parts of the distribution network.
2. Financial conditions and cash flow statement
Total assets at end-FY3/19 were up ¥2,390mn YoY to ¥22,705mn with a decline of ¥238mn in current assets and an increase of ¥2,628mn in fixed assets. Tangible fixed assets climbed by ¥3,019mn due to plant renovations and other factors. In liabilities, interest-bearing debt amounted to ¥10,079mn out of ¥16,625mn in total liabilities. Capital investments in FY3/19 totaled ¥4,144mn, exceeding the ¥1,008mn in depreciation costs. The Company plans to reduce FY3/20 capital investments to ¥2,118mn. The liquidity ratio, a measure of financial soundness, eased to 120.0%, and the capital ratio was down to 26.6%.
Cash and cash equivalents were down ¥668mn YoY to ¥2,864mn at end-FY3/19. Cash flow from operating activities amounted to ¥1,278mn and was not enough to offset the ¥3,589mn outflow in cash flow from investing activities. The Company covered the gap with higher loans in cash flow from financing activities.
◆Forecasts
Expecting strong earnings growth from FY3/20 on entry into a recouping phase
1. Outlook for FY3/20
In FY3/20, the Company guides for ¥21,900mn in net sales (+4.4% YoY), ¥330mn in operating profit (+396.1%), ¥260mn in ordinary profit (+274.1%), and a ¥50mn net profit attributable to parent shareholders (restoring profit). While the initial investment in new plants was a heavy burden, we expect narrower losses and then profitability as utilization rates improve.
The Company finished its plant expansion initiative from the mid-term management plan with completions of the Czech plant and Saitama plant's phase-2 addition in June 2019. It reduced opening losses at the Czech plant by curtailing initial investments and hiring. The Saitama plant, a dedicated site for automotive business, is finally beginning volume production for next-generation core automobile parts.
Combined operating income from plants that are profitable is ¥1.3bn
2.Income improvement initiatives by plants
We find a clearly defined trend in domestic and overseas plant incomes based on the number of years from a launch or acquisition. Plants operating for five or more years are generally profitable, excluding special factors. "Immature" plants at less than five years, meanwhile, are largely booking losses.
Plants located in Thailand and the UK are leading sources of earnings, and China has profits too (despite being distributed regionally). Longstanding plants in Japan (Niigata, Oita, and Aomori) deliver positive income as well. Combined operating from the Company's profitable plants in FY3/19 was roughly four times the level projected this fiscal year at ¥1.3bn.
Mexican plant close to profitability
(1) Saitama plant
The Saitama plant, which was opened in January 2016, is a core plant for automotive-related business dedicated to automotive parts. It still incurs hefty losses since only three years have passed since the launch. It finally obtained IATF16949 certification in July 2018. This certification adds quality management system requirements for the automotive industry to ISO9001:2015 and replaces ISO/TS16949. The Company initially aimed to acquire ISO/TS16949 approval, but the standard shift to IATF16949, a major revision that alters definitions and doubles requested items, led to a longer approval period than expected.
The Company aims to realize profitability within two years by improving quality and cost competitiveness and promoting volume output for new products. It purchased and installed machinery and equipment, hired people, conducted training, and handled prototyping, customer evaluations, and customer approval audits through FY3/18. It plans to begin volume output of many core parts for next-generation automobiles, including power control units, inverters, and batteries in FY3/20. Profitability will improve as the plant's utilization rate increases with pick-up in new product output. The Company completed an addition of 3,670sqm of plant floor space in June 2019 aimed at accommodating growing demand from 2020.
(2) Mexican plant
The Mexican plant, which supplies automotive-related products for 75% of its business, acquired IATF16949 quality management certification. With rivals showing hesitancy toward operations in Mexico due to policy changes by the US government, inquiries from Japanese companies, in particular, are concentrating more than expected at the Company. Sales are steadily rising, and this activity is likely to bring the plant to breakeven income in the latter half of FY3/20. Major projects begin in FY3/21. Profitability should arrive with subsequent ramp-up. We think the Mexican plant should become an earnings driver in FY3/23. It is also slated to export products to South America, Japan, and Europe.
(3) Indonesian plant
The Indonesian plant relies on automotive-related business for about 95% of its income and targets breakeven income in the latter half of FY3/20 and profitability in FY3/21. Inquiries and orders volume rose on restoration of customer trust, and this plant is headed for an expansion phase from FY3/21. Substantial increase in Indonesia's minimum wage, meanwhile, is a limiting factor.
(4) Vietnam plant
The Company moved the Vietnam plant to a new facility with four times as much floor space (8,000sqm) as the previous location in November 2018. It has mainly manufactured and sold wire springs for OA equipment in the Vietnam business since 2006. At the new facility, it also installed press processing and will begin production of flat springs. Future plans call for expansion to insert molds and deep-drawn processed items too. The Company wants to recruit demand for OA equipment products transferred from Japan and China. While it anticipates needing 2-3 years to surpass the former plant's profitability, the Company hopes to double profits after a period of four years.
(5) Indian plant
The Company started operating the Indian plant that makes wire springs, mainly for automotive use, in April 2019. In light of sluggish ramp up of other new plants opened in recent years and incomes below targeted levels, it decided to lease the Indian plant and begin with a relatively small floor space for its plants at 2,157sqm. The Company secured work volume for the ramp-up period through transfers of production items from Singapore and Thailand, and the plant has been receiving many inquiries from major US and European, Japanese, and Indian customers. The Company's outlook calls for profitability within one year of operation.
(6) Czech plant
In Europe, while the Company has a production site in the UK, it opened its first mainland plant in Czech. It completed the plant in June 2019, but does not intend to fully utilize the 7,700sqm in leased floor space from the outset. To avoid repeating the situation in Mexico where it faced heavy ramp-up costs from investments, it is alleviating negative impact by arranging initial production volume through transfers of medical springs from the UK and deep-drawn products from the Chiba plant. It ultimately hopes to expand automotive-related business in Europe. There are many Japanese and US and European auto and automotive parts firms with facilities in Czech, and the country is attracting interest as a hub for the auto industry. The location of this plant also offers good access to Germany. The Company aims to achieve profitability within two years of beginning operations.
Capable of responding quickly and efficiently to customer production transfers
3. Changes in production allocation
(1) Global parallel production
Automakers are pursuing development efficiency based on a design concept of unified vehicle production through joint development of multiple models using a shared platform and increased sharing of parts and units. Parts sharing increases the Company's output volume per product. Compared to FY3/15 levels, planned output volumes for specific products in FY3/20 have risen by 2.6 times for insert moldings, 3.4 times for flat springs, and 2.5 times for insert collars that strengthen plastic fastenings.
The Company stands out by far in the precision springs industry with its 17 manufacturing sites worldwide. Its many overseas sites are an advantage in the global orders placement system. Global parallel production means that orders for a single product could begin in Japan and then spread to Thailand, China, and India. Automotive parts move through inquiry, estimate, repeated design and prototyping, and other processes prior to the start of volume output. Orders at overseas sites that are simultaneous with Japan or additions remove the design and prototyping step. The Company can smoothly ramp up production by transferring dyes and other volume production equipment from Japan to overseas plants. A reason given by the Company for likely robust improvement of profit margin in the mid-term management plan is SG&A expenses and other costs not rising as much as the sales growth pace.
(2) Changes in production allocation
US-China trade friction and Brexit are making production transfers from China and the UK an urgent issue for manufacturers. Finished product firms and Tier 1 firms favorably assess Tier 2 firms capable of handling changes in production sites in a short amount of time. The Company has ramped up new sites in Mexico, the US, Vietnam, India, and Czech over the past few years and is able to accommodate production transfers.
In the medical market, a highly profitable area, the Company started volume production at the US plant in FY3/19. It also plans to start operations at the Czech plant during FY3/20. It expects to begin volume production of self-injector springs and deep-drawn parts in FY3/21. Global production provides significant cost benefits. PC, mobile phone, and camera parts have annual outputs ranging from 100,000 units to 10mn units and thus are suited to concentrated output at one location. Disposable medical kits with outputs in the range of 10mn and 100mn units, meanwhile, realize savings through dispersed production in areas of consumption in light of tariffs, domestic production incentives, and transport costs.
Responding to upswing in minimum wages by transplanting Japan's high labor productivity in overseas markets
4. Comparison of productivity by plants
Japan's labor productivity per hour was $47.5 (¥4,733 using conversion on a purchasing power parity (PPP) basis) in 2017, putting it at about two-thirds of the US level and 20th out of the 36 OECD countries. Labor productivity per person (added value per employee) was $84,027 (¥8.37mn), ranking it at 21st out of the 36 countries, and the same value for just manufacturing was $99,215, which is 15th out of 31 major countries.
In the Company's case, productivity by plant measured in terms of sales per manufacturing employee is extremely high in Japan at about 1.7 times the level in Thailand, roughly double levels in the UK, US, and Shanghai (China), and more than six times the level in Indonesia. The Saitama plant launched in January 2016 is a new plant dedicated to automotive products with a smart factory concept that focuses on energy and labor savings. While it still runs a loss due to lengthy lead time and investment burden, there have been more new order deals than expected and the Company accelerated installation of additional capacity. Automated products are volume output items. Increase in production volume per item through parts sharing also promotes automation. The Company is reengineering visual inspections with machinery.
The Niigata plant plays the role of mother plant for production technology. To address upswing in Chinese and ASEAN country wages, the Company intends to transfer advanced production technology from Japan. Japanese sites facilitate deployment of automation technologies at overseas locations in various ways - engineer dispatches (local office), direct-visit assistance, technology inquiry responses, acceptance of trainees, acceptance of plant tours, and exports of dyes and production equipment. At the Czech plant, the Company plans to manufacture products that utilize Japan's top-level deep-draw technology. The UK plant, a regional site, will supply dyes and give technology assistance.
5. Instant Lock (new product)
The Company announced Instant Lock as a new product in April 2019. This is a derivative product from LockOne and other springs that prevent nuts from falling out. It is a device that utilizes spring restoring force to keep things from falling out, just as LockOne, and has already cleared performance tests complying with US aerospace standard NAS3350 and confirmed a reliable locking effect. The Company sees opportunities for Instant Lock to prevent hanging bolts that support building ceilings (ceiling base) from loosening and falling out. Ceiling collapse accidents occurred at gymnasiums, which serve as refuge locations for major earthquakes, in the Great East Japan Earthquake and Kumamoto Earthquake. The product contributes to better safeness in offices, workplaces, stores, residences, and tunnels by alleviating risk of ceiling collapses.
Instant Lock is attached just by inserting it with one hand from the bottom of a hanging bolt with the same force used to pinch a clothespin. It can be attached and removed in an instant. It offers excellent handling features without needing force, technique, tools, or torque management. Kirii Construction Materials Co., Ltd., a comprehensive supplier of seismic-resistant ceilings and interior materials capable of withstanding earthquakes, cooperated in the development and sells Instant Lock. Potential market size for office buildings nationwide works out to more than 100mn units based on using 1.5 units per square meter of floor space. The Company is looking at overseas opportunities too. It has displayed Instant Lock at overseas exhibitions and is planning to develop markets in other countries.
◆Shareholder return policy
Keeping the dividend at ¥30 per share
The Company's dividend policy aims to provide suitable and stable profit distribution while ensuring a balance with enough retained profit to stabilize and expand the business foundation. It presented a 30% dividend payout ratio goal in the mid-term management plan. In FY3/19, despite booking a net loss attributable to parent shareholders, it still paid the ¥30 dividend per share from period-start guidance. In FY3/20, the Company only expects ¥50mn in net profit attributable to parent shareholders, versus ¥330mn in operating profit. The implied dividend payout ratio hence works out 245.4%, exceeding 100%.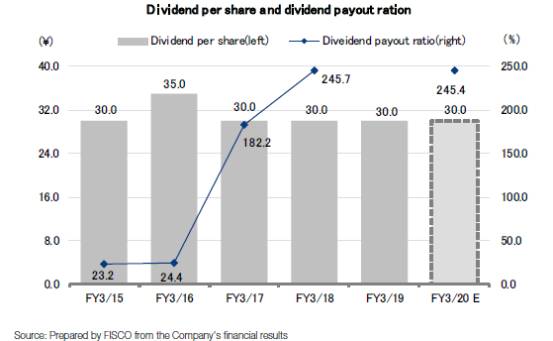 Dividend payments take place once a year for shareholders at the end of the fiscal year. The shareholder benefit program, meanwhile, gives QUO cards to shareholders who own the Company's stock for a period of over a year at the end of 2Q with the aim of promoting long-term ownership. QUO cards sent to shareholders at end-September 2018 were worth ¥1,000 for owning one unit to less than five units of the stock, ¥3,000 for owning five or more units to less than 10 units, and ¥5,000 for owning 10 units or more.
◆Information security policy
The Company takes an organizational approach to information security measures. It utilizes anti-virus software, intrusion detection, firewalls, and other functionality as the system-level response and educates employees and con- ducts periodic tests as personnel and organizational efforts. It has not incurred major trouble over the past year. The dividend handling security participates in external seminars and acquires knowledge. Society as a whole, including customers, is requiring more information security, and the Company intends to make necessary investments. While the Company uses data centers designed to withstand earthquakes and makes other disaster-related preparations, it wants to further improve safety, such as storing data at a remote site.
報告內容僅供參考,不得作為任何投資引用之唯一依據,且其投資風險及決定應由投資人自行判斷並自負損益。
【免責聲明】 本研究報告專區中的資訊均來自於各金融機構授權刊登或是已公開的資訊,鉅亨網對資訊的準確性、完整性和及時性不作任何保證,也不保證上述資訊報告做出的建議在未來不發生修正。在任何情況下,鉅亨網不對本資訊的使用人基於本資訊報告觀點進行的投資所引致的任何損益承擔任何責任。本網研究報告版權均歸各家提供機構所有,不得任意引用、刊發,且不得對原文進行修改或刪除。以上資訊僅供參考。